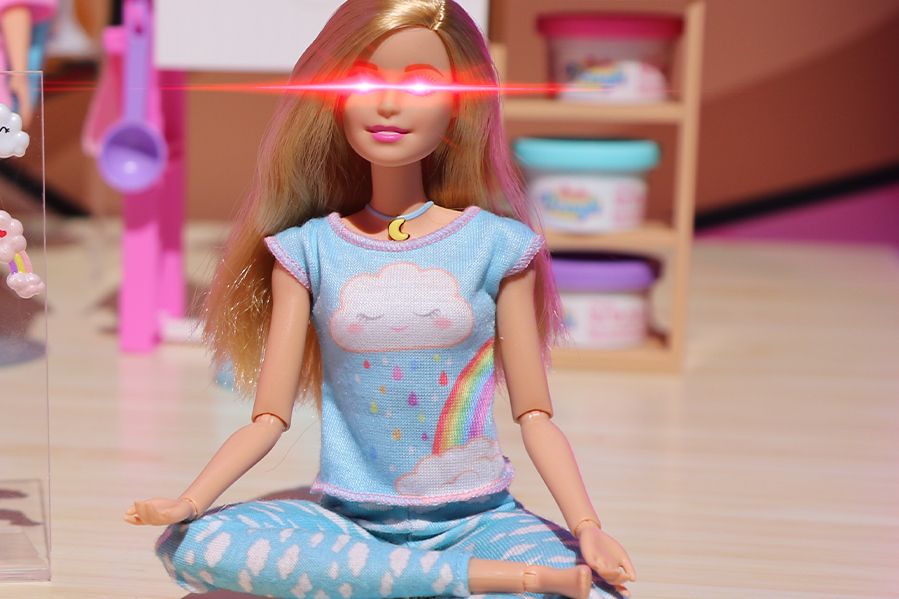 One of America's most beloved toys might just be a vessel for demonic possession. That's according to Christian influencer Yasmeen Suri, whose post about a Barbie doll on the shelves of her local Target is going viral. 
But it's not just any Barbie. This is the 'Breathe With Me Barbie,' a special yoga edition of the iconic doll.
Stickers on the front of the packaging say that Barbie can do five guided meditations and she is packaged in a seated, cross-legged pose.
So how did this doll become a source of internet controversy, generating tens of thousands of likes, shares, and comments?
Suri claimed that the children's toy was nothing less than demonic, a tool of indoctrination by Satan that could possess your child, cause them to rebel… and possibly even kill themselves.
Barbie Poses a Problem
The post begins: "'Yoga Barbie' is at Target on the shelf. Satan always comes as appearing innocent. He will never come with horns and a pitchfork. Satan is after the children. He wants to use them and indoctrinate them for his glory. Then, when he is done, he will destroy them." 
But that wasn't all. Here's the full post:
The crux of Suri's argument seems to be that meditation and yoga are inseparable from Hinduism, and that this is a stealth attack from Satan himself on America's Christian children.
"God forbids all practices of eastern religion as a Christian," Suri argues in her viral post. "You must remove all toys and clean your children's room of all demonic attachments" lest they become "rebellious," "depressed," and "suicidal."
Her message went viral, with thousands chiming in to share their thoughts.
Some criticized the reasoning and others outright mocked this idea. 
"My daughter has recently been doing yoga, it's been really good for her. Enjoying the red tint in her eyes too, brings a nice ambience to the room," read one comment.
"I want my money back! I never got demon possessed at yoga class. What a rip off!" jested another.
Not everyone disagreed with the post, however.
"The poor children of today," read one comment with thousands of likes. "Even Barbie's a pagan! I guess next will be homosexual, ponytail Batman action figures. No innocence can be found these days. The patience of Christ for this world to turn from Satan won't last much longer."
A Bit of a Stretch?
This isn't the first time the combination of kids and yoga set off alarm bells. 
The state of Alabama actually banned yoga in the classroom all the way back in 1993. At the time, Christian conservatives, who pushed the bill, argued that yoga in the classroom was a gateway to Hinduism for children.
The state didn't end that policy until last year, when Alabama Gov. Kay Ivey signed a law overturning the ban – although children are forbidden from saying "Namaste," and poses may only be referred to by their English names.
Back in 2018, blogger Matt Walsh reignited a yoga hysteria when he argued that yoga and meditation are unwittingly practicing Hinduism. He suggested that it was "quite literally" playing with fire, arguing that striking a warrior pose could accidentally put yogis in a "demonic trance."
"What's wrong with just using an elliptical machine?" he asked.
Some Christian leaders agree with the sentiment. They say that even if there are physical benefits to yoga, the potential for demonic influence is too high. As megachurch pastor John Lindell put it, "yoga positions were not designed by your local fitness instructor. They were designed and they were created with demonic intent to open you up to demonic power."
What do you think – are we all taking a major spiritual risk every time we roll out the yoga mat? Does 'yoga Barbie' really risk possessing children?
Or is that a bigger stretch than downward-facing dog?