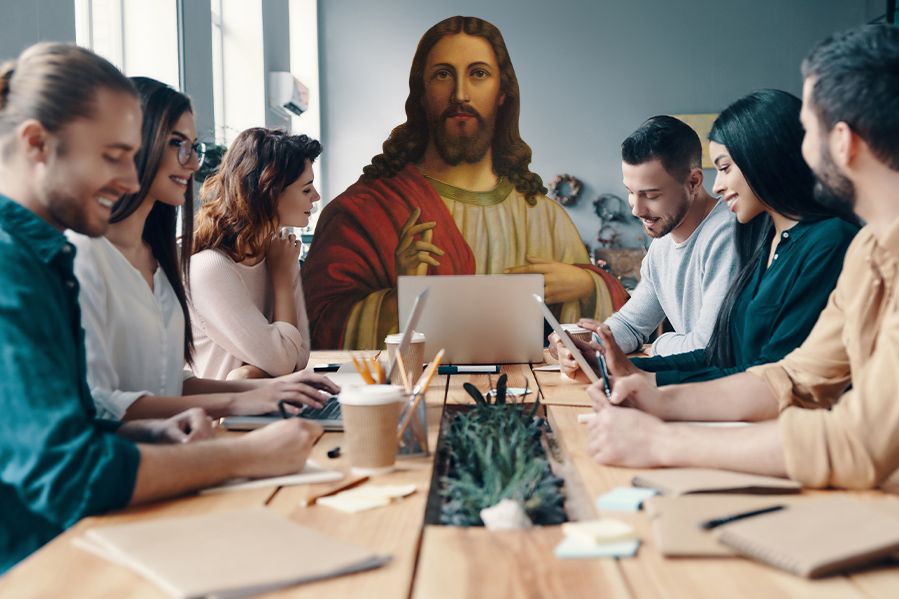 Does Jesus need a rebrand? One faith group says yes, and is planning a $100 million dollar marketing push to bring the good word to the masses in a whole new way. 
Its backers insist that the rebrand is necessary to combat worrying trends in Christianity. They point to studies that show people are becoming increasingly less religious, and argue it's going to take something big to bring believers back on board. 
Largely funded by donations from anonymous wealthy families, the campaign (called "He Gets Us") officially launched last month with billboards going up and commercials running on televisions around the country.
The $100 million price tag is comparable to ad campaigns from Old Navy or Mercedes-Benz.
But unlike the commercials for those products, the ads aren't promoting a particular item, which in this case would be a single church or denomination.
Rather, they're selling the idea of Christianity and Jesus himself in hopes of scoring the holy grail of both the marketing and ministry worlds: conversions.
He Gets Us
The $100 million marketing push for Jesus is courtesy of the nonprofit Servant Christian Foundation, backed by anonymous mega-donors. 
To get churches on board with the ad blitz, marketers asked a simple question: "What if Jesus was the biggest brand in your city?"
The campaign's strategy seems to be painting Jesus as a figure relatable to young people today, portraying him as a sensitive, kind, anxious man, the son of a single mother – and a bit of a rebel himself. 
The most popular ad, "Dinner Party," pushes a message of unity, arguing that Jesus "wanted everyone to eat and be filled, not with food and wine, but with compassion." "Jesus welcomed all to the table," it states, as somber piano music plays over stark black and white photos of struggling people.
It's a message of inclusion, and that's by design. The marketing team behind the ads felt that young people associated Christianity with hatred, rather than love, so they want to rebrand Jesus in a way that would appeal to young people: understanding, empathetic, and non-judgmental.
There was also a relatability gap that had to be dealt with, and ads like "Jesus Was Born To A Teen Mom" and "Jesus Suffered Anxiety" do their best to make Jesus seem very Gen-Z, less the son of God and more a character on Euphoria.
"Is the goal that people become Christians? Obviously," said the marketing agency in charge of the ads. "But more importantly for now … we need to raise their level of respect for Jesus, and then they'll move."
The $100 million dollar question is… will it work?
Does Jesus Need Marketing?
The response to the ads has so far been mixed. The "Jesus Was Born To A Teen Mom" ad has been particularly controversial, as it draws parallels between the immaculate conception of Jesus and a young woman cheating on her boyfriend.
"This is the most deceptive and contradictory ad I've ever seen in my life," wrote one commenter. "Mary was a virgin and had never engaged in sexual activity prior to the birth of Christ… Stop trying to use the Bible out of context." 
"Mary did not get pregnant because she cheated on her partner with another man. Why is this an advert?" pondered another.
Others say that Jesus shouldn't need commercials, and that the best marketing Christianity can do for itself is for Christians to live up to Christian ideals.
"Jesus knew the best way to spread the word was to live a life worth following," says Brad Abare, former head of 'Church Marketing Sucks'. "While the He Gets Us campaign is admirable for its intent, it does make me wonder that if we had more followers of Jesus worth following, what else could we put $100 million to work doing?"
Still, others might argue that Jesus was the first influencer. After all, he amassed quite the loyal following in his day. It's not hard to imagine the millions of likes a video of the Sermon on the Mount would get on Instagram. 
As the ads roll out nationwide, if you haven't seen them already, it's likely that you will soon.
What do you think? Does Jesus' message stand on its own, or does he need a carefully workshopped campaign from a marketing team?