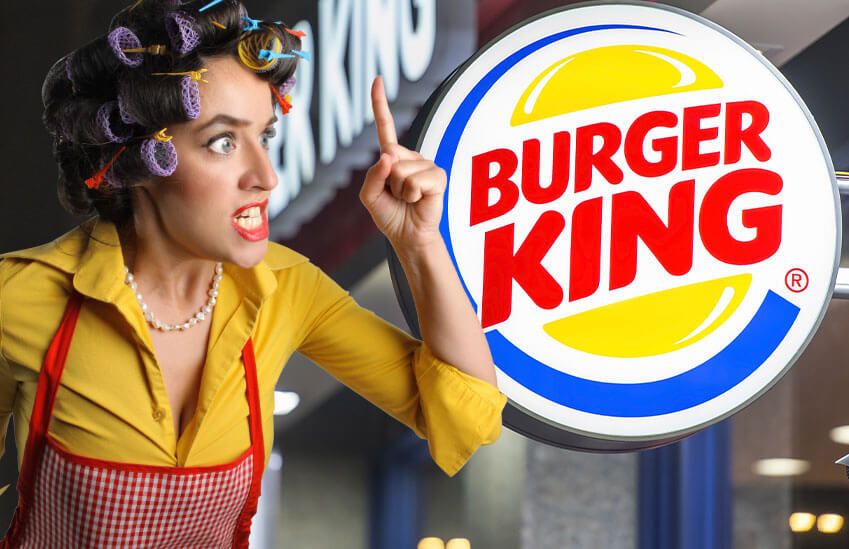 Burger King is catching quite the grilling from One Million Moms, a faith-based group that targets entertainment they view as immoral, profane, or vulgar. The group's latest crusade against the popular fast-food chain stems from Burger King's use of a four-letter word in their new ad campaign for their Impossible Whopper.
No, not that word.
"Damn, that's good." That's the line uttered by a customer after biting into their new meatless hamburger, the most memorable reaction in the fast-food chain's latest ad.
But that simple exclamation was enough to draw the ire of the group. They've launched a campaign to get Burger King to remove the ad from network television, effective immediately.
You'd think an evangelical outfit that brands itself One Million Moms might appreciate the subtle madness of advertising. But, perhaps not.
Damn, That's Controversial
"One Million Moms finds this highly inappropriate," begins their statement. "The language in the commercial is offensive, and it's sad that this once family restaurant has made yet another deliberate decision to produce a controversial advertisement instead of a wholesome one. Burger King's Impossible Whopper ad is irresponsible and tasteless. It is extremely destructive and damaging to impressionable children viewing the commercial. We all know children repeat what they hear."
One Million Moms goes on to insist the man responding to the taste didn't have to curse, that if the interview was indeed real and unscripted, Burger King could have simply edited the profanity out of the final commercial.
A quick scan of the group's website reveals similar campaigns against everything from Disney to Whole Foods to Barnes & Noble. Disney's inclusion of a gay character in a Star Wars program is a bridge too far, Whole Foods supports Drag Queen Story Hour, and Barnes & Noble sells a book that depicts President Trump as a pig, which is "inflammatory garbage" that "gravely disrespects" the president.
The group has claimed some moral victories in the past. They've taken credit for getting a Missy Elliott song removed from a KitKat commercial. They halted an advertising campaign from fashion store rue21. And they've claimed success for the cancellation of a number of offensive or blasphemous television programs over the years, like "The Mick," "The Real O'Neals," "Lucifer," and "Dating Naked."
Controversy is King
But is this all just controversy for controversy's sake? It's yet to be seen if Burger King will acquiesce to the demand to remove the word their Impossible Whopper campaign - though it seems unlikely. It's apparently benign enough to be aired in a fast-food commercial on network television. And maybe they included it on purpose in attempt to be edgy and better connect with customers. 
But this all speaks to a larger question: What is it that makes a word offensive? It seems we've collectively decided on an arbitrary group of "off limits" words that are unfit for children's ears. But societies change, and language changes. You never know -- perhaps we'll look back in 50 years and laugh about ever censoring the word "damn" in the first place. 
What do you think? Are these parents right to be outraged?