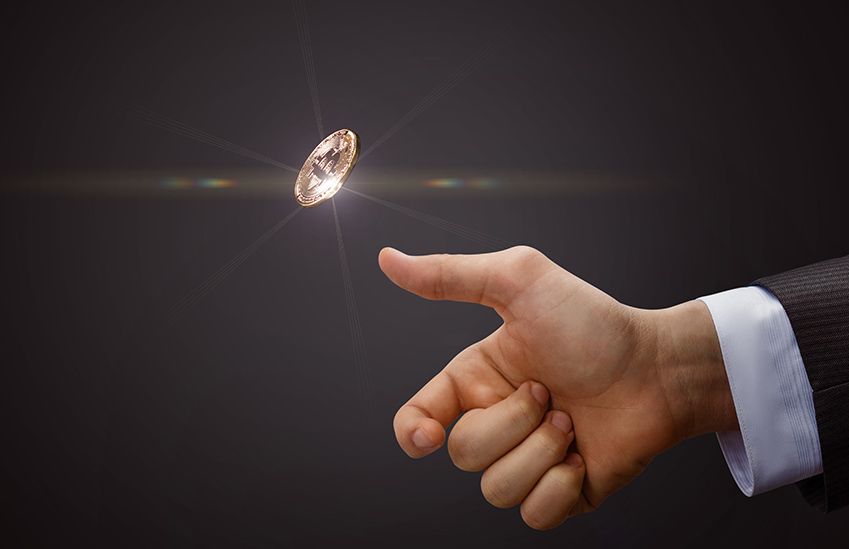 Some modern couples are re-evaluating a major decision most heterosexual couples make: taking the man's last name as their wedded name. Couple Jeff Conley and Darcy Ward couldn't decide which last name to take, so they left up to fate. The couple decided to toss a coin to decide whose last name the couple would take.
The Florida newlyweds eventually flipped the coin at the altar. Darcy Ward won the coin toss. But her husband sees things differently.
"You could say I won," explained Mr. Jeff Ward, a graduate student in economics who first thought up the creative compromise. "I was the one who received something new." And the idea of leaving such an important decision to chance also suited Mrs. Darcy Ward just fine. "Being with someone who was willing to start the marriage from a creative and teamwork and fair place felt like a really good first step toward an equal partnership."
And while it is becoming increasingly common for married women to keep their last names (or hyphenate), the Ward family is still firmly in the minority.
What's in a Name
Only roughly 20 percent of women married in recent years keep their own names, while an additional 10 percent or so will choose a third option, such as hyphenating. This number is increasing - in the 1990s, only 18% of women kept their maiden name after marriage in some form. Many view it as a feminist cause. Suffragist Lucy Stone kept her last name when she married her husband, believing that women taking their husband's last name was part of the cultural erosion of women's' identities.
Of course, not every woman who keeps her original name after marriage is doing it for the sake of advancing the cause of feminism. Some simply don't want the hassle of changing their name at the dozen-or-so places they'd have to. Some are just used to their name, and like their name. And others may be financially motivated. A 2010 study at the University of Tilburg in Holland found that professional women who keep their maiden name might make over half-a-million dollars more than women who take their husband's last name over the course of their career.
But instances of a man taking his wife's name remain incredibly rare: less than three percent, according to one recent survey of 877 heterosexual married men. Why might that be? Well, another 2017 study published in the journal Sex Roles found that women who keep their maiden name are generally perceived as having more authority in the relationship. Their husbands, meanwhile, are more likely to be viewed as "submissive", "caring", "understanding" and "timid".
It wasn't always this way.
Patriarchy at Work?
Men in medieval England lucky enough to marry women from wealthier and more prestigious families would be more than happy to take their wife's last name, particularly when there was a flashy castle or lofty lordship involved. In other words, money talks.
In the great majority of modern cases, however, the notion of taking the man's last name is simply the expectation in American society. And that certainly doesn't mean that women who adopt their husband's last name are any less feminist than those that don't, the practice is "fundamentally rooted in patriarchal marital traditions", says Psychology Today. And even hyphenating the names can lead to an imbalance, with one partner's name being listed first.
As professor Brian Powell explains it, creating an entirely new last name can go a long way in reinforcing a couple's commitment to true family cohesion. "The idea that one person with one name, and another person with another name, come together to jointly create a new one ... symbolically, it can be very powerful."
So whether you decide to flip a coin for it, hyphenate, start rearranging the letters until you come to something perfectly unique, or stick to tradition, naming conventions matter. And it seems likely that as Millennials and Gen-Z get married, they'll continue to buck the trend.
What do you think? Is this a tradition we should retire, because, as some critics believe, it is rooted in patriarchal norms of men 'owning' women? Or is this a harmless custom that is best left up to each couple to decide?