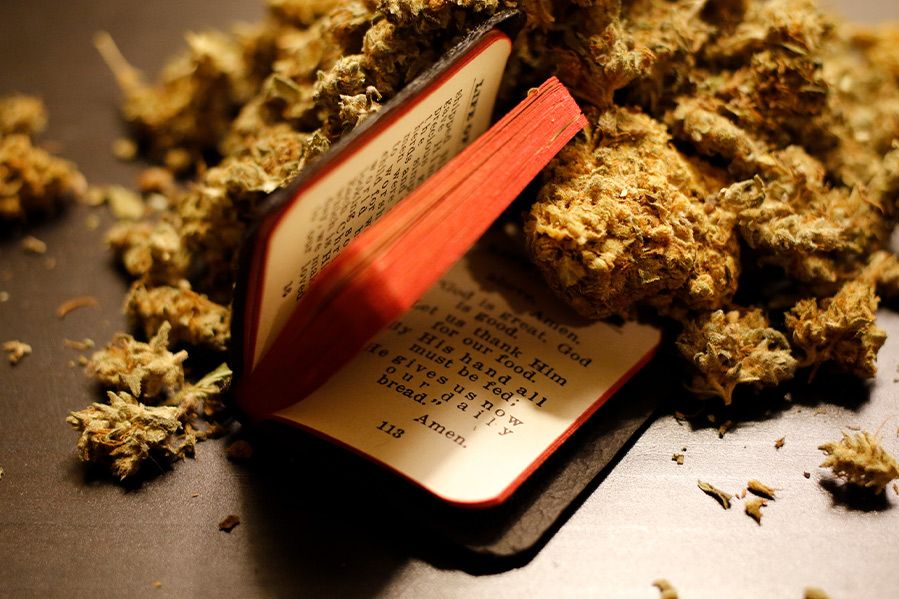 Is marijuana a gateway drug… to a closer relationship to God? One pastor says yes, and he's on a mission to get his fellow Christians really, really high. 
Pastor Craig Gross is the founder of Christian Cannabis, which aims to convince hesitant Christians to give weed a shot. Or, more accurately, a puff.
Gross says he was once a skeptic too, and didn't try marijuana until he was 36, desperate for help to alleviate health conditions as well as the mental anguish from the loss of his father. As an adolescent, he'd been taught that weed was bad, but he found it to be quite the opposite.
He found it to be downright spiritual.
A Very Spiritual High
"[Marijuana] is like a teacher," Gross said. "I needed to slow down a bit. And when you slow down a bit, you start to see things a little bit more." He found that not only did using marijuana help with both his physical and mental pain, but that it also brought him closer to God. 
The Christian Cannabis website touts the spiritual benefits of consuming marijuana. "Cannabis is spiritual," their website explains. "It has a place in your practice of prayer and worship. And that it can help you connect to God in a deep and profound way."
In modern times, Christians have largely been opposed to marijuana. Convincing Christians of the spiritual and medicinal virtues of marijuana is a tough sell, and getting faith leadership on board might be a quixotic quest; Some 78 percent of pastors say that using marijuana is morally wrong.
Christian Cannabis apparently hopes to break this taboo with faith-inspired products such as cannabis "communion wafers" and a cannabis-infused "holy water" tincture. 
Gross knows he's up against a Christian culture that disapproves of marijuana use, but he hopes to destigmatize a product that he himself once viewed as "the devil's lettuce."
And he's got history on his side.
Marijuana Used For Millennia
While many modern religions discourage followers from consuming marijuana recreationally, it's worth noting that marijuana has been used in faith rituals for thousands of years. 
For decades, a burnt substance on an ancient religious altar nestled deep within the ruins of an ancient Canaanite city baffled scientists, as test after test came back inconclusive. Finally, last year, science proved what some already suspected: It's ancient weed. And lots of it. Definitely enough, experts said, to get a lot of people really high.
That cannabis was used in ancient Jewish rituals isn't terribly surprising. Cultures and faiths the world over have long used cannabis in faith rituals, and it's only in modern times that churches have turned against marijuana.
Hindus, Taoists, and numerous pagan and shamanistic cultures have historically used cannabis for spiritual enlightenment, and now we know that Jews did too. 
Many even believe that cannabis is in the Bible itself, arguing that 'kaneh bosem', the ancient Hebrew word for aromatic hemp used in healing oils, is, in fact, cannabis.
Despite Christian hesitance to get on board with marijuana, the tide may be shifting, slowly but surely. A few years ago, The Church of Jesus Christ of Latter-day Saints said that medical marijuana was acceptable, and cannabis churches that use marijuana as sacrament are popping up all over.
What do you think? Will Craig Gross be successful in bringing the benefits of cannabis to skeptical Christians? Should Christians use marijuana? And considering numerous faiths have used it for thousands of years, should we legalize marijuana on a national scale?