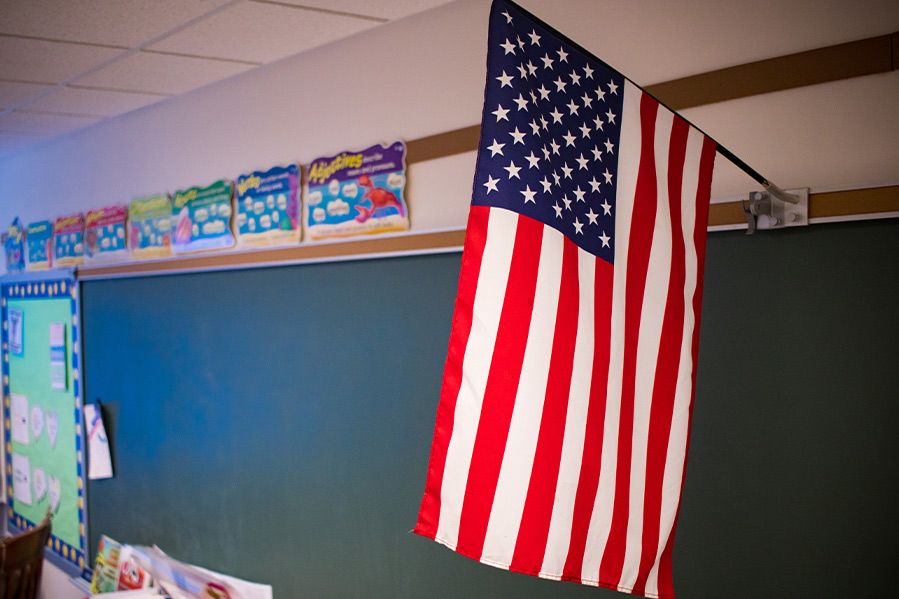 A Texas woman who was bullied by teachers and students alike for refusing to stand for the Pledge of Allegiance has won a $90,000 settlement from the Texas Association of School Boards.
It all started back in 2017, when then-17-year-old Mari Oliver filed a lawsuit against the Klein School District in Klein, Texas, alleging that she'd been harassed for years for her refusal to stand for the Pledge.
"The Pledge of Allegiance is something we say every day at school, and it's essentially us pledging allegiance to the United States," she explained at the time. "I sit because I don't believe that we live in a country where there is justice and freedom for all."
She also objected to being forced to say the phrase "One nation, under God" every morning.
Oliver's refusal to participate did not sit well with students and staff at Klein Oak High School, who, according to the lawsuit, bullied her mercilessly for years. In one case, a teacher even assigned writing the Pledge of Allegiance as homework, then failed Oliver when she refused.
Now, five years later, she's been vindicated by the courts. But how did it ever get that far?
One Nation Under God, Or Else
Oliver's lawsuit portrays a school district going to increasingly extreme lengths to punish her for refusing to stand for the Pledge. Per the suit, what started as 'write-ups' by teachers soon escalated beyond ordinary discipline.
In her freshman year, Oliver remained seated during the Pledge and was written up by her geography teacher – he later took away her phone as punishment, and read Bible passages in class multiple times.
Sophomore year, a journalism teacher told her to stand for the Pledge, and when she refused, referred her to a guidance counselor… who also told her to stand.
Junior year was so bad that Oliver's mother pulled her from school temporarily, as students harassed her and called her crude names for refusing to stand, as teachers stood idly by. Following the harassment, Oliver was ultimately homeschooled by her mother for a portion of the school year.
Things boiled over in her senior year, when sociology teacher Benjie Arnold told her that "sitting for the Pledge was a privilege, not a right, and that people who sit for the Pledge are unappreciative and disrespectful, stating that all they do is take from society."
One day, Arnold allegedly played 'Born in the USA' by Bruce Springsteen – an antiwar tune that many nonetheless interpret as patriotic, Christian music – while staring at Oliver.
He then reportedly instructed students to write down the Pledge of Allegiance. When Oliver once again refused, he issued her a failing grade, then "compared people who refuse to say the Pledge to Soviet communists, members of the Islamic faith seeking to impose Sharia law, and those who condone pedophilia."
That was the straw that broke the camel's back for Oliver and her mother, who enlisted the organization American Atheists to help them sue the school district.
The Pledge of Disobedience?
While most of the claims against the school district were ultimately dismissed, the case against Arnold stuck. After years in court, he opted to settle, paying out $90,000 from a risk pool funded by Texas school districts.
For American Atheists, who represented Oliver along the way, the settlement represented a major win for those who object to the religious implications of the Pledge.
"Nonreligious students often face bullying or harassment for expressing their deeply held convictions," the group said. "No one should have to endure the years of harassment, disrespect, and bullying our client faced. The fact that this happened in a public school and at the hands of staff who should know better is particularly appalling."
From a legal standpoint, the question of whether students have to stand for the Pledge was actually decided decades ago. In 1943, the Supreme Court ruled that forcing students to participate in the Pledge of Allegiance is a violation of their First Amendment rights.
Interestingly, the phrase "under God" wasn't formally added to the Pledge until 1954, over a decade after the original Supreme Court decision. Clearly, some people disagree with that ruling to this day. 
Mari Oliver is also hardly the first student to publicly clash with their school on the issue. Back in 2014, for example, another Texas student was suspended for refusing to stand for the recitation. In 2016, an Illinois teacher physically pulled a 15-year-old student out of his seat and forced him to stand for the tradition.
What do you think? When it comes to pledging our allegiance – whether to God, or to country – should we have to?