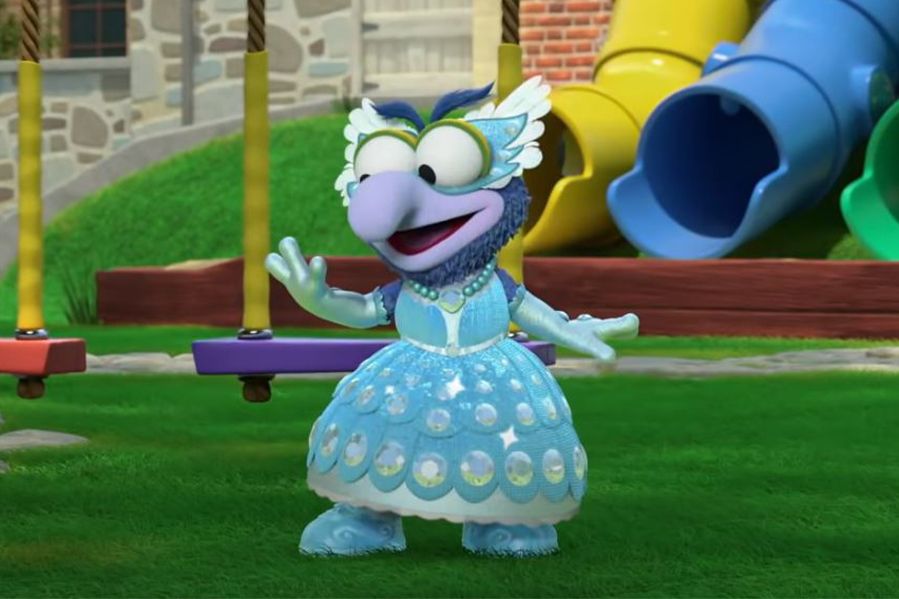 Is a male Muppet wearing a dress a wholesome message of inclusion, or a sinister attempt to indoctrinate children?
That's the debate raging after a popular Muppets character wore a dress on a recent episode of Disney Junior's "Muppet Babies" – a children's show featuring toddler-size versions of all your favorite muppets, from Kermit, to Miss Piggy, to Fozzie Bear.
The series is a big hit with kids and has also been nominated for several Daytime Emmy Awards. Now, it's also the source of major controversy.
It all stems from a recent episode in which a male muppet named "Gonzo" wears a dress. His fellow muppets give encouragement for being his most authentic self – even if that means breaking gender norms and wearing female clothing. 
Many Christian parents and faith groups are incensed, arguing that featuring a cross-dressing character on a TV program for preschoolers is equivalent to "LGBT indoctrination." Many are now calling for a boycott of the series.
Gonzo Goes Glam
What exactly happened in the show to spark such a reaction?
The episode in question closely mirrors the story of "Cinderella," as all the characters are planning to attend a royal ball. 
The royal handbook states that boys must show up to the ball as knights and girls must show up as princesses. But Gonzo feels more at home as a princess, so his 'Fairy Rat-father' appears and makes his wish come true –Gonzo is transformed into Gonzorella, complete with blue dress, face mask, and glass shoes. "This makes me so happy," Gonzo says.
The episode concludes with a message of acceptance and inclusion: The muppets throw out that stodgy old handbook and agree that next time, everyone can come to the ball dressed in whatever clothing they want. "I want to be me," Gonzo says. Another muppet tells him that "you're our friend, and we love you any way you are."
He even gets a rare apology from Miss Piggy, when she says that "it wasn't very nice of us to tell you what to wear." 
If only Kermit were ever so lucky.
An Important Message
LGBT activists applauded the nod at inclusivity as both heartwarming and progressive. GLAAD's Head of Talent Anthony Allen Ramos said that the episode "sends the simple and important message that there's a place for everyone to be accepted and welcomed just as they are." Many longtime Muppet fans expressed support for Gonzo-rella, including the Twitter account 'Muppet History' which championed the episode. 
However, not everyone saw Gonzo-rella in the same light.
'Bring Back Manly Muppets'
"[It] is outrageous that Disney Junior is normalizing gender dysphoria to young children," stated Monica Cole of the faith-based media watchdog group One Million Moms. "This program makes it clear that Disney Junior has an LGBTQ agenda that it is forcing on extremely young audiences."
The story really exploded when media pundit Candace Owens tweeted about it, arguing that we should "bring back manly muppets."
Gathering even more steam, the episode was also talked about on the morning show Fox & Friends. "Is this what kids were clamoring for from the muppets? Cross-dressing?" pondered guest host Pete Hegseth, before wondering if the increase in LGBT-friendly children's programming wasn't an intentional attempt to change the culture itself.
"We've allowed places like this to say, okay, yeah let's throw a little bit of this in there, a little bit more gender-fluid, maybe we'll throw some cross-dressing in there, and expect culturally for us not to change, and we have," he said.
One thing's for sure: LGBT representation is increasing across all media, including children's media. Children's staples like Arthur, Clifford, and Sesame Street all saw gay characters or guest stars prominently featured. Animation studio Pixar even featured their first openly LGBT character in last year's hit film, Onward.
Religious critics were worked up then, too, calling for boycotts of PBS and Disney. However, there's little evidence those efforts had any noticeable effect. 
What do you think? Is a cartoon character in a dress harmful to children? Is Gonzo-rella really part of some insidious "gay agenda," or is he simply showing kids that it's okay to be different?