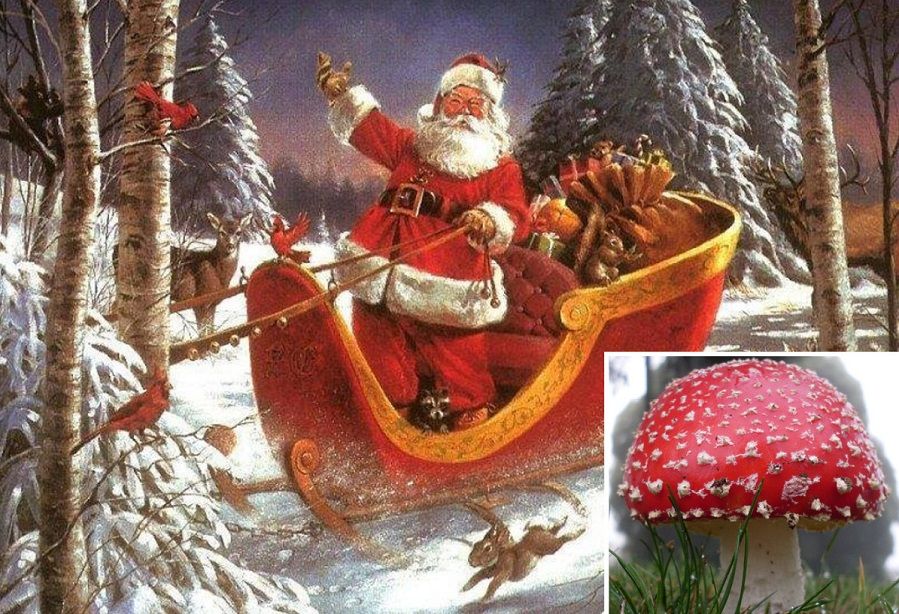 ---
The story of Santa flying around Earth on Christmas Eve with his reindeer and sleigh is a Christmas staple popular enough to rival that of Jesus' birth. But where did the idea of flying reindeer and a stealthy gift-giver squeezing down chimneys come from? One interesting theory claims the answer revolves around amanita muscaria: magic mushrooms.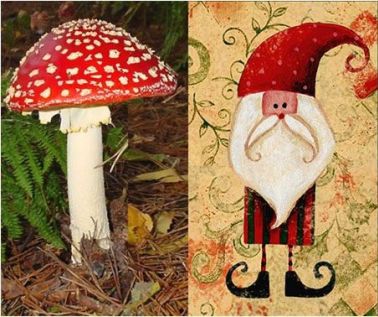 Mushroom Caps on an Ice Cap?
Sierra College anthropologist John Rush lays out the basis for this theory, explaining that the legend of Santa Claus evolved from a historical shaman figure that existed centuries ago. Rush insists that "Santa is a modern counterpart of a shaman, who consumed mind-altering plants and fungi to commune with the spirit world."
Shamans who lived in Siberian and Arctic regions were reportedly quite familiar with these distinct red and white-spotted mushrooms and the hallucinogenic properties they hold. And the fact that these shamans lived so far north explains why the Santa Claus we've come to know makes his home in a polar region. Carl Ruck, a classics professor at Boston University, supports this idea. "Is there any other reason Santa lives at the North Pole? It is a tradition that can be traced back to Siberia," he says.
Amanita muscaria's red cap with white spots also looks quite festive. In fact, legend has it that's where Santa's unique and unmistakable color scheme comes from.
One Wild Holiday Trip
Shamans didn't hoard all the magic mushrooms for themselves; animals would also consume them - including (you guessed it) reindeer. Presumably, a shaman on amanita muscaria watching a group of reindeers hallucinating could mistake prancing for flying.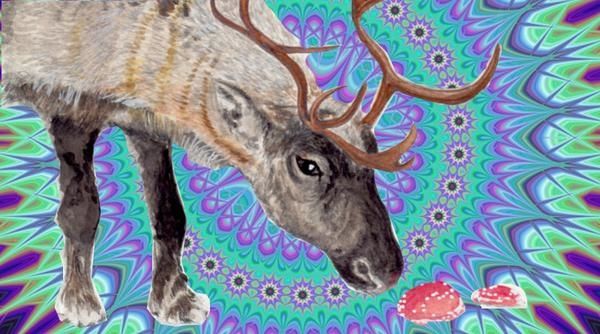 ---
Another piece of evidence we have is a tradition in which shamans would leave the mushrooms as presents for the locals. According to Rush, shamans had a habit of "collecting amanita muscaria (the Holy Mushroom), drying them and then giving them as gifts on the winter solstice...Because snow is usually blocking doors, there was an opening in the roof through which people entered and exited, thus the chimney story." Sounds pretty convincing, right? Well, supporters of the theory have even more evidence on their side.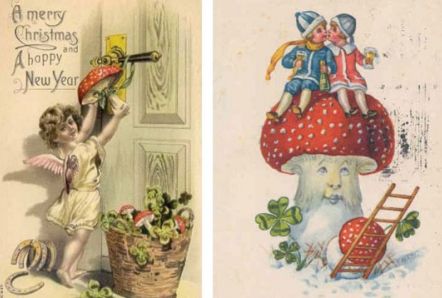 Having a Magical Christmas
The iconography of red and white mushrooms is a common Christmastime theme. Countless baubles, ornaments, paintings, and other Christmas decorations can easily be found with at least a nod toward the magic mushroom. In fact, Harvard's Farlow Reference Library and Herbarium has a display case dedicated to Christmas decorations undoubtedly in the shape of amanita muscaria. Were these popular Christmas decorations because of the relationship between Santa Claus and hallucinogenic mushrooms? Or are they popular merely because they happen to fit in with the popular holiday color scheme?
There may never be consensus on the connection between amanita muscaria and the story of Santa Claus, but it could certainly explain some of the more fantastical elements of Santa's lore. Whether or not you believe the theory, you might want to hang a mushroom ornament on your tree this Christmas as a subtle nod to the jolly man and his long Christmas Eve trip.