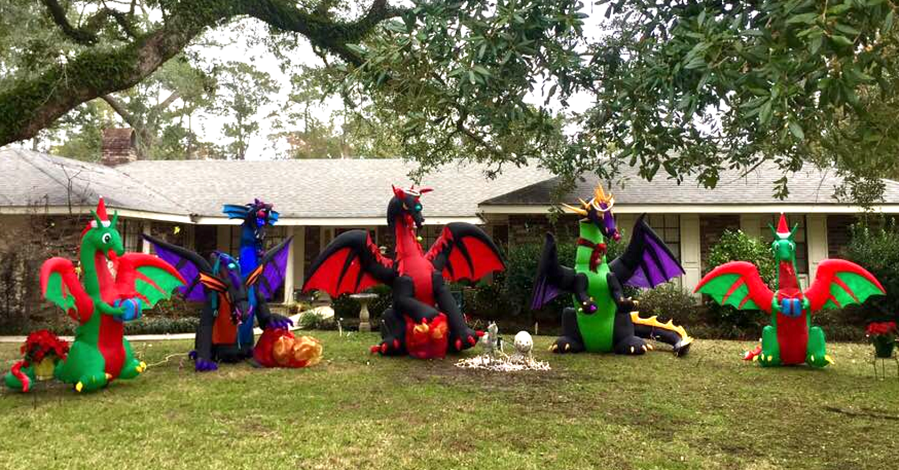 ---
The inflatable multi-colored dragons were really just a cheeky gift from her husband, not meant to live beyond Halloween. Except Diana Rowland decided to keep her glorified lawn ornaments up for Christmas, decorating them with garland, Santa hats, and blue shawls for good measure. And sure enough, they were smash hits in her Mandeville, Louisiana neighborhood.
Four Christmases later, and her dragon tradition is still going. However, the unique decorations haven't sat well with everyone. One anonymous neighbor decided enough was enough - Rowland recently found an angry unsigned letter on her doorstep demanding the dragons be taken down:
"YOUR DRAGON DISPLAY IS ONLY MARGINALLY ACCEPTABLE AT HALLOWEEN, IT IS TOTALLY INAPPROPRIATE AT CHRISTMAS. IT MAKES YOUR NEIGHBORS WONDER IF YOU ARE INVOLVED IN A DEMONIC CULT. PLEASE CONSIDER REMOVING THE DRAGONS. MAY GOD BLESS YOU AND HELP YOU TO KNOW THE TRUE MEANING OF CHRISTMAS."
Taken aback by the accusations, Rowland posted the "fan mail" on Twitter:



Our dragon holiday display got fan mail! (And apparently the "true meaning of Christmas" involves judgmental bullshit?) ? pic.twitter.com/7NLZKkEW2x


Diana Rowland (@dianarowland) December 15, 2018
Story Goes Viral
In a hilarious act of revenge, Rowland promptly went out and bought more dragons. The story quickly went viral, and the internet exploded with headlines reaching as far as Germany,France, and Mexico. International admirers, eager to exacerbate Christian hysteria, flooded Rowland with offers of more dragons.
And just like that, the former-police-officer-turned-sci-fi-writer became a modern day hero - a symbol of defending what you don't really believe in. "Everyone has that story of the crazy neighbor or the pushy neighbor, the one who sends passive-aggressive notes about where you should put your garbage," Rowland explained, characterizing her own neighbor as "judgy-mcjudgyface."
"And yes, now I have stood up to that person," she said.
However, Rowland is determined not to succumb to further social media pressure and turn some off-color kitschy decorations into a national cultural war. "There's a fine line between standing up to a jerky neighbor and becoming a jerky neighbor," she wisely pointed out. "I think five dragons are enough."
Dragons or no dragons, it's beginning to look a lot like Christmas.