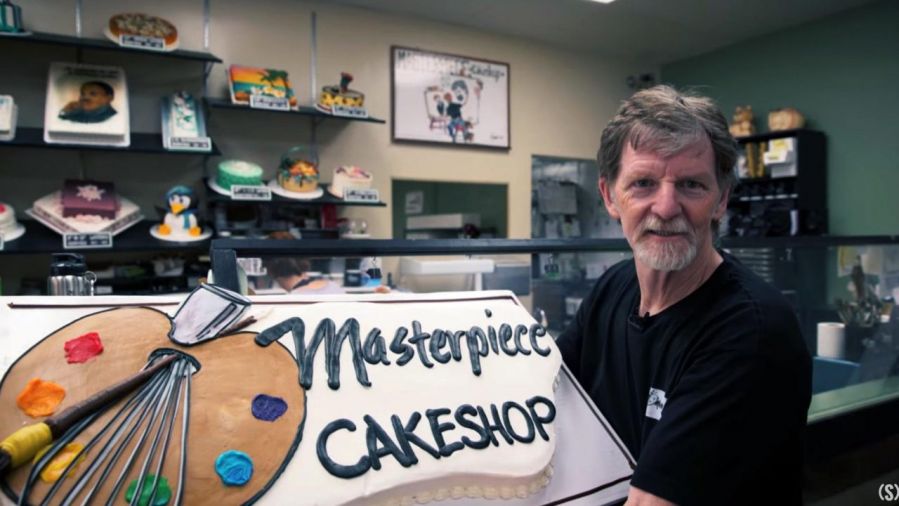 ---
When the Supreme Court ruled in his favor back in June, Jack Phillips probably thought he'd cleared his last legal hurdle. But the Colorado baker who spent the last six years in the national spotlight for refusing to design a cake for a same-sex wedding has now landed back in court this time in a case involving transgender rights.
Reports allege that transgender lawyer Autumn Scardina called the Masterpiece Cakeshop in Lakewood, CO back in June 2017 with a special request. She asked for a cake with a blue exterior and a pink interior to celebrate the anniversary of her transition from male to female. According to Scardina, "the woman on the phone told me they do not make cakes celebrating gender changes."
Asked to justify his decision, Phillips told Colorado Public Radio: "That's a cake I can't create for anybody. I know the Bible says that God created male and female and that we don't get to choose that, and we don't get to change that. And I don't feel like the government has a right to compel me to participate in creating a cake that promotes that message."
Another Legal Battle Ahead
Scardina proceeded to file a complaint with Colorado's Division of Civil Rights, which determined there was "sufficient evidence" of discrimination. But Phillips is once again fighting back. Perhaps buoyed by his Supreme Court victory, he filed a lawsuit against Colorado regulators for religious discrimination, alleging they are continuing to unfairly single him out "for punishment" and exhibiting "hostility toward his religious beliefs."
Phillips is demanding the court provide a permanent injunction preventing the state from enforcing Colorado anti-discrimination laws against him - not to mention $100,000 in punitive damages for his troubles.
Transgender Tribulation
This story becomes only the latest in a series of cases involving transgender rights. From an Indiana teacher who refused to use students' preferred pronouns, to a dispute over gender policy in a Planet Fitness locker room, debate rages on over these issues. And despite making marked inroads in recent years, the movement for transgender rights is still facing stark opposition from certain parts of society, particularly those of Christian faith - like Jack Phillips - who are skeptical about gender transitions and refuse to acknowledge them as something worth celebrating.
Is Discrimination Legal?
Although Phillips currently enjoys the legal backing of the highest court in the land, the narrow 7-to-2 decision did not fully resolve the question of whether business owners can use religious freedom or other First Amendment arguments to legally refuse goods and services to same-sex couples or other marginalized groups. Given the contentious nature of this debate, experts predict the issue will inevitably return to the Supreme Court before long. Until then, plenty of grey area remains in the law.
What do you think? Should the religious beliefs of Jack Phillips - and others like him - be protected, or is the government completely justified in going after discriminatory behavior?