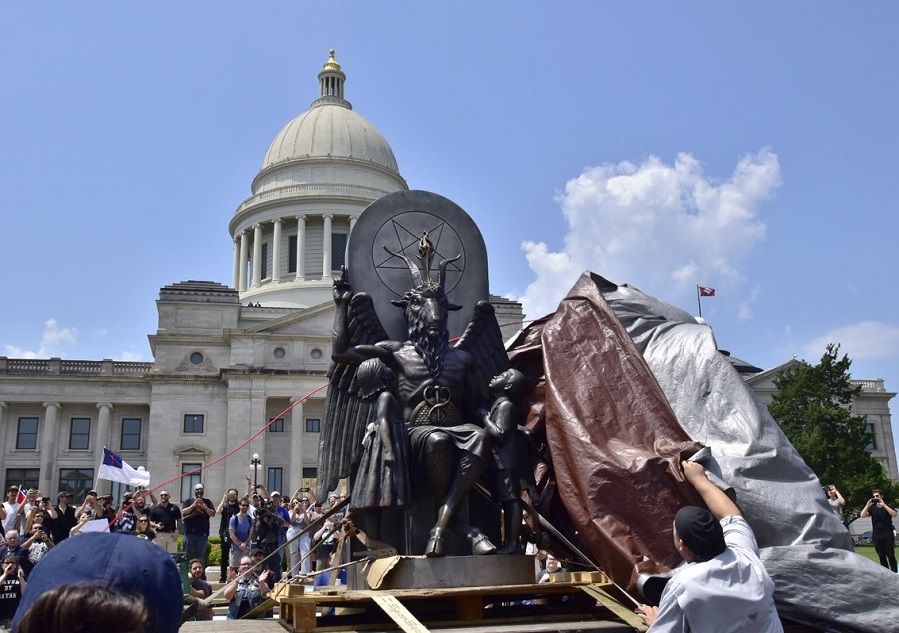 ---
You might remember that earlier this year, Arkansas lawmakers passed a controversial piece of legislation approving the installation of a Ten Commandments statue outside the state capitol. The new statue was put up in April (replacing an older version which was dramatically knocked down by an angry citizen last summer). But a growing number of critics have voiced their opposition to the statue, which many see as an unwelcome intrusion of religious belief into public spaces. The ACLU launched a lawsuit to have the statue removed, but as of now it remains standing.
Enter the Satanic Temple, who organized an event that would be impossible for lawmakers to ignore. Yesterday, members of the Satanic Temple gathered outside the state capitol to unveil a statue of their own: a 7 -foot-tall figure of Baphomet, the goat-headed idol with deep connections to Satanic belief.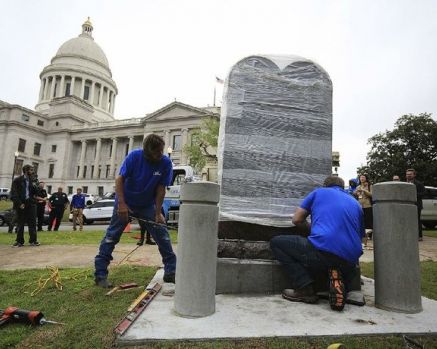 Because installing a permanent statue on state property requires legislative approval, protesters were forced to remove the statue after the event. Nonetheless, the incident put Arkansas politicians on notice.
A Cool Reception
Arkansas State Senator Jason Rapert, who sponsored the law authorizing the Ten Commandments monument, pulled no punches when asked about the Satanic Temple bringing their own statue to the capitol. He called the protesters "extremists" and said "it will be a very cold day in hell before an offensive statue will be forced upon us to be permanently erected on the grounds of the Arkansas State Capitol."
Unsurprisingly, an attempt to reason with state lawmakers went nowhere; a formal letter penned by the Satanic Temple requesting that Baphomet be given a permanent home outside the capitol building in Little Rock received no response.
Not All Statues Are Equal
Satanists argue this is a matter of religious freedom, and insist that the law is clearly on their side. "If you're going to have one religious monument up then it should be open to others, and if you don't agree with that then let's just not have any at all," said rally organizer Ivy Forrester.
Under the Constitution, the government is prevented from doing anything to unduly favor one religion over another. And yet, by allowing a Ten Commandments statue and blocking a Baphomet monument, Arkansas seems to be doing exactly that.
With the ACLU's legal challenge still winding its way through the courts, it may be a while before a formal ruling is laid down. In the meantime, what is your reaction? Should Arkansas be able to promote one type of religious monument and block another?