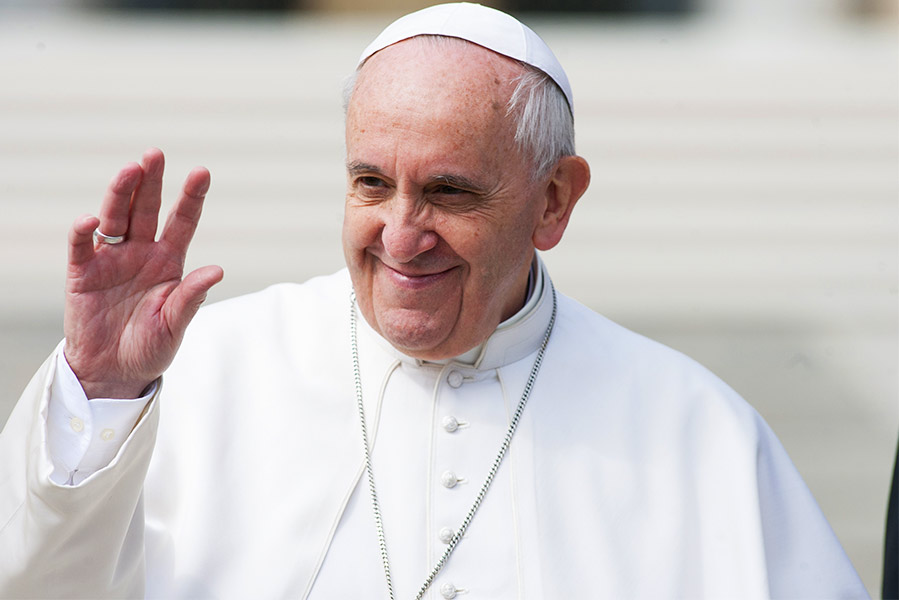 ---
In 2013, newly-elected Pope Francis was asked about his opinions on gay priests. In response, Pope Francis famously said, "If someone is gay and is searching for the Lord and has good will, then who am I to judge him?"
That response stands in pretty stark contrast with his predecessors' views. What's more, it was the first time a pope had used the word "gay" in public. Later that year, LGBT magazine "The Advocate" named Pope Francis their Person of the Year for positive remarks about the gay community and a seeming change of attitude from the papacy.
Since that time, Pope Francis has spoken positively about the LGBT community often. And just recently, he met with a pro-LGBT priest who is a frequent target of conservative Catholic criticism. But is he the ally many believe him to be?
Pope Francis Meets Father James Martin
Father James Martin is an American Jesuit priest who has devoted much of his ministry to advocating for LGBT Catholics. He is the author of "Building a Bridge", which lays out ways in which the Catholic Church can be more welcoming to the LGBT community. Last week, he held a highly-publicized meeting with Pope Francis at the Vatican.
Anti-LGBT Catholics Bristle
These progressive views put him at odds with official Church teachings and Father Martin has been the focus of strong criticism from the Church's more conservative wings (his book got him banned from lecturing or appearing at numerous Catholic seminaries and universities). Cardinal Raymond Burke went as far as to call Father Martin a "celebrity priest" whose teaching is "not coherent with the Church's teaching on homosexuality."
Within these traditional circles, as you might imagine, there was outrage when it was announced that Pope Francis would be holding a personal meeting with Fr. Martin.
Archbishop Chaput of Philadelphia used a noticeably sharp tone in a statement released prior to the meeting: "Due to the confusion caused by his statements and activities regarding same-sex related (LGBT) issues, I find it necessary to emphasize that Father Martin does not speak with authority on behalf of the Church, and to caution the faithful about some of his claims."
Meanwhile, Catholic journalist Damian Thompson put the blame on Pope Francis for agreeing to the meeting in the first place, accusing the pontiff of being "recklessly partisan":
Support From the Top
However, for many Catholic LGBT allies and advocacy groups, the meeting was cause for celebration - an explicit refutation of the criticism Fr. Martin has been subjected to by other Catholic leaders. It was a signal that Pope Francis is willing to side with the progressive wing of the Church over the conservative factions which have long dominated the conversation.
New Ways Ministry, which advocates for LGBT members of the Catholic faith, called the occasion "a day of celebration for LGBTQ Catholics who have longed for an outstretched hand of welcome from the church that they love." For his part, Fr. Martin agreed that this meeting was a sign of the Pope's interest in extending an olive branch to the LGBT community and a positive step toward inclusivity.
The Most LGBT-Friendly Pope Ever ?
So does Pope Francis actually support LGBT rights? The popular pontiff has certainly done more to support the LGBT community than any of his predecessors. But what does this support amount to?
Francis has undoubtedly made more pro-LGBT comments than any other pope. He has spoken out in favor of pastoral care for transgender Catholics. He also met with a transgender man who was rejected by his own church in Spain. He's repudiated the Church for a seeming "obsession" with gays and lesbians. And he's said the Church needs to treat gays and lesbians with love and affection.
If all you did was read these statements, you could be forgiven for assuming that the Catholic Church has turned over a progressive new leaf. But despite the pope's words, in reality, not much has shifted on the ground. Catholic adoption agencies are still fighting to protect their "religious liberty" when it comes to gay adoptions. Catholic schools continue to fire teachers for being gay. And let's not forget that gay and transgender individuals are still barred from holding any leadership positions in the Church.
But perhaps most importantly, same-sex relationships continue to be viewed as a threat by Catholics - even Pope Francis. In a 2015 interview, the pontiff voiced clear opposition to gay marriage, saying that "the family is threatened by growing efforts on the part of some to redefine the very institution of marriage."
So despite the positive signs, there are many who remain skeptical that Pope Francis really plans to accept the LGBT community into the fold. Nice word and meetings are a step in the right direction, but until the Catholic Church changes its official catechism it's all just lip service, say critics.
What do you think? Does Pope Francis really want the Church to change its views on homosexuality, or is there more to the story?