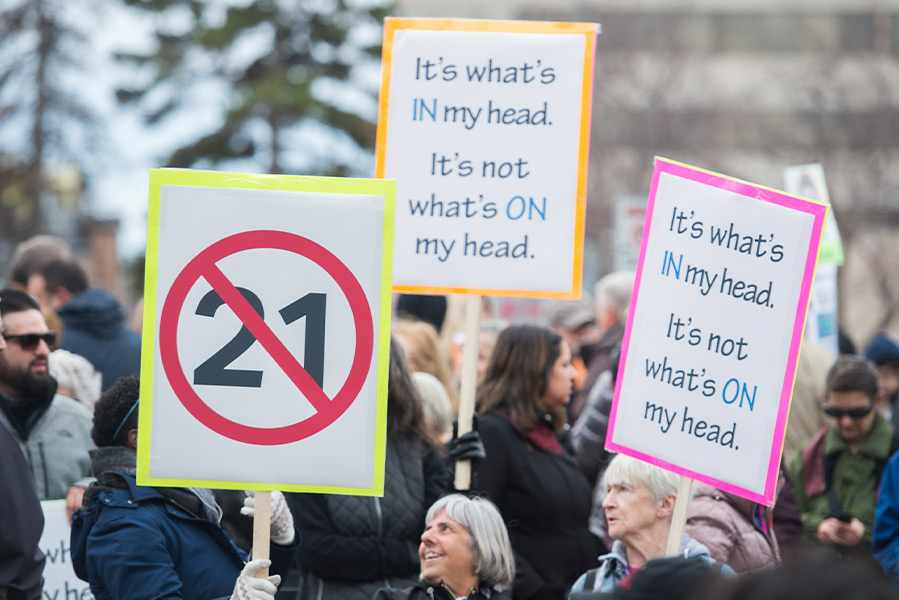 ---
"Immediate, severe, irreparable, and unacceptable prejudice."
These are the words civil rights groups battling Quebec's recent ban on religious symbols are using to describe the plight of those who've been affected by the ban. Quebec's Bill 21, passed earlier this year, bans all public servants from wearing religious symbols. Everything from cross necklaces to Jewish kippahs to hijabs are banned for police officers, teachers, judges, and more.
Civil rights groups are arguing the bill targets Muslim women, whose religious headwear is significantly more visible than others. Hours after the bill's passage, they put the wheels in motion to overturn a law they say forces Muslim women to choose between their religion and their career.
Said the lawsuit: "This is causing them immediate financial hardship, but also enormous uncertainty about their ability to pursue the careers they have spent years training for, as well as stress and the sense of being singled out among their peers."
Legalizing Discrimination?
To make their point, lawyers submitted affidavits from Muslim women denied jobs and internships by Montreal school boards on account of their headscarves. This challenged the Quebec Superior Court's decision to reject an emergency injunction filed by The National Council of Canadian Muslims and the Canadian Civil Liberties Association.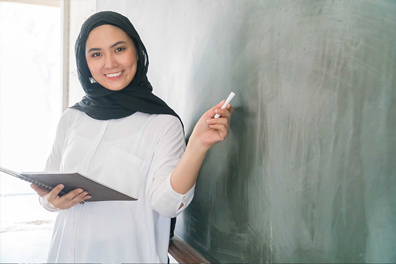 At the time, Quebec Superior Court Justice Michel Yergeau had insisted there was no evidence the law had caused irreparable harm amongst citizens. Though he agreed with the plaintiffs that the bill raises certain constitutional questions.
Yet in submitted testimony, one McGill University graduate described having to reassure two Montreal school boards she'd be willing to remove her hijab in her classroom. She was eventually forced to take a part-time position at a private school when neither got back to her. "Now, I am depressed and anxious, and I feel like a second-class citizen in my own province," she wrote.
A second preschool and primary school teacher who wore her hijab to work for years was recently told she'd no longer have a job if she didn't remove her hijab. Ultimately, she chose to accept a lower-paying job as a monitor at another school.
Essential for Secular Society
The lawsuit appears to have lost round one in the courts. The motion included a request for an injunction. That would have frozen parts of the law from going into effect as the courts considered the constitutionality of the bill. But a Quebec Superior Court just rejected that proposed suspension.
The Coalition Avenir Québec government has framed Bill 21 as a necessary and logical step for any secular society. "Laicity does not run against freedom of religion, and everyone will stay free to practice the religion of his or her choice," explained Premier François Legault. "It's an approach that respects our history, our values, and it's an approach that respects what the majority of Quebecers want."
And some Muslim women agree with the Premier. Montreal teacher Zahra Boukersi told the BBC that she is not comfortable with the hijab. "Religion is intimate, it's personal. It's between God and me. That's how I see things." She continued, "there are women who wear it truly by choice. But even when they do, I see it as an act of submission."
The Debate Goes On
Proponents of the bill say that working as a public servant comes with additional responsibilities, and they point to its broad public support in the province as proof it is for the greater good.
And yet it's hard to argue with the testimonials. Muslim women, in particular, feel they are left at a palpable disadvantage.
One thing is for sure: Canadian civil rights groups will continue their attempt to overturn the law. And nationwide protests are planned for this weekend.
Where do you fall? Is it the job of western democracy to bend to organized religion? Or, in the name of modernity and equality, should it, in fact, be the other way around?