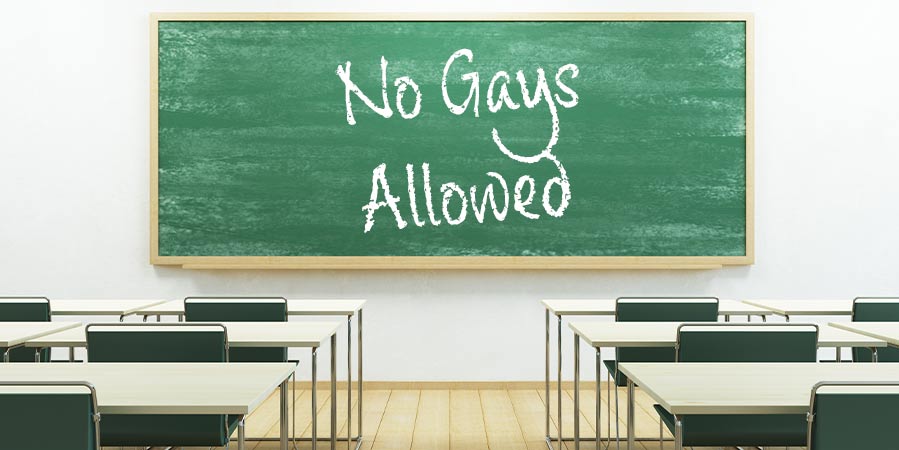 ---
An Indiana high school has placed "Catholic identity" ahead of one of its own. In an open letter, Cathedral High School tried to explain the "agonizing" decision to fire a gay teacher to avoid removal from the Indianapolis Catholic Diocese, after Archbishop Charles Thompson made clear what the ramifications of continuing to employ "a teacher in a public, same-sex marriage" would be.
Cathedral's board Chairman Matt Cohoat and President Rob Bridges tried to explain in a letter on the school's website. "If this were to happen, Cathedral would lose the ability to celebrate the Sacraments as we have in the past 100 years with our students and community." Simply put, the school would lose its Catholic affiliation and tax-exempt status. Ultimately, the church relented and let the anonymous gay teacher go after 22 months of discussion with the archdiocese.
Archbishop Thompson is apparently taking Catholic identity quite seriously these days. Last week, he issued a decree prohibiting neighboring Brebeuf Jesuit Preparatory School from calling itself a Catholic institution after it refused to fire a gay teacher in its own ranks. The school labeled the Archbishop's instructions harmful to its teachers and staff. "Disheartened" by the strong-arm technique, it then concluded, "our identity as a Catholic Jesuit institution remains unchanged."
Faith Firings of Gay Teachers Nothing New
Catholic schools firing upstanding teachers simply for being gay is nothing new.
Last February, first-grade teacher Jocelyn Morffi was fired from her seven-year job at Miami's St. Peter and Paul Catholic School after she married her wife. In a letter notifying families of the popular teacher's students, the school principal insisted he'd made "a difficult and necessary decision" and asked for their "continued prayers."
Officials at Cathedral High School, meanwhile, have braced themselves for the public backlash to the firing of their own teacher, who's anonymous for now.
"In today's climate, we know that being Catholic can be challenging and we hope that this action does not dishearten you, and, most especially, dishearten Cathedral's young people," they wrote. "We know that some individuals do not agree with every teaching of the Catholic Church and so their conscience struggles between the teaching and what they believe is right. We want you to know that we respect an individual's conflict between teaching and their conscience."
Catholic Diocese Refused to Relent
The Indianapolis Catholic Diocese did not immediately comment on Cathedral's decision. However, it's hard to see how they can deny anything less than full responsibility for it.
And with the firing gaining media attention, many have condemned the school's decision as unacceptable. Indeed, a Change.org petition denouncing the firing and asking the school to recant has received 10,000 signatures in two days.
Fellow Cathedral educator Buffy Hoyt VanWienen stood in solidarity with the anonymous gay teacher. Hoyt VanWienen made a public Facebook post about how she divorced and remarried without an annulment. Remarriage without an annulment is also in violation of the morality clause. "As scary, heartbreaking, and life changing as this is for me to say, Archbishop Thompson: fire me too."
Ultimately, it seems, Cathedral High School was between a rock and a hard place. Given the nearly two years of negotiations with the Catholic Diocese, this was not a decision Cathedral wanted to make. And a refusal to remove the teacher would result in the school losing its status as an independent nonprofit tax-exempt organization. But letting the teacher go has unleashed a wave of community outrage that is unlikely to slow any time soon.
What do you think? Should the school have displayed more backbone and stood up to the Archbishop's decree? Or do Catholic schools have the right to discriminate against gay teachers in a bid to respect their religious beliefs?