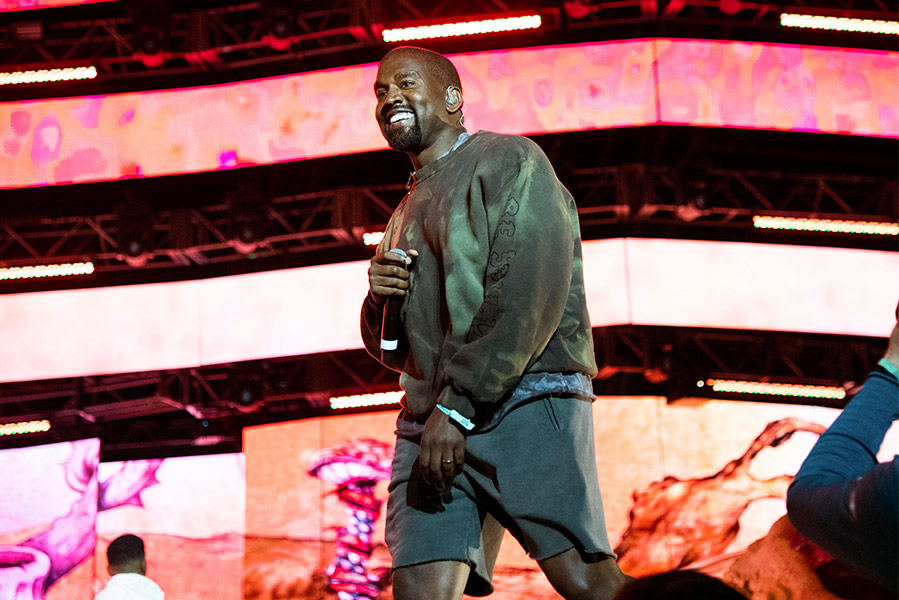 ---
If you haven't already heard, rap legend Kanye West has been born-again big time.
The title of his upcoming album 'Jesus Is King' should be a dead giveaway. But if it isn't, the fact that the polarizing rap icon has been performing weekly in gospel venues and churches around the country should be. West's so-called 'Sunday Service' drives home his born-again admiration for Jesus, but some Christians are turned off by the unique blending of religion, music, and entrepreneurship that only Kanye West could pull off.
This past weekend, unsuspecting churchgoers who flocked to the Greater Allen A.M.E. Cathedral in Queens, dressed in their regular Sunday best, were puzzled to see their sacred pulpit moved halfway through the ceremony so that the hundred-strong choir could back Kanye West. And while the performance thrilled throngs of Kanye fans, many of the regular congregants walked out halfway through the performance.
Sunday Service
Kim Kardashian, West's wife, business partner, and bra-less Sunday Service cheerleader, is the first to admit this isn't exactly your parent's church. She says "there's no praying. There's no sermon. There's no Word. It's just music. And it's just a feeling."
Despite the secular disclaimer and well-publicized celebrity appearances from Brad Pitt, Justin Bieber and Kate Perry, the iconic rapper's decision to exploit his faith and trademark the phrase for his sermon-like concerts, merchandising line, and upcoming IMAX movie, has more than a few Christians holding their noses.
"The religion is Kanye," declared entertainment news journalist Roger Friedman, pointing out the word "SHOP" draped throughout the entire New York livestream, linking back to his site, where you could buy "cheap, ugly t shirts that read, 'Jesus is King,' for 50 clams. Doesn't that just give away the whole purpose of this thing?"
West faced similar backlash for looking to cash in on Christianity when he hawked $225 hoodies with slogans like "Holy Spirit" and "Sunday Service at the Mountain" at his Coachella Easter Sunday service. Indeed, passing off musical performance as religion is nothing new: West's 2013 album Yeezus, a title most Christians would likely find blasphemous, featured a song called "I Am A God" - a song most Christians would likely find blasphemous. And West himself proclaimed that his 2016 album 'The Life of Pablo' was a gospel album. For those who've listened to that album, some of the lyrics may raise an eyebrow on West's genre classification.
Kanye, Christ, and Controversy
Is this the turning over of a Godly new leaf for West, the start of a redemptive arc after years of a very public struggle with mental health? Or is this just a continuation of what West has always done: mixing music, religion, and entrepreneurship?
After all, this is far from the first time West has courted religious controversy. Back in 2006, he appeared on the cover of Rolling Stone dressed as Jesus with a crown of thorns.
Still, West's Sunday Services does have its defenders. James Gardin, a writer for Rapzilla, said the service works for the faithful and nonbelievers alike. Gardin said that many of the nonbelievers in attendance "probably would have never stepped foot in a church but the Church came to their turf this time." He continued: "I think this should be very inspiring to believers worldwide. The sermon didn't water down the fact that we need to be saved and that Jesus is the one to do the job."
But Premier Christianity magazine columnist Tobi Oredein doesn't cut the artist the same slack, insisting West's church is simply a marketing campaign for his music and fashion brand. "He's employing a choir of people who are not only singing his songs, but are all dressed in his apparel. Is Christ really at the center of this gathering? I'm not sure he is."
Where do you fall? Are Kanye West's religious convictions actually sincere? Or are these Sunday Services yet another high concept blending of music and capitalism - with a biblical twist?