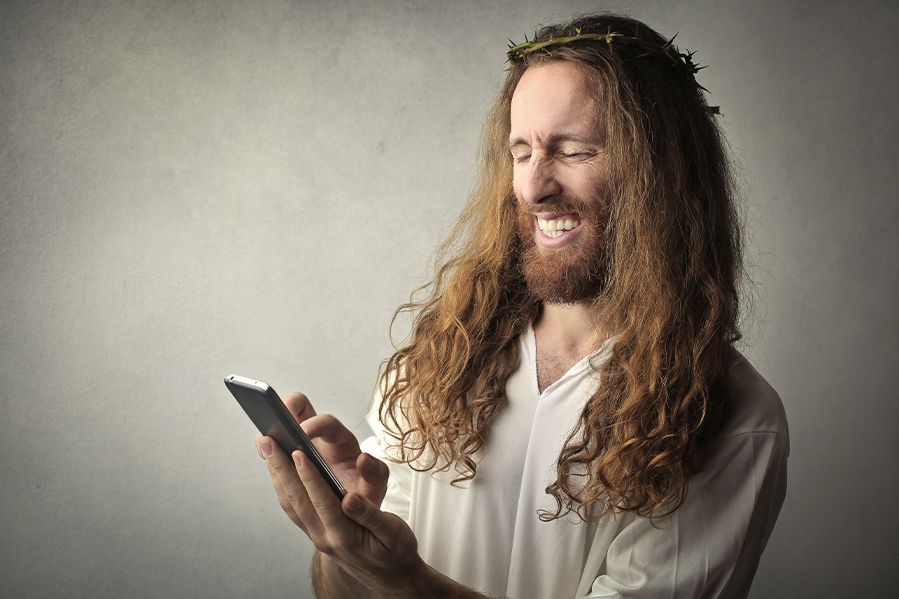 Much like those books which update Shakespeare into modern English, a viral TikTok account is updating the Bible for a whole new generation. 
The TikTok videos (some racking up millions of views) focus on a story or character from the Bible, as the narrator casually retells the biblical story in copious Gen-Z slang. With terms like "vibe check", "pick-me girl", and "glow up", the videos are hoping to demystify Christianity's holy text for young people.
While many have enjoyed the TikTok videos for its tongue-in-cheek humor and informative content, some say that the updated Gen-Z translation only serves to cheapen the Bible and make a mockery of their faith.
New Bible Translation Just Dropped
So... is Jesus based, or cheugy? TikTok account "Gen Z Bible Stories" seeks to answer that question for a generation often viewed as apathetic towards biblical teachings.
With more than one hundred thousand followers, one million likes, and over seven million views, Gen Z Bible Stories is the latest viral account to take TikTok by storm. The account takes classic biblical tales and retells them with casual Gen-Z slang. 
Think of it as a Sunday sermon... as retold by your 20-year-old little cousin.
The account's most popular video tells the story of Mary's virgin birth: "Mary was a pick-me girl for God and was simping for him in prayer when the angel Gabriel appeared to her and said, 'you've passed God's vibe check, and he wants you to be the mother of the main character, the son of the top G.'" 
"She said, 'bet,' and Gabriel left her on read, and she let the holy spirit cook."
Other well known Bible translations include the Apostle John entering his "prophet era," and Jesus turning water into wine, which "absolutely slays."
But one of the most-watched videos on the account is a Gen-Z retelling of the Sermon on the Mount. See if you can make sense of this youthful Bible translation:
Need help breaking it down? We've done our best to translate some of this language. 
"W to those who aren't thirsty for this mid life, for they will have eternal life" translates to: "Blessed are the poor in spirit, for theirs is the kingdom of heaven."
"W to those who take L's from this life, for they will receive an everlasting W" translates to: "Blessed are the meek, for they shall inherit the earth." 
"W to those who don't throw hands, for they will secure the eternal bag" translates to: "Blessed are the peacemakers, for they shall be called the children of God."
Modern Spin, or a Mockery of Faith?
This language may be nigh incomprehensible for anyone over 30, but many younger TikTok commenters actually said that this new translation (of sorts) helped them better understand the Bible.
And on the other hand, many older commenters familiar with the biblical stories but not Gen-Z slang said that this helped them understand the slang of their children or grandchildren.
Although the account is clearly intended to evoke some giggles, the TikToker says that his intent is not to mock Christianity.
"The main question I get asked is from Christians, who wonder if it's blasphemous. I wondered that too before I made the second video," he explained. "I always try not to be disrespectful to the text or to stray from any accuracy."
While many young Christians have stated that the account has actually deepened their faith by giving them a better understanding of Christianity, not all religious leaders are happy about it.
Dr. Brent Strawn, a professor of the Old Testament at Duke University wonders if the account is going "too far," and ponders whether the Gen-Z language actually cheapens the original biblical text. 
"Some of the slang terms might be things that you would use for dating situations," he explains. "Is that really the same thing as the notion of the annunciation of the virgin birth to Mary?"
Still, many find the account to be pretty entertaining and informative. These fans point out that the Bible has been endlessly translated and retranslated over time… couldn't this Gen-Z slang update be an extension of that lineage?
What do you make of the account? Is it performing harmless modern translation, or making a mockery of faith?
Did the Bible need a Gen-Z update?