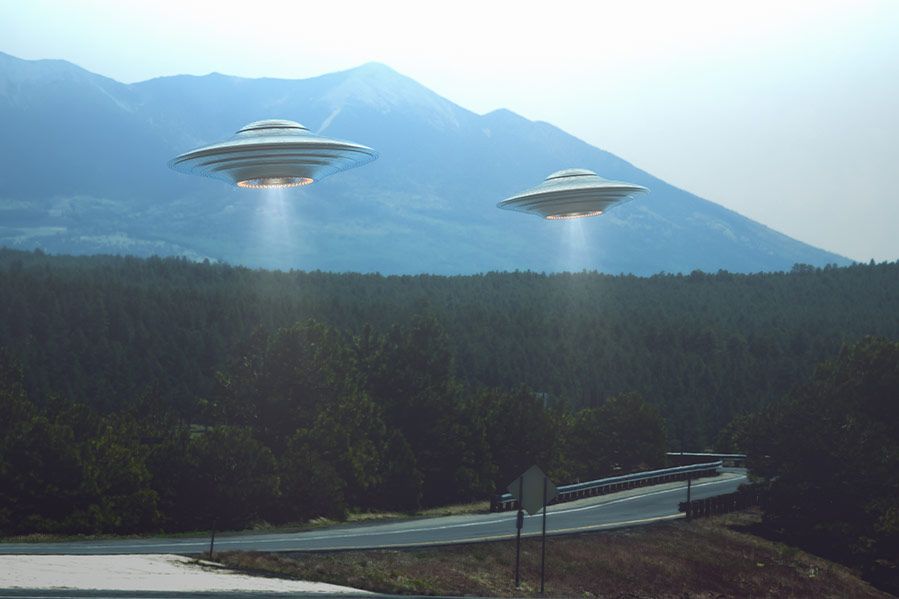 For decades, aliens have loomed large over pop culture. Ask someone to picture an alien, and they might think of 'the greys', the thin-lipped, big-headed, bug-eyed being popularized from its appearance on the cover of Whitley Streieber's landmark book Communion. They might think of the xenomorph from the Alien film franchise, animalistic and gooey. They might think of someone a bit friendlier, like Chewbacca the Wookie from the Star Wars franchise.
Little green men. Martians. Extraterrestrials. Whatever you think of, they've left an indelible mark on our society.
Now we're about to find out if they're real.
That's right, according to a bombshell New York Times report, the Pentagon is preparing to release some previously classified findings from their shadowy and secretive UFO unit. And if that weren't explosive enough, insiders are speaking out in anticipation of the release, confirming some pretty wild theories.
Greetings, Earthlings
Despite Pentagon insistence that the UFO program was disbanded years ago, it's been ongoing for years under the Office of Naval Intelligence. They've been investigating numerous sightings of UFOs by military pilots - some of which have already been released to the public and acknowledged by the Pentagon as legitimate video captured from in-flight cameras.
The program ostensibly investigates if those unidentified crafts are advanced Chinese or Russian tech – or otherworldly visitors.
Some individuals, privy to classified information, are saying that some of the mysterious findings are literally out of this world.
"It no longer has to hide in the shadows," Luis Elizondo, the program's director for 10 years, told the New York Times. He's certain that objects have crashed on earth whose origin simply is not terrestrial in nature.
Eric W. Davis, an astrophysicist who worked as a consultant on the UFO program insists that he's seen the evidence first-hand. This expert describes "off-world vehicles not made on this earth," and after assessing some of the recovered material, believes that "we couldn't make it ourselves."
And they're not the only ones. Retired Nevada Senator Harry Reid said in an interview that "after looking into [the UFO program], I came to the conclusion that there were reports — some were substantive, some not so substantive — that there were actual materials that the government and the private sector had in their possession." As a senator, Reid was a strong proponent of the UFO program.
Even President Trump has said he's learned some "very interesting" things about UFOs and the alleged 1947 UFO crash in Roswell, New Mexico.
Beam Us Up
It's certainly a lot to think about. 2020 has already given us a global pandemic, worldwide protests against racial injustice, and, of course, Tiger King. Why not throw aliens on to the mix too?
It certainly seems like we're on the cusp of learning something huge. Insiders are coming forward, and even the typically tight-lipped government is saying way more than usual.
What do you think? Is the truth out there?