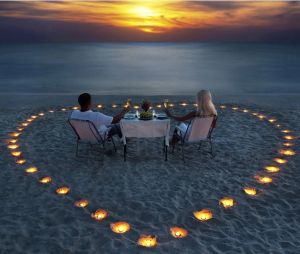 How would you like to take your wedding on tour across the nation? One couple from Seattle did exactly that last year. Rather than hold their wedding ceremony inside a place of worship, Dane Kuttler and Rowan Parker got legally married by a Universal Life Church minister and took their ceremony to friends and relatives in ten different destinations across the United States. Ideas like these are worth pondering as we prepare for the St. Valentine's Day wedding season.
Taking Marriage on the Road
"Wedding Tour '13", as Kuttler and Parker call it, was intended as a way to make their wedding accessible to as many friends and relatives as possible. Rather than invite guests to the wedding, they decided, why not take our wedding to the guests? So, before they embarked on their wedding junket, the couple made sure all the legal paperwork was taken care of and had their marriage certificate signed by Parker's mother, Lynn, an ordained minister in the Universal Life Church. Even more unusual, however, is that Parker's mother did not officiate at any of the road ceremonies. This is only possible when the couple agrees with two witnesses that the officiant performed the legal aspect of the ceremony on some other date.
The marathon kicked off last February at the Florida apartment of Kuttler's grandmother, where their friends and family in the sunshine state joined in the ceremony. Shortly after, the couple held another ceremony over Memorial Day weekend in a waterfront town west of Seattle. Their biggest ceremony was held last August at the Van Saun Park Zoo in Paramus, New Jersey, and the final one was held back in a Seattle park the day after Rosh Hashanah. In all, at least 150 people witnessed the couple exchange vows.
Love Songs, Chuppahs, and Utilikilts
The ceremonies themselves were equally unconventional. While Kuttler wore three different sundresses, Parker, a transgender preschool teacher, donned a black utilikilt. "I don't consider myself traditionally gendered, so it was a way of playing with my gender", he said. It was also an interfaith wedding: despite the absence of a wedding officiant, each ceremony included a Unitarian reading and poetic interpretation of the Jewish traditional seven blessings, along with a love song written by a friend's 11-year-old daughter, all underneath a traditional Jewish chuppah.
Kuttler and Parker's style might not be for everyone, but it does offer some very creative ideas. What are your thoughts on the concept of "wedding tours", and do you think weddings can be performed without an officiant present?
Source:
Heritage Florida Jewish News