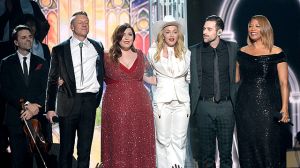 The 56th Grammy Awards ceremony made history Sunday, 26 January when a mass wedding was held in conjunction with performances by several pop megastars. Befitting the Valentine's Day season, thirty-four opposite-sex and same-sex couples were married in the ceremony, with the entire audience serving as wedding guests, and over 100 million viewers as witnesses. Rapper and actress Queen Latifah performed the nuptials, later reflecting on what it meant to participate in such a momentous event.
Pop Stars Unite for Marriage Equality
In an unprecedented show of solidarity, the ceremony brought together a number of high-profile, influential celebrities in the recording industry in celebration of marriage equality, which is rapidly becoming the norm across the United States. During the wedding, hip-hop artists Macklemore and Ryan Lewis performed their breakout hit "Same Love", an anthem advocating the equality of opposite-sex and same-sex relationships, along with Madonna and singer Mary Lambert. Madonna also performed a choral version of her 1987 dance hit "Open Your Heart" while the newlywed couples danced joyously in the aisles.
Backstage after the ceremony, Latifah expressed many of the same hopes and dreams of the other musicians present. "I look forward to the day when presiding over a historic wedding ceremony like this is just the norm normal special, not extra, extra special," she said, adding, "[t]o me, it's special for all the couples who married today. And I look forward to dashing off to go sign marriage certificates. It's awesome". Much of this support has been driven by celebrities' own family relationships: Ryan Lewis's sister, Sarah, was among those betrothed on Sunday.
Equal Love, Equal Rights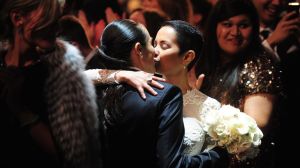 The role of wedding officiant was something Latifah took seriously, recognizing the moral and philosophical importance of the event. "The weight of it comes down, because it wouldn't matter if you're same-sex couples or heterosexual couples or interracial couples, it doesn't matter to me, this is someone's life committed to one another, and you want to make sure you do it right", she said, noting, "[t]hat is what sunk in for me". Apparently it sunk it for audience members too, who showed signs of shedding tears.
Sunday's Grammy Awards ceremony and mass wedding serves as an inspiring overture to the 2014 St. Valentine's Day wedding season. If this time of year should remind us of anything, it is that love, in all its forms, deserves to be celebrated.
Sources:
The Los Angeles Times