---
The following guest sermon was submitted by ULC officiant Diana Belle. All ULC members are invited to contribute their own sermons for consideration/publication. To submit a sermon, please email it to sermons@themonastery.
---
I had always wondered what it would take to get ordained or how hard it would be, but as we tend to do in life, I put it on the back burner until something inspired me to take action.
Here's what happened: over the scores of weddings I had helped coordinate, the officiant was always on time. It wasn't something I worried about. Until suddenly I had to. Out of the blue, I was faced with an officiant running 30 minutes late - which in "wedding time" may as well be half a day. I was left scrambling and trying to figure out what to do.
In this situation, you essentially have two options: either delay the ceremony or find someone else that's ordained to stand in as an emergency officiant. Thankfully the officiant arrived just in time to perform the ceremony.
Nonetheless, the incident demonstrated how serious problems can arise when the officiant is delayed. As a professional wedding planner, I can attest to the sheer amount of stress and effort required to coordinate a ceremony and ensure it goes smoothly. The last thing anyone needs is a surprise curveball. And yet, that's life.
Forming a Backup Plan
Despite averting disaster, I knew we got lucky and I didn't want to risk that happening again. That's when it occurred to me: why not just get ordained myself? Should the scheduled officiant ever happen to be delayed or unable to attend, I could step in and save the day. So I did some research and discovered the Universal Life Church!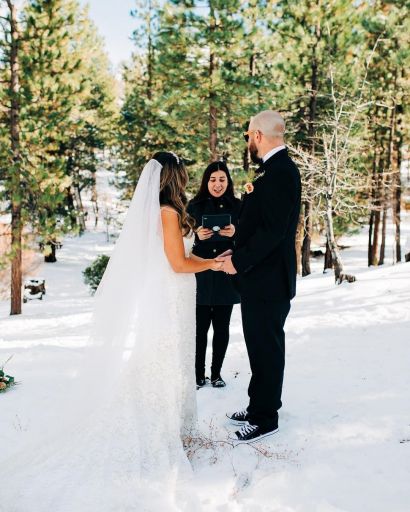 When I applied to be a ULC minister, I was surprised by how easy the whole process was. With just a few simple steps I became legally qualified to officiate weddings! Although I'm not the best at speaking in front of hundreds of people, at least I'm at ease knowing that I can marry couples in case an emergency should arise.
Stepping up to the Plate
Lo and behold, a few months later, my worst fears came true. The officiant of a wedding I was coordinating called just an hour before the ceremony to say that they would not be able to make it. Bad news. Worse still, they offered no alternative option for someone else who could help.
Thankfully, this time I had a plan B. Instead of frantically searching online for a last-minute wedding officiant (not the most auspicious phrase, is it?), I calmly informed the couple that not only was I qualified to step in and perform the ceremony, but I was prepared for this very circumstance. We had all worked so hard to plan a memorable wedding, and I could not let them down.
Although it's pretty rare for an officiant - especially a professional officiant - to no-show at a ceremony, it's still a good idea to have a backup in place just in case. And as my story shows, it's hard to beat the convenience of a wedding planner who also carries an officiant license! It's certainly a relief never having to stress about the officiant making it on time. As an ordained minister, I've become my own problem solver.