No matter which direction you look anymore, it seems like you're staring straight at death. As the attacks seem to increase in frequency, so too does the familiar refrain we hear in response.
"Pray for Syria"
"Pray for Paris"
"Pray for San Bernardino"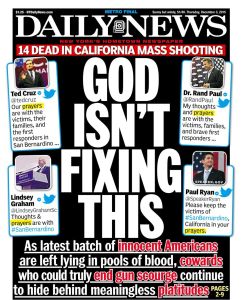 Many people have begun to express their frustration with these phrases, which they argue are meaningless platitudes. Provocatively, the Daily News in the U.S. featured a cover that declaring "God Is Not Fixing This" in response to the shooting deaths of 14 at the hands of violent extremists at an office in San Bernardino, California.
We posed the question to all of you on our Facebook page and got a litany of interesting responses. Many of you echoed the sentiments shared by the Daily News, voicing instead that you would like to see our nation's leaders instead put forth actionable solutions to the problems we face. Many of you also, however, voiced anger at the declaration of the Daily News and advocated for the power of prayer in difficult situations - particularly when a person may not individually be able to take direct action.
Largely, it can probably be agreed that all those praying for the victims of tragedies have good intentions. Indeed, this Universal Life Church has issued calls for prayers in the aftermath of violent incidents itself - including after the attacks in Paris. The Daily News has us wondering, though, are our prayers doing more harm than good?
Certainly, prayer is a cathartic exercise for the pray-er. It does make us feel good to somehow express our sympathy for those who suffer, and the sense of universal neighborhood we feel as we see similar outpouring certainly feels like it is valuable, from a human standpoint.
However, we can also sympathize with the mother of a young son gunned down in his prime who - at the end of the day - is left clutching a mountain of prayers where her son could and should be. No matter how many prayers are tweeted at her, she is never going to hold her son again.
We don't know what the answer is here, but we are aware of the disconnect and think it is an important one to consider. Perhaps, the next time you pray, think also about what steps (if any) you can take to solve the problems you are referring on. Did your God(s) or the Universe intend for your prayers to be one-way hotlines for outsourcing problems? Or would (s)he/it prefer a dialogue?
Let's keep the discussion flowing! Let us know what you think, below.