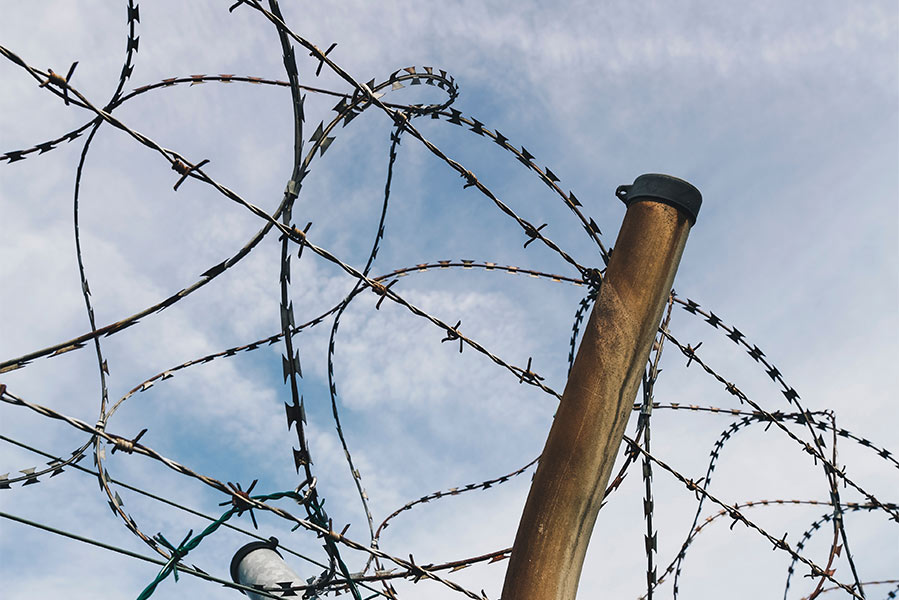 ---
The conditions at the U.S.-Mexico border and the treatment of migrant families seeking to cross the border has sparked a wave of debate throughout the United States, and indeed, the world. We've had ministers writing in to share their thoughts on the conditions at the border, the rule of law, and what Jesus would think. Below are two guest sermons from our ministers with differing opinions on the border issue.
Border Conditions Would Appall and Disturb Jesus
A guest sermon by Faye Kirkpatrick
Imagine fatigued, dehydrated men stuffed in cells like slaves crammed shoulder to shoulder in the hull of the Amistad. Imagine tiny children, wide-eyed, confused, and afraid, forcefully separated from their parents--drinking out of toilets just to stay alive.
Now imagine the president of the United States of America, a country ostensibly founded on Christian values, lying through his teeth about the horrible conditions migrants in detention centers across the U.S. / Mexico border are living through.
And then try to imagine what Jesus might make of it all.
On July 1st, a group of Democratic congressmen and women toured border facilities in Clint and El Paso, Texas. Their findings were shocking and appalling. As a result, the light has been shed on the squalid conditions and the culture of violence and hatred within border protection agencies.
The Senate just approved a $4.6 billion measure to help fix these problems. But I feel it's too little too late.
Have we forgotten who we are? The New Testament is ripe with examples of Jesus welcoming the poor, prostitutes and other social outcasts into his fold. "For I was hungry and you gave me something to eat," begins Matthew 25:35, "I was thirsty and you gave me something to drink, I was a stranger and you invited me in."
In Luke 14:12-14, Jesus takes the concept of generosity a step further, insisting we should not waste our time inviting those who may repay the favor. "But when you give a banquet, invite the poor, the crippled, the lame, and the blind. And you will be blessed, because they cannot repay you, for you will be repaid at the resurrection of the righteous."
President Trump has promoted transactional immigration based solely on merit - a sort of what-can-you-do-for-me attitude towards those who flock to our borders. Ironically, under the president's proposed system, his own wife wouldn't be able to immigrate to America. Seen in this light, simply showing compassion for migrants who might one day better our country is not in itself piety. We must help those who desperately need it, period. We must strive to be a more compassionate, truly Christ-like country. And we must say no to family separation at the border, to indefinite detention, to abject cruelty. If Evangelicals want to put their money where their mouth is, they must reject their hatred and show compassion.
Because no human is illegal.
Immigrants Must Come Within Legal Channels - and There is Biblical Basis for That
A guest sermon by Josh Nguyen
I empathize strongly with the illegal immigrants at the border. I can only imagine the conditions that would force them to leave their homes and risk life and limb to travel, in some cases, hundreds of miles, just for a chance to enter the United States. But the fact remains that we are a nation of laws. Laws govern me, they govern you, and they must govern those at our border too.
It is simple: Illegal immigrants are not following the law. If you want to come to the United States, there are legal channels for doing so. I highly encourage anyone out there to legally immigrate to the United States. It's the greatest, freest, most beautiful country in the history of the world. But immigration to America must be legal. Immigrants cannot expect to illegally cross the border and face no consequences. In America, no one gets to skirt the law and there are no free passes.
But don't take my word for it. The Bible is full of verses about respecting the rule of law. Romans 13:1-2 says 'Let every person be subject to the governing authorities. For there is no authority except from God, and those that exist have been instituted by God. Therefore whoever resists the authorities resists what God has appointed, and those who resist will incur judgment.'
1 Peter 2:13-14 says 'Submit yourselves for the Lord's sake to every human authority: whether to the emperor, as the supreme authority, or to governors, who are sent by him to punish those who do wrong and to commend those who do right.' Not only is immigrating legally the right thing to do- it shows the respect for authority and compliance with the law that God demands.
Despite how it's being framed, the tired, poor, and huddled masses are still more than welcome. America is a nation of immigrants, and we have always welcomed them with open arms. All we ask is that they begin their life in America as legal citizens.