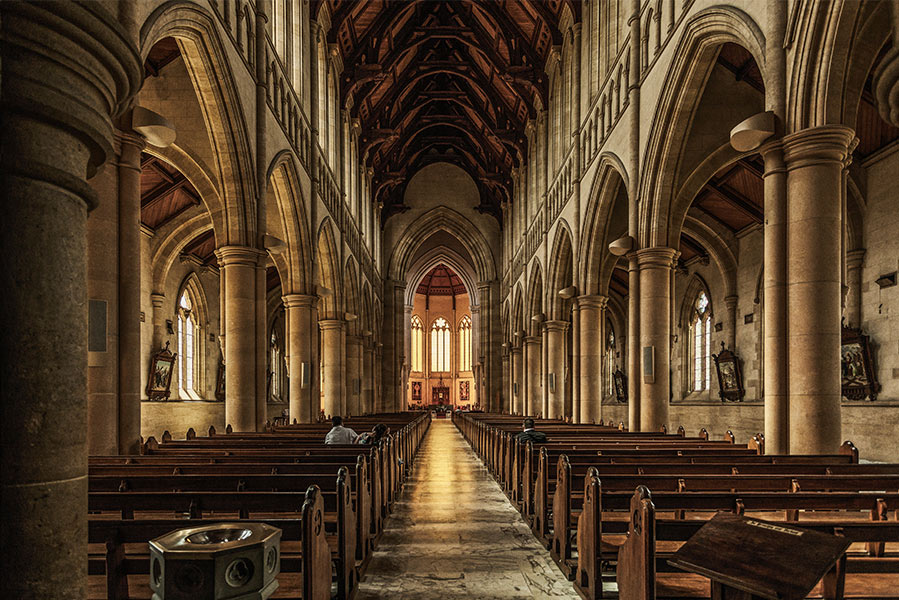 ---
Cardinal George Pell's recent appeal of his December conviction for sexual abuse of two minors in an Australian cathedral has reignited outrage and discussions over the Catholic sexual abuse crisis; Discussions which have gone on seemingly endlessly since the Boston Globe's explosive report on abuse in the Catholic Church and the coverup that followed. We've had ULC ministers writing in to share their thoughts on the abuse crisis. Below are two guest sermons from our ministers with different perspectives on the issue.
Nobody Trusts the Catholic Church, and for Good Reason
-a guest sermon submitted by Heather Washington
The bad news about the Catholic Church just keeps coming. There's the blockbuster story involving decades of sexual abuse uncovered by a Pennsylvania grand jury; former archbishop of Washington, D.C, Cardinal Theodore McCarrick, was forced to resign; and the Illinois attorney general's office who recently accused that state's Catholic diocese of failing to report at least 500 priests and clergy members accused of sexual misconduct.
Shall I continue?
The Catholic Church meticulously covered up thousands of abuse cases over the last half-century. Pope Francis recently pledged 'zero tolerance' for abuse-- then the church turned around and spent $10 million dollars lobbying against laws that would help abuse victims get justice. The only thing Catholics have zero tolerance for is holding themselves accountable.
How can anyone trust the Catholic Church? They shuffle abusers around from diocese to diocese in an effort to obscure the truth. They fight against legislation that will make them answer for their crimes. And they drag their feet on meaningful reforms.
Pope Francis and the Catholic Church can give all the lip service they'd like. But when it comes time to make restitution, hold abusers responsible, or institute actual change, they always come up woefully short. If you attend Mass, if you tithe, if you still support this organization- you are complicit.
Do Abuse Allegations Undo Centuries of Good Deeds?
-a guest sermon submitted by Frank Ramsey
I won't mince words here. Abuse of children is abhorrent, and those who have been credibly convicted should be, in my opinion, locked away forever. But Catholic priests abuse children at a lower rate than other professions that often work with children, including teachers. The abuse allegations, while disgusting, are sensationalized by a media that loves to hate Catholics.
And in all the overblown media coverage of a few abuse cases carried out by a statistically small percentage of Catholic clergy, aren't we forgetting all of the good deeds Catholics have brought into the world? Keyboard warriors wouldn't have an internet to complain on if not for the Catholic Church and their centuries-long patronage of science and engineering. Nicolaus Copernicus was Catholic. Gregor Mendel. Lamarck. Jean-Baptiste Dumas. And in the Middle Ages, the Catholic Church founded Europe's first universities. The Catholic Church has contributed to the sciences perhaps more than any other organization in history.
The Catholic Church is also the most charitable non-governmental organization on the planet. They spend billions annually on hospitals, universities, and museums. Every day, the Catholic Church serves millions if not billions of poor and needy. The Catholic Church has, undoubtedly, been one of the greatest forces for good this world has ever seen
24/7 news cycles and online echo chambers have blown the so-called abuse crisis out of proportion. Again, Catholic clergy abuse at a lower rate than the average American male. That is not to diminish the heinous crimes of the 4% of priests that have been credibly accused of abuse. Those crimes are evil. But they are not committing abuses at higher rates than anyone else.
Let's not lose the forest for the trees here. We shouldn't judge the Catholic Church for the moral failures of a handful of men. Let's judge based on the countless good deeds done by the church instead.