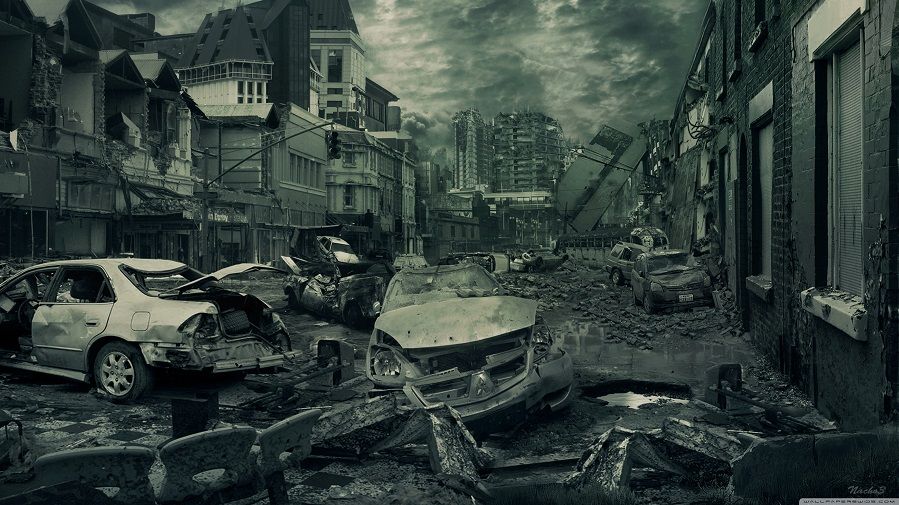 ---
The following guest sermon was submitted by ULC minister Katherine Fielder. All ULC Ministers are invited to contribute their own sermons for consideration/publication. To submit a sermon, please email it to sermons@themonastery.org.
End Times
The coming Apocalypse will be televised. And that's not necessarily a bad thing. Here me out.
If you, like me, feel the world has taken a sharp nosedive toward uncertain oblivion, I'm here to tell you this might be for the best. Our society is struggling with palpable fears about global warming, mass migration, tyranny, terrorism, gross inequality and the numbing technological disconnectedness of our once-shared humanity. It almost feels like the end has been nigh for way too long now, and that we might just be past the expiration date to do anything about it.
But what if the end of the world is exactly what we need? What if it's the calamitous event that turns us around. There is a doomsday scenario where humanity rebounds afterward, and future generations will look back on it as the moment we, as a species, came back from the brink.
The Apocalypse Won't Be So Bad
Hollywood and science fiction have long convinced us that 'post-apocalyptic' is a dark and dreary adjective. However, not all doomsday literature is like that. The stories that were popular around the time of Jesus offered worried citizens a different message: the uplifting idea that the dominant powers of the day were not_ultimate_ones. And so, it's worth remembering that what is here today - the despots with bad haircuts and even worse intentions, the men who seek to dominate women and the religious leaders who hide behind their gods - will be gone tomorrow. ****
What Does "Apocalypse" Mean?
Before we delve any further, let's get our facts straight.
In Greek, the word apocalypse means to uncover, to peel away and to expose what lies underneath the surface. Humanity has always known suffering, but the world we live in today stings like an open sore because misery has become all too accessible.
And while vile revelations about humanity (like those uncovered in the #MeToo movement) have provided one facet of this great reveal, the general malaise that seems to have gripped our collective conscience is closely tied to the fact that we are suddenly living in interconnected world where we're constantly bombarded by every evil that ails humanity.
The world has become the junkie with the track marks you can no longer ignore on the street; the racist uncle who embarrasses your new girlfriend over Thanksgiving dinner. Maybe the oceans have been getting warmer, the corals disappearing and entire species of animals going extinct for decades, but we're only coming to terms with it now.
Social media has made it so that every last human atrocity can now be instantly captured, publicized, shared and confronted. Again, there's nothing new with death and destruction, except our newfound ability to witness the undoing of the global human experiment in real time, to stare deep into the mirror and see just how ugly we all can be.
Heresy and Hypocrisy
What we find when we stare long enough is true heresy - and not just the kind that Nineteenth-century theologian Friedrich Schleiermacher defined as "that which preserves the_appearance_of Christianity, and yet contradicts its_essence."_
Today, the NRA justifies mass murders as unfortunate consequences of a God-given right to own guns. Churches discriminate against gays and religious minorities and hide behind antiquated lines of scripture, then play the victim when they receive public criticism.
To be clear, these are just a few examples of the mind-numbing hypocrisy inherent in the world today. It's nothing new but now that it's being exposed to the masses, the inevitable result will be war, destruction, and an end to life on earth as we know it.
A New World
So, think of this impending Apocalypse as humanity's rock bottom: that last hit that makes you so helpless you drag yourself to rehab; that natural disaster that forces climate-change deniers to face the facts when it's their house burning down or getting swallowed by the sea. Hold on to this truth: when there's nowhere left to go but up, we will indeed rise again.
And when that happens, this period will feel like a blessing in disguise.