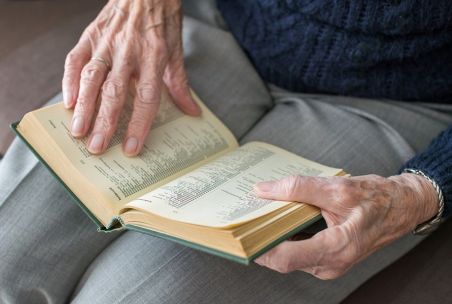 ---
The following guest sermon was submitted by Jason Lewis. All ULC Ministers are invited to contribute their own sermons for consideration/publication. To submit a sermon, please email it to sermons@themonastery.org.
If a loved one or friend is getting older and no longer working, chances are they don't socialize like they used to. Seniors may find themselves unable to keep up with activities they once could do easily, which can be frustrating. Without loved ones and friends nearby, some find themselves isolated and far from support systems they once had. It's easy to feel forgotten if you no longer have reasons or means to leave the house. Unless they volunteer, many seniors find themselves with little to do and no one to do it with.
Addressing Mental Health
Due to life circumstances that may be unique to their age or health concerns, elderly people often confront a variety of emotions or mindsets that may be somewhat debilitating and hard to bear. These include a sense of isolation, loneliness, boredom, and grief, as well as others.
Isolation can lead to depression and substance abuse. Many seniors hesitate to talk about their concerns because they don't want to be a burden. But depression is not a normal symptom of aging.
For the general population, depression affects approximately 1 percent to 5 percent of the elderly. For seniors requiring home health care or hospitalization, it affects 13.5 percent and 11.5 percent, respectively. If you notice risky behaviors such as an increase in drugs or alcohol, talk to them about it, and listen to how they say they're feeling, both physically and emotionally. If you pay attention to their concerns, they'll be more likely to be open with you.
How can you tell if your loved one is depressed? They might show some symptoms:
Irritability
Persistent sadness or pessimism
Feeling worthless or helpless
Fatigue
Weight changes
Difficulty sleeping
Making decisions or concentrating
Unexplained physical pain or gastrointestinal complaints.
Depression is difficult to diagnose because it mirrors symptoms of other illnesses or medications, but it can be diagnosed by a doctor. If you think your loved one is depressed, make an appointment. Many seniors think declining physical and mental health is normal, but it's not if they are otherwise healthy. However, if they have been diagnosed with a chronic illness, as approximately 80 percent of seniors are, they may have a greater risk of also developing depression and should be checked so they can receive treatment.
Strategies for Improvement
Getting up and moving can help ward against depression, as can attending social activities. If your loved one's friends have moved on, or if they lost a spouse, encourage activities that will help them meet people and make friends. However, do not shame them into going out, especially if they might be depressed. While they may need treatment, moving around might be painful for those with depression. Pushing them to "get some sunshine" and "make new friends" can actually increase feelings of isolation.
Elderly citizens who exercise for flexibility and socialize regularly are less likely to develop depression, and one good way to meet new people is by going to church. It gets one out of the house and provides a support network for those who may not have one. The pastor and church leaders are available for guidance and proximity to other churchgoers encourages making friends.
Church attendance can also provide a sense of peace and an opportunity for putting one's life into perspective, which helps lessen the importance of daily problems and difficulties. For life's bigger problems, church can help provide context and distraction.
If you think your loved one is depressed, you can find information here. Help is available, and there are treatment options. Church can help. Exercise can help. You can help. Don't leave them to suffer alone.