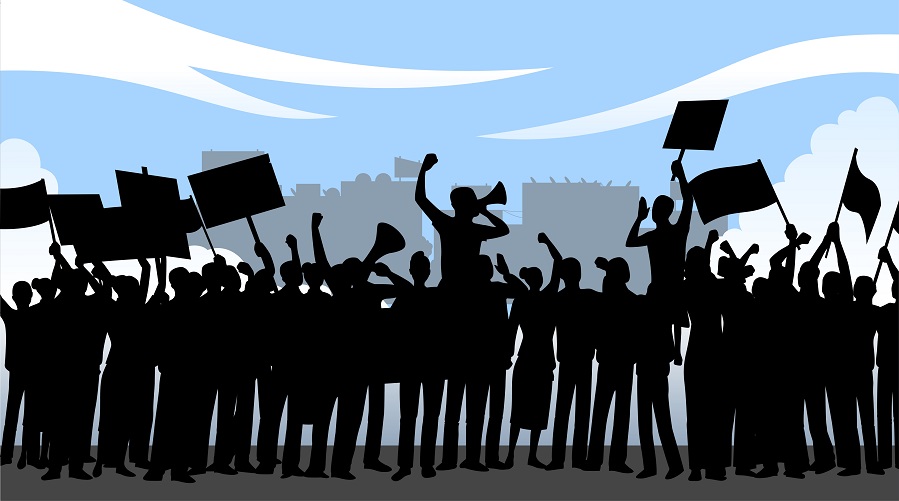 ---
The following guest sermon was submitted by Rev. David Oyinloye. All ULC Ministers are invited to contribute their own sermons for consideration/publication. To submit a sermon, please email it to sermons@themonastery.org.
Trying Times
Since the presidential election, a lot of relationships have been sacrificed and things have come out into the open that would otherwise be left hidden in a deep dark closet. We've seen an uptick in prejudice, bias, anger, resentment, racism, sexism, fanaticism, zealotry, misinformation, nationalism, anti-immigration, idolatry, bigotry, and religious discrimination.

These nasty ideas have been given oxygen and let out into the light of day, and the consequences have been brutal. They've torn apart life-long friendships and marriages, families and lovers, co-workers and companions. These dark forces that we've given room to breathe are dividing us more now than ever.
We see new divisions occurring almost daily, it seems. Police kill innocent people of color, and others retaliate against this abuse of power just as violently. Stories of rape and sexual assault in the highest circles have been aired publicly, much to the contempt of powerful people who try to silence them. Corruption is being shown blatantly in our government with no attempt at concealment, but nobody can agree which side of the aisle is the guilty party. Then we have the non-stop murder sprees committed by mentally and emotionally disturbed children in schools. Yet even this needless loss of life of so many innocent lives cannot unite us on common ground. We still find ways to attack each other.
On A Collision Course
So much is happening now, and it almost seems as though there isn't ever any time to catch our breath as a country. "We are a nation living in fast and exciting times" as someone once said, but this is not meant as a commentary of jest, it is intended to illustrate just how scary the times we are living in really are. With tensions in the air being so high politically, it almost feels like civil war is looming on the horizon. With such civil unrest near at hand, many ask themselves "what are we going to do?"
To this question, the best answer I have to give is this: be patient. As those of the Christian faith often say, "This too shall pass". But change will not come automatically. It will take hard work. Until we can come together as a people, united in common purpose and righteous intent, the world we are living in will only continue to get darker and scarier and more desperate.
Change Must Come
I don't know about you, but that is not the kind of world I intend to leave for my child. I seek to give my daughter something bright and beautiful and glorious to look forward to so that when she grows up, she will have something to take pride in, because that is what she and all of our children deserve. So as I leave you with these final thoughts, when you have a moment in your day, whenever it is, take pause and reflect on what is happening in our lives and seek to find a way to better it -- not just for yourself, not just for those closest to you, but for everyone. Because we are all in this together, and the only way we can succeed is together, united.
Let us pray for those we have lost, and let us give thanks for those that have come into our lives and brought a light into its many shadows. Let us be blessed in our deeds and our actions, and let us be forgiven for our faults and wrongdoings. Let us grow as a family together in light and love, peace and joy, strength and solidarity. In the name of those we Worship, Blessed Be.
May the Light of Life be upon you all.