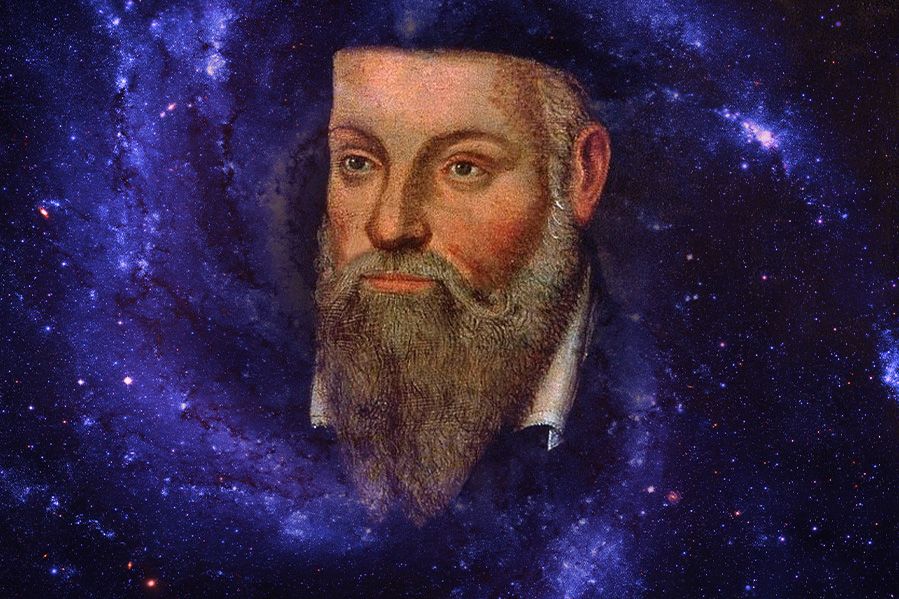 The following guest sermon was submitted by ULC minister Cassidy Trevors. All ULC Ministers are invited to contribute their own sermons for consideration/publication. To submit a sermon, please email it to sermons@ulc.org.
---
The continued COVID pandemic, war in Ukraine, and the release of a new Avatar movie – 2022's had its fair share of troubles. Many of us are undoubtedly looking for a reset in 2023, to wipe the slate clean in hopes that the world might actually improve in the new year.
Well, not so fast. If the predictions of Nostradamus are to be believed, 2023 might not turn out to be the great year we're all hoping for.
His prophecies for the future include war, cannibalism, and even the possible coming of the antichrist. Some argue there are signs that these predictions could come to pass in 2023.
Who Was Nostradamus?
Nostradamus is a controversial figure in history, to say the least. The French astrologer published his book Les Prophéties in 1555, a collection of poems and quatrains that many say has accurately predicted future events with eerie accuracy.
The French Revolution, the rise of Hitler, the death of JFK; fans of Nostradamus' predictions say that he's accurately predicted global events big and small in the centuries since his death.
But others argue that these predictions are written so vaguely that they could be applied to nearly anything. Here's what Nostradamus predicts is in store for us.
1. World War III
Nostradamus says we have "seven months great war, people dead through evil," waiting for us in 2023. Many have said that the Russian invasion of Ukraine is likely the war Nostradamus foretold. Will the war escalate into a global conflict in 2023? Will Russian president Vladimir Putin utilize his nuclear arsenal? Or perhaps the conflict will actually end seven months into 2023?
2. Global Warming
You know what goes great with a potential global apocalypse through war? How about an environmental apocalypse through climate change?
Nostradamus predicted that "like the sun the head shall sear the shining sea: The Black Sea's living fish shall all but boil." It's predicted that upwards of 60% of the planet's fish species could die thanks to global warming raising water temperatures. If one of the world's most common sources of protein suddenly becomes scarce, we could see a global famine.
3. Cannibalism
It makes sense that, with all the fish dead, we'll turn to eating one another. And Nostradamus wrote that "so high the price of wheat, that man is stirred, his fellow man to eat in his despair."
4. Death of the Monarchy
Is Buckingham Palace going to be hit by a meteor? Or maybe this is just one of those metaphorical meteors? Nostradamus predicted "celestial fire on the royal edifice," although whether that's literal or metaphorical is up to interpretation. 
5. A Mars Disaster
Something is going to happen on Mars, predicts Nostradamus. "The light of Mars will go out," he wrote, a passage which many have interpreted as predicted a manned mission to Mars will fail.
Elon Musk anticipates he'll be sending a mission to Mars in 2029, but perhaps the timetable will change?
6. The Antichrist
And finally, why not the end of life and civilization as we know it? Nostradamus predicted that the antichrist will emerge and give us a 27 year war. "The unbelievers are dead, captive, exiled," he anticipates. "With blood, human bodies, water and red hail covering the earth." Let's hope he's wrong about this one.
Predicting the Future
Sounds like we're in for a rough year... if Nostradamus' predictions turn out to be true. But that's a big "if." How much trust can we put in such prognostications? 
It's worth considering what makes Nostradamus such a well-known figure in the first place. If you look up the source material yourself, you'll see that _Les Prophéties _is primarily composed of terrible disasters. He was essentially an early doomsday prophet – focusing his predictions on great tragedies, betrayals, or acts of war. 
In modern times, we've also had our share of doomsday prophets -- typically full of religious zeal and claiming that the rapture is imminent or apocalypse around the corner. 
What better way to make a name for yourself than by screaming that the sky is falling? People are bound to pay attention, and if it doesn't fall, you can simply say you were wrong about the timing.
Then, in the event you're even half right about something, you point to it as proof of your ability to see the future.
Nostradamus has been credited with being right in his predictions… but perhaps only because they are so vague and coded (and free from any specific date on the calendar) that they're bound to apply to something.
How much stock should we put in such projections?