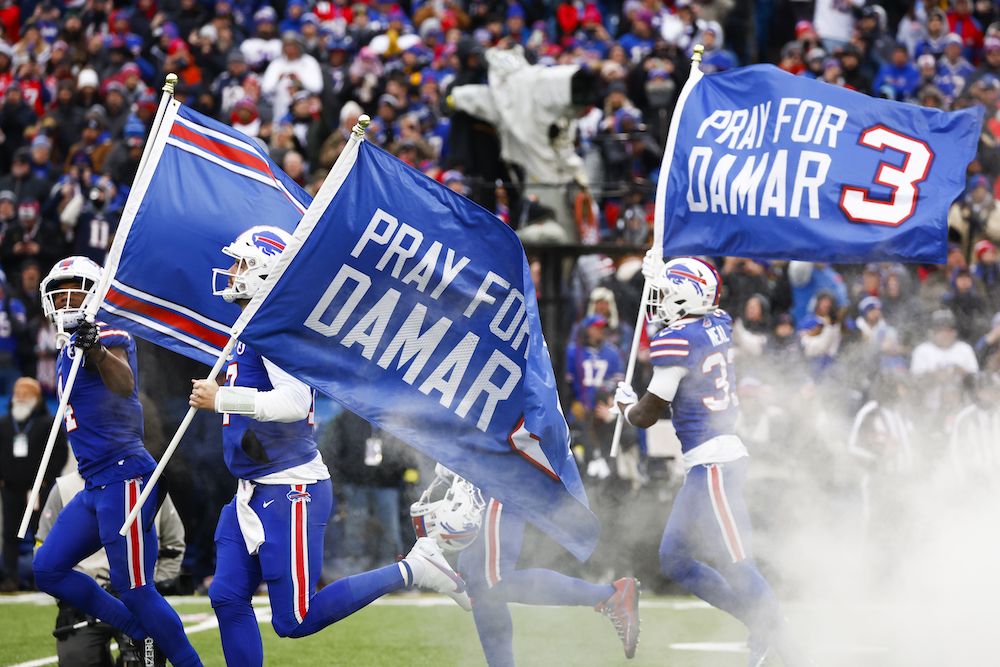 The world of sports was shocked to a standstill last week when NFL player Damar Hamlin went into cardiac arrest on the field during Monday Night Football. It became immediately obvious that his life was in grave danger.
In the aftermath on the frightening incident, many people's reactions centered around prayer. "Pray for Damar" was soon trending, and players and commentators across the media landscape shared faith-related pleas for his health and recovery.  
Fortunately, Hamlim has now been released from the hospital and it appears that he is on the road to recovery. With his life no longer in doubt, some have turned to reflect on the public reaction to this scary incident.
Is prayer the best way to respond to a medical emergency? Did it (in this case, anyway) make a difference? Who gets the credit for saving Hamlin's life? We asked two ULC ministers to give their takes on these questions.
---
A Higher Power Watched Over Damar Hamlin's Life
A guest sermon by Maya Randolph
When Damar Hamlin collapsed on the field, a world of believers sprang into action. As a young man's life hung in the balance, millions of people who had been relaxing and watching a football game were left sitting on their couches at home feeling frightened and helpless.
On the field, Damar's teammates and coaches no doubt felt the same way.
At that moment, there was only one thing to do: pray. And pray we did.
From regular people on social media, to talking heads on TV, and even players on the field, believers united behind the power of prayer to give strength to Damar Hamlin, his family, and the medical personnel attending to him.  
It made a difference. Damar's heart stopped, yes, but not for good.  
Franklin Graham noted the powerful moment when the Bills players gathered in a prayer circle as doctors tried to resuscitate Damar:
Fans in the stands also broke out in prayer:
On TV the next day, as Damar's status was still very much in doubt, ESPN NFL commentator Dan Orlovsky did something remarkable. Instead of just echoing "thoughts and prayers" like so many others, he stopped the show and actually said a prayer on air during the broadcast:
When Damar awoke in the hospital, the first thing he asked was "did we win?" Doctors responded "yes, you won the game of life."
And for any doubters out there, think about the divine intervention we saw in the game the Bills played this past weekend, less than a week after almost losing a teammate.
Damar Hamlin wears number 3, and all of his teammates had a #3 patch added to their jerseys.  
Following an emotional pregame ceremony in front of their home fans, many holding #3 signs, the Bills had a kick return for a touchdown to start the game, an extremely rare and remarkable play in and of itself.
But the last time it happened? 3 years and 3 months ago. That's more than coincidence, it's something only a higher power could design.  
In an interview describing the reverential experience, Buffalo Bills quarterback Josh Allen said simply, "God is real."
What more is there to say?
---
Don't Give God Credit That Belongs to Medical Professionals
A guest sermon by Andrew Hannigan
There are freak accidents, and then there is what happened to Damar Hamlin. When he went down on the field, doctors immediately suspected commotio cordis – a rare stoppage of the heart caused by a heavy impact to the chest (like a football hit) that occurs right at a critical period during a heartbeat.
A millisecond earlier, or later, and the hit Damar took would have been like any other NFL play. But bad luck can strike at any time.  
And in the face of sudden crisis, the medical professionals on the field reacted immediately to save Damar Hamlin's life. CPR performed on the field managed to restore his heartbeat, but as he was rushed to the hospital he was still having trouble breathing.
It took a ventilator and supplemental oxygen – marvels of modern medicine that didn't exist for most of human history – to keep Damar alive. Highly trained doctors monitored him closely to ensure no other complications emerged. And we can all breathe a sigh of relief, as it appears he is going to be okay.
However, to attribute any of these events to God, as many have tried to do, is the height of silliness.
There was a specific medical reason that Damar Hamlin's heart stopped; it was a freak accident that couldn't have occurred without perfectly bad timing.
Are we to believe that God, in his infinite wisdom, just let this suffering happen… only to step in and listen to prayers after the fact? What kind of twisted benevolence is that?
There were also specific medical treatments (CPR, among other things), that saved Damar's life. At the helm were medical professionals that had undergone years and years of training to ready themselves for that moment, to know just how to react.
As the Freedom From Religion Foundation points out, for a dangerous sport that relies so deeply on medical science, the NFL has a curious affinity for evangelism:
One can understand how a helpless bystander's first instinct in the face of tragedy is to pray. And if that's your thing, cool. It certainly can't hurt.
However, to look past the contributions of doctors and nurses to the positive outcome of this story, and give the credit instead to God is not only unfair, it's downright offensive.
So say your prayers, sure, but don't attribute to God a miracle that belongs to modern medicine.
---
What is your reaction?