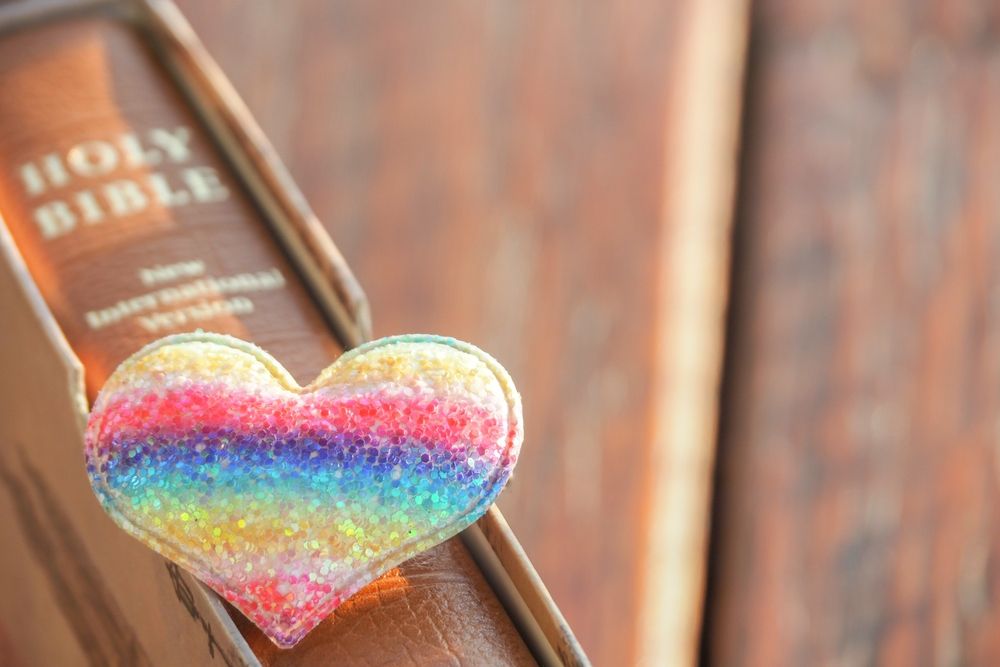 Note: this sermon was submitted by ULC Minister Troy Jacobs in response to a previous sermon about Pride month, which can be found here. All ULC Ministers are invited to contribute their own sermons for consideration/publication. To submit a sermon, please email it to sermons@ulc.org.
---
As a gay Christian, I often find my identity being split in two by external forces. But the queer community and my faith aren't intrinsically at odds with one another. As I see it, both are about love and expression, or at least they should be.
I'm writing here in response to a submission by a fellow minister regarding this month's celebration of Pride. The blog begins by detailing the author's physical revulsion to the idea of the festivities, and proceeds to cite the Bible as a means of talking down to and explicitly prescribing death for queers for the remainder of the post.
Responses like this are incredibly common among my siblings in Christ, and it saddens me. Not because somebody disagrees with me or views me in an unpleasant light without knowing me, but because the ubiquity of it has hijacked my faith and defined it by the hatred and unreasonableness of many who hold it.
A Time For Rules
The stream of verses about rules, death, and damnation that make up a majority of minister Baker's blog is telltale that scripture is being wielded here as an expression of personal bias, and not merely relaying the theme of the Bible. After all, we can take any group of people and draw up a list of all the things they've done that have earned them a place in Hell, but that's not what this faith should be about.
The message of Jesus is clear. He said, "I give you a new commandment; love one another. Just as I have loved you, you must also love one another," (John 13:34). What's important to understand is that he is fully aware that "all have sinned and fall short of the glory of God" (Romans 3:23), and sin is sin. Since the author is no more deserving of salvation than the rest of us, then it is themselves, not the Bible, that has attempted to focus notions of damnation on the queer community.
As minister Baker points out, God opposes the proud but gives grace to the humble (James 4:6). Deciding that the sins of queer people are somehow worse than Baker's own does not come from a place of humility, but rather one of self-righteousness.
A Time for Love
I personally am always amazed by and grateful for the salvation gifted to me by God through his son Jesus Christ. It serves as a model for us that we not view others by their sins, but their place in the tapestry of creation. My life has not always afforded me such a feeling.
My parents are also Christian. While I was a good child that excelled in school, was the first in my family to graduate from college, volunteered with organizations in my town, and had many fulfilling friendships, my parents disowned me when I came out to them as gay.
Decades went by when they didn't want to talk to me any more than telling me they love me but hate my chosen lifestyle. This felt like a hollow kind of love without acts.
I also found it ironic. The more we study homosexuality, the more clear it becomes that it is at least in part biological. However, being Christian is not. I was born gay but I had to be "born again" to dedicate my life to Christ. I also am not looking for special rights as a gay person, but merely to be treated equally under the law. Meanwhile, every church I grew up attending has the special right of tax exemption; of not giving unto "Caesar" what is "Caesar's" as Jesus asked of us. 
Yet upon hearing their child is gay, my parents spewed these accusations at me nonetheless. As you can tell from my writing, it hurts to remember it, but I love them and at any moment would've gladly had them back in my life.
Lacking a meaningful showing of love from biological families, many queer people surround themselves with others who would take care of them and encourage them to continue to live and live well, not letting the scars of the past cripple their ability to shape the future. 
These chosen families were fellow queer people and allies that showed me meaningful love instead of providing me a list of everything about me that they viewed as imperfections worthy of my damnation, and I'm proud of them for doing that when they didn't have to.
Finally, after years of taking to heart being disowned by my family, being beaten as my bashers called me an abomination, after having Bible verses thrown in my face for why I am defined by sin, but apparently heterosexuals are not, I learned that they are all wrong.
I learned to love myself and be PROUD for surviving it all and still wanting to be a force for good and help others, to see them with compassion and grace.
Pride is the Season
For me and so many in the LGBTQIA+ community, that's what Pride is. Being proud that we refused to be torn down, or let our human rights be taken away, all because of who we want to form a life with. We are proud we prioritize love when it would've been so easy for us to treat the world as ugly as it had treated us.
It is not the sense of self-righteousness the Bible warns against, and it is not a celebration of what's done in the bedroom, as so many try to trivialize it as. Conflating it with these things is a deliberate smoke screen to hide people from viewing their own imperfections – their own deservedness of damnation – and from the fact that they haven't found the sort of self actualization that allows one to manifest a truly fulfilling life.
The Bible says "there is a time for everything, and a season for everything under the heavens," (Ecclesiastes 3:1). Rules have their place, but as Christians we need to think about how others view our faith. Sadly, for many in the queer community and their allies, we've been far too eager to pass judgment when our heavenly father reserves that right for himself. We've been too eager to pat ourselves on the back for "loving the sinner but hating the sin" while we happily ignore our own sins.
Pride is a time for love, joy, and celebration. Minister Baker, as a queer person, as a fellow Christian, as another member of the Universal Life Church, I love you and wish you a happy Pride!