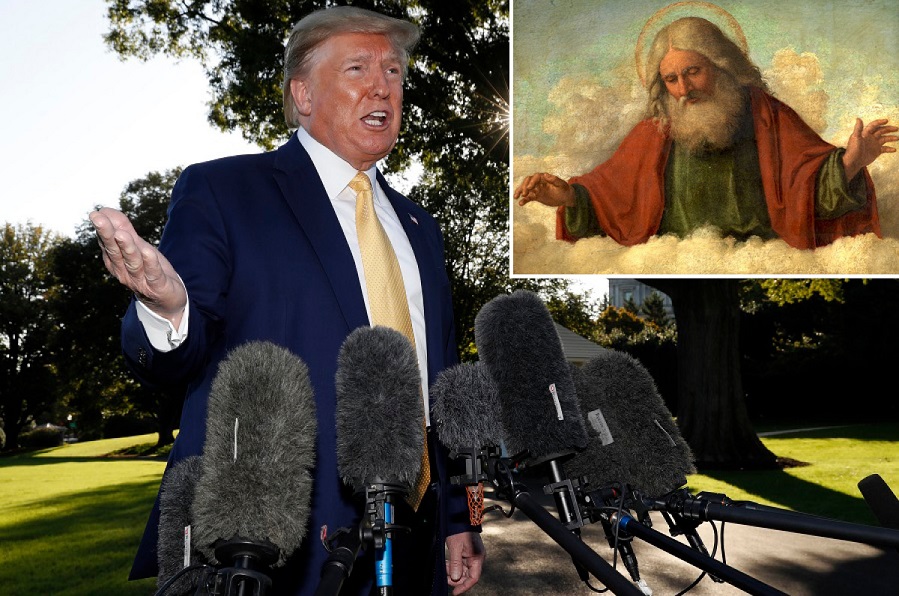 ---
Unless you've been living under a rock recently, you've probably heard about the campaign to impeach President Trump. Politicians have retreated to their respective sides of the aisle and are now bracing for a fight.
But how does God feel about all of this? Does the man upstairs desire justice for misdeeds in the oval office, or, in his infinite wisdom, should forgiveness rule the day? For faith leaders, that's a matter of intense debate.
A Wall of Faith
Some of Trump's biggest defenders are men of the cloth. Among them is Franklin Graham, son of the renowned evangelist Billy Graham (who famously counseled Richard Nixon while he tried to fend off impeachment).
"Our country could begin to unravel if an elected president is thrown out of office because of lies and the media," Graham told Religion News Service in a recent interview. "It could be a devastating thing. We're in very dangerous territory."
Texas pastor Jack Graham also voiced support for the president on his official Twitter account:
Meanwhile, Robert Jeffress of First Baptist Dallas took an even stronger stance, arguing that despite his faults, Trump's work to support pro-life causes is far too important to let his presidency be derailed by impeachment. He went on to question the faith of Democrats, saying:
"Apparently the god they worship is the pagan god of the Old Testament Moloch, who allowed for child sacrifice. The god of the Bible doesn't sanction the killing of millions and millions of children in the womb, I think the god they are worshipping is the god of their own imagination."
If we were to make a judgment based on these statements alone, it would seem God is firmly opposed to impeachment. But what do other faith groups think?
Not So Fast
Apparently, they think that's a load of baloney. A progressive faith organization called the Red Letter Christians have called for a National Day of Prayer this Sunday, Oct. 13, which they hope will shine light on any potential shady dealings in the White House.
"For the sake of our nation's integrity and the most vulnerable in our society, we call on fellow Christians to support the current impeachment inquiry. Please join us in praying that the truth will be revealed and set us all free," the group wrote in a statement. They're being joined by over 100 faith leaders across the U.S:
The group's planned event, which will include prayers for members of Congress who may ultimately be called upon to decide if President Trump deserves to remain in office, has revealed a growing rift between Christians who support the current state administration and those who don't.
"May the Truth Prevail"
At the same time, the Red Letter Christians have been quick to emphasize that honesty and transparency - not politics are what most define their support for an impeachment inquiry.
"It is not a partisan issue. It's a moral issue. It's not something to engage in lightly; therefore, the call to prayer is appropriate," declared the Rev. Traci Blackmon of the United Church of Christ. "Beyond red and blue, there is right and wrong." She continued:
"For me, the prayer for Sunday is about this impeachment inquiry, but it's also about the healing of our nation. It's also about restoring hope and restoring faith and trust in one another. It's also about diminishing divisiveness that has been growing since 2016. It's also about honoring the humanity and dignity of everyone who calls this home."
Even House Speaker Nancy Pelosi, since giving the green light for impeachment, has insisted it be carried out "with dignity, with respect, prayerfully." In a nod to her Catholic roots, Pelosi later said "I pray for the president all the time. I pray for the safety of his family I wish that he would pray for the safety of other families and do something courageous on guns but I also pray that God will illuminate him to see right from wrong. It's very problematic."
What do you think? If God could cast a vote for impeachment, where would his allegiances lie? Is it even wise to bring religion into such a high-stakes political process?