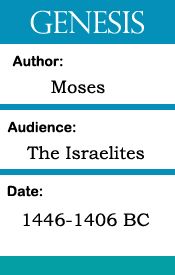 Genesis is the first book of the bible and gives an account of the creation of the word. Tradition holds that Moses wrote Genesis sometime between 1446 and 1406 BC. The word "genesis" is Greek in origin and comes from the word "geneseos." Geneseos means "genealogy," "birth," or "history of origin," depending on the context in which it's used. In Hebrew, the title is bereshith, which means, "in the beginning," which is also the first words of the book. In ancient times books were commonly named after the first word or two.
Narrative and Structure
The narrative of Genesis begins with the creation of the universe and all that it contains. From this broad view it moves to human beings and God's role for them in the world. It then narrows down from all the nations of man to one nation- Israel.
Genesis is divided into ten sections. The first five sections are a historical account of the beginning of the world. Scholars identify this first chunk as a "primeval history." It details the period from Adam to Abraham and the interactions between God and the human race.
The last five sections are longer and relate the story of God's dealings with the ancestors of His chosen people. This chunk is considered to be a "patriarchal history." In the New International Version (NIV), the sections are identified by the word, "account."
Themes and Message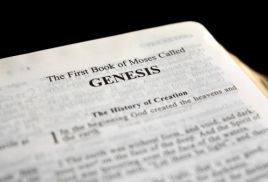 Themes found in Genesis include beginnings, marriage and family, society and civilization, and sin and redemption. It highlights relationships, especially those between God and creation, between God and man, and between humans.
Numbers also play a significant role in Genesis. The number seven appears frequently. In Hebrew, chapter 1:1 consists of seven words, and 1:2, 14 words- twice seven. There are seven days of creation, seven names in the genealogy of chapter 4, various sevens in the story of the flood, 70 descendants of Noah, seven years of abundance and seven years of famine, and more. Numbers 10, 12, and 40 also appear frequently.
Genesis teaches that there is one true God who is sovereign over all creation. Often he will use his divine right to overturn or correct human customs. Genesis introduces how God makes covenants with his chosen people, and establishes sacrifice as a way to temporarily cover sin.