Created and reviewed for accuracy by researchers at the Universal Life Church Ministries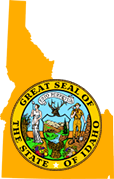 Congratulations! If you've found yourself at this page it is likely that you are either planning to be married or have been asked to perform a wedding ceremony in Idaho. Ordained ministers of the Universal Life Church have successfully performed thousands of legal marriages in Idaho. The information provided below will walk you through the steps one must follow to become a minister and perform a valid wedding ceremony in the state of Idaho.
Quick Facts
ULC Ordination Accepted: Yes

Minister Registration Required:

Sometimes

Minister's Residency:

Irrelevant

Minister's Minimum Age:

18

Marriage License Waiting Period:

0 Days

Marriage License Valid For:

1 Year

Marriage License Return Within:

30 Days
Regional Information
For more specific information about performing a wedding in certain parts of Idaho, choose a location below. If your area isn't listed, don't worry - just continue scrolling to review the helpful general information on this page.
1

How to Become an Ordained Minister in Idaho

If you haven't already, you should get ordained online with the Universal Life Church. Ordination is free and can be completed in just a matter of minutes. Thousands of legally valid marriages are performed by ULC ministers around the world every year. Begin the process by clicking the big blue button below!
2

Officiating a Wedding in Idaho

Next, you should contact the office of your local marriage authority (typically your county clerk). Let them know that you are a minister of the Universal Life Church in Seattle, and ask what they will require of you to officiate a legal marriage.

Select your County Clerk Recorder to quickly generate the contact information for your local marriage authority.
3

Idaho Officiant Requirements

After you've contacted your marriage authority, you should visit our online store to purchase whatever documentation will be required. We typically advise ministers in Idaho to get an Ordination Package and to add a Letter of Good Standing to their order. While Minister registration is not technically required in Idaho you it has been reported to us by ULC Ministers in the state that they are often required to present proof of their ordination to the county clerk before the marriages they perform will be accepted as having been legally solemnized. Having this proof of your ordination will also provide peace-of-mind to any couple that you intend to marry. Additionally, please attempt to leave at least 3 weeks between the date of the wedding ceremony and your order, to ensure that you receive all of your materials in advance.
4

How to get Married in Idaho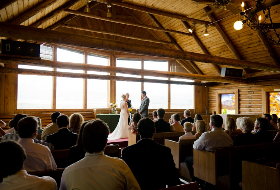 Idaho's Top Wedding Spot
Inside the log-hewn Sawtooth Valley Meditation Chapel, in Stanley
Now that you've done all of the above, you are ready to perform the wedding! Be sure that the couple has picked up their Idaho marriage license from the appropriate office. This license is valid for 1 year, and there is no mandatory waiting period between when the couple receives the marriage license in Idaho and when the ceremony may be legally performed. Please be aware that the signed license must be returned to the issuing office within 30 days of the wedding ceremony.
At the Universal Life Church we receive several calls from wedding officiants in Idaho, after they've received their license to marry by getting ordained online, asking for guidance on how to perform a wedding ceremony. Once the legal matters have been taken care of, officiating a wedding (while a sometimes-daunting task) can be a great deal of fun. We would suggest that new Idaho wedding ministers concerned about the ceremony peruse one of our helpful wedding guides. The minister training section of our website should offer a helpful refresher for more experienced ministers.
5

Guide to Planning an Idaho Wedding

Idaho might be perfect for your wedding if you are hoping to have a stunning outdoor display of summertime freedom, or the solitude of a snowy winterscape. Between the dozens of barn venues, the forests, and the incredible weather, outdoor lovers will want for nothing in this beautiful state. However, this collection adoration for the outdoors can result in lots of traffic in major corridors on popular summer weekends, so you will need to make sure you are checking for traffic updates before traveling. With summer temps that can reach into the triple digits, and winter storms known to drop heavy snowfall, it is also a good idea to make sure you are reviewing the weather patterns of the area so you don't get caught in an outfit that's unsuitable for the conditions.
---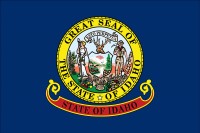 Marriage in Idaho is governed by Title 32 of the Idaho statutes. Ministers who got ordained online with the Universal Life Church have successfully solemnized thousands of weddings in the state. Below, you will find that we have reproduced a relevant excerpt of this code.
32-303. BY WHOM SOLEMNIZED. Marriage may be solemnized by any of the following Idaho officials: a current or retired justice of the supreme court, a current or retired court of appeals judge, a current or retired district judge, the current or a former governor, the current lieutenant governor, a current or retired magistrate of the district court, a current mayor or by any of the following: a current federal judge, a current tribal judge of an Idaho Indian tribe or other tribal official approved by an official act of an Idaho Indian tribe or priest or minister of the gospel of any denomination. View the Idaho Statutes on the official state site.

⇓ Show the rest