Created and reviewed for accuracy by researchers at the Universal Life Church Ministries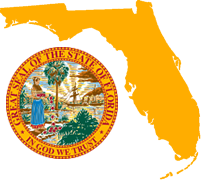 Preparing for a Florida wedding ceremony? Look no further than this guide – written for ULC ministers and couples alike, who are searching for pointers on how the process works. Universal Life Church Ministers perform hundreds of legal ceremonies in Florida each year, and our goal is to provide support through every step of the journey. Below, you'll find a step-by-step walkthrough for how to get ordained and officiate a successful wedding in Florida.
Quick Facts
ULC Ordination Accepted: Yes

Minister Registration Required:

No

Minister's Residency:

Irrelevant

Minister's Minimum Age:

18

Marriage License Waiting Period:

3 Days for residents, 0 Days for non-residents

Marriage License Valid For:

60 Days

Marriage License Return Within:

10 Days
Regional Information
For more specific information about performing a wedding in certain parts of Florida, choose a location below. If your area isn't listed, don't worry - just continue scrolling to review the helpful general information on this page.
1

1. How to Become an Ordained Minister in Florida

Becoming ordained is step one (if you have yet to sign up, that is). The Universal Life Church provides ordination for free, and has developed a simple online process that takes only a few minutes to complete. Did you know more than 20 million people around the globe have gotten ordained? Join the ULC family by hitting the button below!
2

Officiating a Florida Wedding

Step two is to reach out to the county clerk in the county where the wedding will take place. Tell them you are an ordained minister with the Universal Life Church and inquire about the process for performing weddings. Do they need to see any official documentation from you? They'll be able to explain what is required of wedding officiants in their jurisdiction.

Select a county from the list below to see contact information for its county clerk office.
3

Florida Officiant Requirements

Once you've spoken with the county clerk's office to determine what is required to officiate a wedding in Florida, head over to our online catalog to order any materials you'll need.

Ministers are not generally required to register in Florida, but it's still prudent to have physical copies of ordination documents just in case you are asked to show proof of ordination. Couples often feel more comfortable knowing that their wedding minister has official documents issued by the church, just in case. For those planning to officiate in Florida, we typically recommend the Ordination Package. Additionally, we encourage ministers to place their orders at least three weeks prior to the wedding – that way, materials are guaranteed to arrive in plenty of time.

The state of Florida does not have any specific requirements for how a wedding ceremony should be conducted. For any minister, including those who are ordained online, it would be prudent to note that under Florida law, couples who participate in a state-sanctioned marriage preparation course are eligible to receive a discount on their marriage application fees.
4

How to Ensure Weddings are Legal in Florida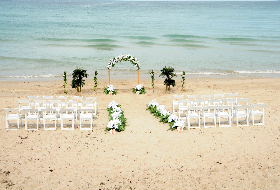 Florida's Top Wedding Spot
A sandside ceremony at Smathers Beach, Key West's longest strand
The last thing to review prior to the ceremony are marriage license rules. Here is a quick list of need-to-knows for a Florida marriage license:
The couple should pick up the marriage license before the ceremony date. It is typically issued by the county clerk's office.

The license will be valid for 60 days, and a mandatory 3-day waiting period applies only to Florida residents. The ceremony cannot legally be held until that waiting period is over. However, this rule doesn't apply to non-residents.

Once the ceremony is over, the signed marriage license needs to be handed back to the office that issued it within 10 days.
So long as everyone understands these important legal aspects, the couple and officiant can turn full focus to the main event! Performing a wedding ceremony is an experience one does not soon forget, but it's also an honor that deserves proper preparation and planning. That's why we've curated an entire Wedding Training Center, chalk-full of helpful pointers for first-time officiants and tools designed to make wedding prep a breeze. But that's not all! We also provide higher level resources, like this in-depth wedding guide, in the literature section of our website catalog.
5

Important Florida Wedding Planning Tips

When planning to officiate a wedding in Florida, there are several specific things to consider. Florida is known for warm weather and miles of coastline, with a good majority of ceremonies taking place outside and around 25% at Florida beach wedding venues. During the late summer and fall, tropical storms are something to contend with as well. Don't forget to check the weather report and plan your attire accordingly!

Florida is also a common location for destination weddings, so keep in mind that demand for certain regions or venues may be higher than expected. Are you wondering how much an officiant should charge for weddings in Florida? That is dependent on several factors, including how experienced the officiant is, how much involvement the officiant will have in preparations, and the distance of travel that will be required.
---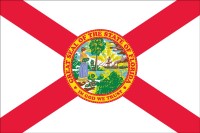 Marriage in Florida is governed by Title 43 of Florida's Codified Statutes. Ministers who got ordained online with the Universal Life Church have successfully solemnized thousands of weddings in the state. Below, you will find that we have reproduced a relevant excerpt of this code.
741.07"Persons authorized to solemnize matrimony." (1)"All regularly ordained ministers of the gospel or elders in communion with some church, or other ordained clergy, and all judicial officers, including retired judicial officers, clerks of the circuit courts, and notaries public of this state may solemnize the rights of matrimonial contract, under the regulations prescribed by law. Nothing in this section shall make invalid a marriage which was solemnized by any member of the clergy, or as otherwise provided by law prior to July 1, 1978. View the Florida Statutes on the official state site.

⇓ Show the rest