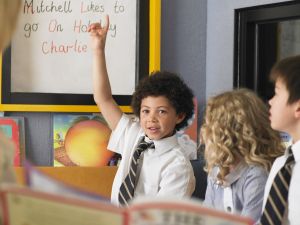 Deciding where to send your children to school can be tough. Most people choose the public school route, as it's a well-established institution and one that comes with minimal fees. People who send their children to public schools know that the teachers are licensed and have a college degree. There are also many programs for children who are either ahead of behind their peers. On top of that, there is usually a public school within a few miles of most homes, and the school bus system can make it easy for children to get to and from school, even when their parents are working.
However, some choose different forms of schooling. Some choose to educate their children at home, while others send their children to private school. There are those who believe that private schools provide a better education for children than public schools do. Of course, most private schools come with a hefty price tag. Tuition for these schools can be thousands of dollars, and when you have multiple children, this is not something that's feasible for many families.
Many private schools also happen to be religious. Past studies have shown that in general, religious private schools tend to perform better than secular public schools. There are several factors which may explain this performance gap:
Higher Expectations
One theory for why students in religious schools perform better than those in secular schools concerns the higher expectations placed on the students. Not only do these students often engage in a more challenging and advanced curriculum, they are also held to a higher standard in other ways:
Many private schools (particularly religious ones) have a strict dress code, and many times they are required to wear a specific uniform.

Behavior is more closely monitored in these schools, and things like foul language, perverted talk, or bullying may be more well controlled.
Small Class Sizes
Class sizes in religious private schools are often smaller than in public schools, and enrollment numbers are often lower. In fact, many religious schools put a cap on how many students can attend the school, and there is usually a waiting list to get in. Public schools are often overcrowded, and thanks to poor government funding, extra teachers cannot always be hired to account for the overcrowded classrooms. With smaller classrooms, students can receive individual attention, which means progress can be more closely monitored. This can be helpful when a child is struggling or when a student's grades start slipping. Steps can be taken sooner which may help prevent problems in the future.
More Encouraged
Students who go to a religious school may be encouraged more often than those in public schools. Of course, this can widely depend on the school and the teacher, but children tend to thrive when constantly reminded what they are capable of. Sometimes, doubt starts to creep in and a student starts to question his or her abilities. Having someone who can be there to encourage and help the student when things get hard offers a significant advantage.
More Parental Involvement
When parents have to pay thousands of dollars to send their child to school, they are much more likely to be involved with the school. Private schools offer many opportunities for parents to be involved, which may be beneficial to the children at the school. While parents who send their children to public schools can be just as involved, it isn't always as common as what you see in a private school setting.
The fact that religious schools tend to do better than secular schools is interesting, but seeing the reasons why can help any school adjust and perhaps improve students' performances. For example, students thrive when given encouragement and proper assistance. This is something that can be implemented in any school. Being involved in your child's school progress sounds obvious, but it's amazing how much it can benefit a child. Millions of people have gone through the public school system and most of them are quite successful. Still, these keys can help increase the chances of your child's success.