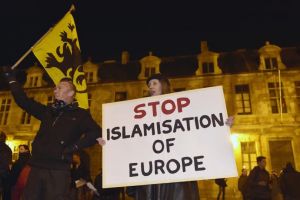 In case you haven't been paying attention, there is a war brewing in Europe. Not a war in the traditional sense, but a war of cultures. As more and more people from Muslim countries are arriving in Europe, there is growing discontent among Europeans who view Muslim culture and values as distinct threats to their traditional way of life. While there has always existed cultural tension between these groups (you may remember France's infamous Muslim head-scarf ban instituted back in 2004), the huge influx of Muslim immigrants over the past few years has intensified the situation.
Deeper Than Terrorism
When looking for the inherent cause of the hostility, it would be easy to point to the numerous acts of Islamic terrorism carried out across Europe (and around the world) over the years. Terrorist attacks have undoubtedly helped to shape the view of Islam as a violent and backwards religion with few redeeming qualities. However, the extremists who committed these attacks represent only a small minority of Muslims. So why have anti-immigrant political groups gained so much popularity recently? A closer analysis shows that the tension between Muslim immigrants and European residents runs much deeper than simple violence.
Switzerland Incident
In order to better understand the culture war simmering in Europe, let's look to a recent incident in Switzerland. Earlier this year, two Muslim boys refused to shake the hand of their female teacher. No big deal, right? Well, it turns out that shaking hands with your teacher is an essential part of Swiss educational culture in fact, it's a mandatory daily ritual. However, Islam does not permit physical contact with a person of the opposite sex. When news of the event was publicized, it resulted in national outrage. The school, which initially said the boys didn't have to do the handshake, was forced to backpedal and appeal to a regional authority for a ruling. The final decision: any student who refused to follow the tradition of shaking hands with their teacher would be fined $5,000.
How could the simple act of refusing to shake a teacher's hand provoke such an extreme reaction?
The simple answer is that what happened in Switzerland is symbolic of a larger issue: the values and customs of Islam are fundamentally at odds with existing European culture. Swiss tradition dictates that all students must shake the hand of their teacher. Refusing to do so, especially on religious grounds, was not just disrespectful it was seen as an attack on Swiss culture as a whole. You could argue that the authorities overreacted, but it's important to understand things from their perspective. While Europe has a reputation for generally being tolerant and open-minded, this is just one of many indications that the situation may be reaching a breaking point.
Growing Unrest
All over Europe, natural-born citizens are becoming increasingly wary of what some characterize as "Muslim infiltration". They worry about a breakdown of the European social fabric as Muslim immigrants get away with more and more under the guise of "religious rights". It may seem like an overreaction, but the popularity of this opinion is growing anti-immigration protests have sprung up in almost every major European country. To further put things in perspective, when Austria held its presidential election last week, an anti-immigrant candidate from the fascist party (think Donald Trump but more extreme) lost by a mere 1% of the vote.
Islamophobia or Real Concern?
Part of this backlash seems to stem from the fact that very few European political leaders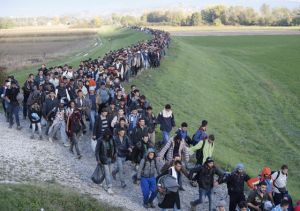 are willing to talk about the consequences of immigration. For better or for worse, we live in a politically correct world and people who express concern about Muslim immigration in Europe are frequently labeled Islamophobic. While it may be true that some members of the anti-immigration crowd are simply bigoted, the concerns voiced by this group as a whole do seem genuine after all, wanting to preserving one's customs and culture is a natural instinct. Some people argue that the cultural differences are just too extreme, and that Europeans and Muslims will never be able to peacefully coexist. Sadly, they may have a point. Even in decent economic times, relations are unstable. One shudders to imagine what might happen if Europe's economy started failing.
This is obviously a complex issue. Migrants are coming to Europe to escape hostile political and economic conditions back home, but they're bringing with them a religion that in many ways is incompatible with European culture. Eventually, something has got to give. What do you think? Should Europe continue to accept Muslim immigrants? Is Islamophobia the problem here, or could it be Islam itself?