When voters go to the polls, they tend to look for a politician who "shares their values". In America, these values are often centered around religious beliefs. Thus, a candidate's faith can have a significant impact on how people perceive them. For example, during the 1960 presidential election, John F. Kennedy was viewed with distrust due to his Catholic faith. In order to succeed, JFK had to convince millions of suspicious Protestant voters that he shared their basic values. This was a tough task, but he took the challenge head on, winning the election by a razor-thin margin.
The Bible and the Ballot
In the modern era, religion continues to play a strong role in elections. No matter how you slice it, faith is a strong indicator of voting habits. The fact that religious organizations tend to have strong convictions and high voter turnout makes them important interest groups. Evangelical Christians are among the most politically active of these religious organizations thus they have significant influence come election day.
Evangelical Support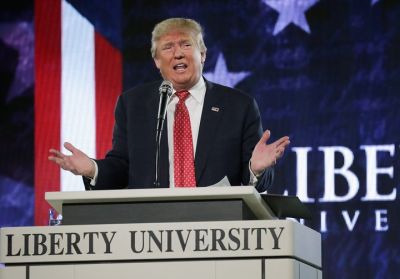 So which way are evangelicals leaning this November? Although they've favored the Republican ticket in past elections, most people will agree that 2016 is not a typical election year. For example, some critics of Donald Trump have insisted that the values espoused by his campaign are directly at odds with the teachings of Jesus and that any decent Christian would avoid voting for him.
Although Trump claims to be very religious, his spotty church attendance record is well documented. Despite this, there are strong indications that evangelicals are getting in line behind him especially white evangelicals. In fact, according to a recent survey conducted by the Pew Research Center, an astounding 78% of white evangelicals plan to vote Republican this year.
This support has drawn intense criticism from some. One of our members submitted this scathing comment, a testament to the discordant nature of the 2016 election cycle:
"What do you get when you're a foul-mouthed, lewd, casino owning, twice-divorced, xenophobic fear monger and candidate for President of the United States? Apparently, the support of evangelical Christians."
Issue Politics
Unlike Trump, Clinton has been a known church-goer for years. Yet somehow she can't seem to make any inroads with evangelical voters. So what is it about Trump that makes him preferable to Hillary Clinton? Part of the answer is clear: it's the issues.
Ultimately, the stances a candidate takes on specific social issues can be deal breakers for some voters. Trump has been accused of being many things, but for evangelicals, he checks all the important boxes: he has maintained an anti-abortion stance throughout the campaign (on one occasion even agreeing that women "should be punished" for getting one), is against same-sex marriage, and thinks individual states should be able to decide issues such as transgender bathroom access.
In stark contrast, Clinton is pro-choice, supports gay marriage, and thinks the federal government should intervene to protect LGBT rights. When you look at the election through this lens, it's no wonder Clinton cannot seem to gain any support from evangelicals. However, the issues only tell part of the story.
Good Values and Good Governance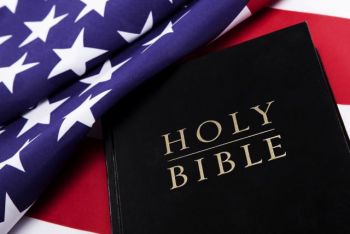 As a whole, American society has become more open-minded over time. However, it would still be highly unlikely for a non-religious candidate to get elected President in this country. Even if they took popular stances on all the issues, they likely wouldn't stand a chance. Why is this?
Despite the importance of certain issues, a candidate's underlying values remain critical. To many Americans, good values are synonymous with religious values. Voters believe a candidate cannot have one without the other. Plus, they insist, strong religious values provide a foundation upon which to make sound decisions. But some religious values can be incredibly divisive, especially in an American society that is becoming increasingly diverse and progressive. So what role should religious values have in government?
Finding A Balance
Some believe that religious values should be central to governing, and that lawmakers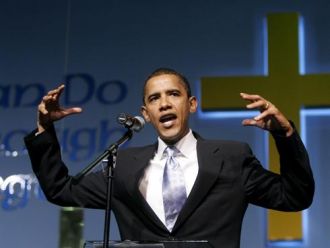 should use them as a guide when deciding on policy even if doing so ruffles a few feathers. Others disagree, arguing that adhering to strict religious values can infringe upon the rights of minority groups, such as the LGBT community.
President Obama has spoken at length about religion in government, and seems to believe that compromise is the answer. He insists that "secularists are wrong when they ask believers to leave their religions at the door" when serving in government. At the same time, though, Obama acknowledges that no single belief system takes precedence over another. According to him, "democracy demands that the religiously motivated translate their concerns into universal, rather than religion-specific, values."
Religious Influence
However, some question just how easily religious values can be translated into universal values. Inevitably, there will be some areas of contention. Depending on who is in office, religious values may win out. Evangelicals certainly hope so. What do you think? What is the role of faith in politics? Is it right for politicians to look to their religious convictions when determining policy?