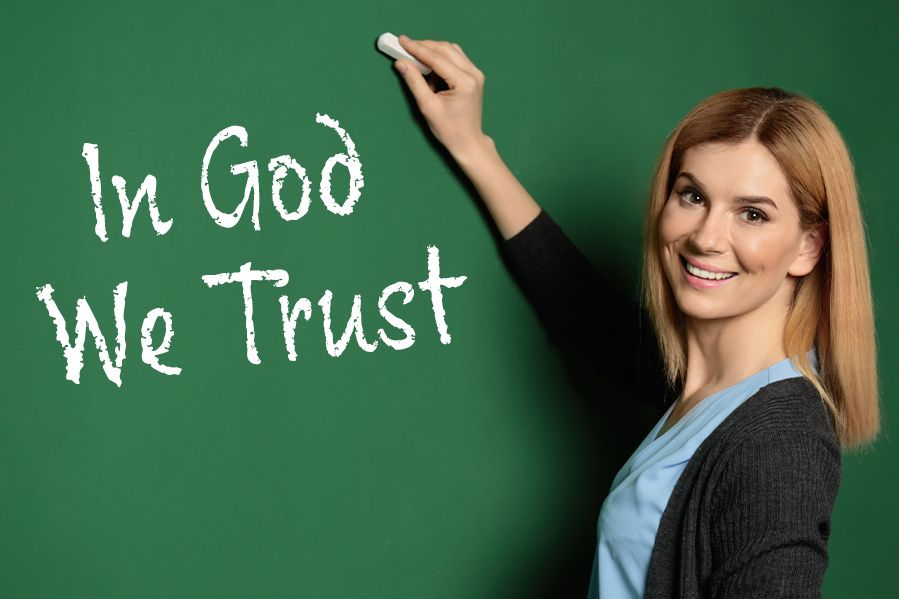 The West Virginia state senate wants to put God back in public schools.
Earlier this week, the West Virginia state senate approved Senate Bill 251, which would mandate that every public school in the state – from kindergarten to university – put up a poster depicting the American flag, the West Virginia flag, and the phrase "In God We Trust."
Should the bill become law, West Virginia will become just the latest state to display the national motto in public schools, following in the footsteps of states like Louisiana, Mississippi, Utah, and Texas. 
Similar to other legislation, the West Virginia bill requires that the signs be displayed in a "conspicuous place" in full view, not hidden away in a broom closet or under a desk. To avert legal challenges, the posters must be donated, or purchased by the school with donated funds.
The bill's authors say they just want to unify a divided country under the national motto, but secular activists and some parents say this is another attempt to sneak Christianity into public school.
God and Schools, Together Again
"We know there's a lot of kids that have problems at home, tough times at home that we don't know anything about," is how West Virginia State Sen. Mike Azinger argued for the bill on the floor of the Senate.
"Maybe they'll look up one day and say, 'In God We Trust' and know they can put their hope in God."
He says he just wants kids to know that they can "say God" in school. 
But not the Christian God, necessarily. This is just a generic God they're talking about, supporters argue.
"It doesn't go down to denominations or religious beliefs. Ultimately it just recognizes that there is a higher power than the human race," explains bill co-sponsor State Sen. Vince Deeds, who also works as a Baptist pastor.
"That's why President Eisenhower wanted to have this displayed on our currency back in 1956, I believe it was," he said. "He felt it was important for us to remember where our position is and where our authority comes from."
Azinger agrees. "[The national motto] was adopted during a time of disunity in America, at a time that unity was needed," he argues. "And I think that's where we are in America in many ways."
In God We Mandate
Not everyone is buying the argument that this is an attempt to unify. 
"Some kids are not Christian and they are going to feel excluded because it says, 'In God We Trust.' Maybe they are, whatever religion they may be," explained one parent. "I just don't think it should be that way."
The West Virginia ACLU opposes the bill, and says it's a violation of the separation of church and state. "We understand that it's the national motto, but it's also something that makes a lot of people who are not religious feel very uncomfortable," says ACLU advocacy director Eli Baumwell. "It's just going to make a few people feel a little bit less welcome."
Other critics argue that West Virginia has bigger education issues they should be dealing with than putting up posters. A recent study found West Virginia ranked dead last in a ranking of states by overall education quality, and bottom five for both K-12 education quality and university quality.
Regardless, the bill is advancing and will likely be signed into law. Legal challenges in states with similar laws have largely failed, thanks to careful wording in the bills themselves. 
God is very likely coming to the halls of West Virginia schools very soon.
What do you make of this development?