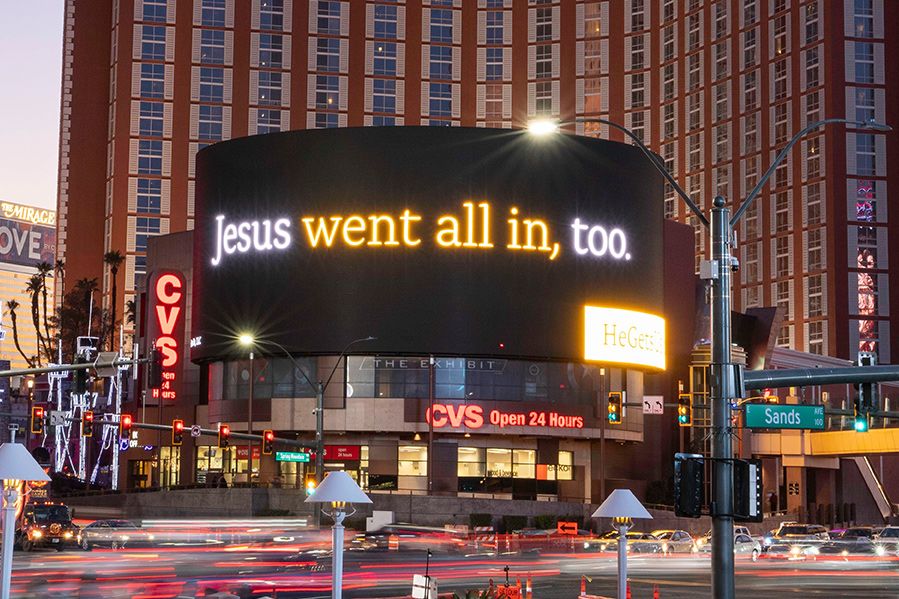 Does Jesus need a marketing campaign? The organizers of the '"He Gets Us" ad campaign think so, and they say they intend to spend about $1 billion dollars over the next three years to spread His message. But many are wondering why millions are being spent promoting Jesus, anyway. Does Christianity need a marketing blitz?
"He Gets Us"
You may have seen some "He Gets Us" ads on television. Over stark black and white images, an unseen narrator relates Jesus to the viewer. Jesus got lonely, the ads say. Jesus felt marginalized. Jesus lived in poverty. Jesus accepted everyone.
Jesus was just like you.
The ads have been running for about a year: on television, YouTube, and even on billboards. But they're just getting started, the campaign funders say. Initially reported as costing $100 million dollars, the campaign's budget has now grown to a whopping $1 billion. First stop: The upcoming Super Bowl matchup between the Chiefs and the Eagles, during which at least two ads are scheduled to play.
When the ads first started to appear, the group of donors spending millions to display them across the country were completely anonymous. Many wondered who would invest such a large sum to sell, arguably, the most famous (son of) man in the world. Now we know, at least in part: Just recently, Hobby Lobby co-founder David Green let it slip that he and his family helped to fund the ad campaign in an effort to relate Jesus Christ to an increasingly nonreligious American youth. The goal? Conversions to Christianity. "We are wanting to say — we being a lot of people — that he gets us. He understands us. He loves who we hate," he stated. "I think we have to let the public know and create a movement." 
The Super Bowl ads will cost a reported $20 million dollars, but that's barely a drop in the bucket as donors see it. Green said that he and the other benefactors intend to spare no expense in the years to come. "The goal is to invest about a billion dollars over the next three years," Green explained. "And that is just the first phase."
With two ads during the biggest sporting event of the year coming up, millions of eyeballs will be on the "He Gets Us" ads. But not everyone who has already seen them is exactly buying the message - or the price tag... 
What Would Jesus Buy?
The ads have received hefty doses of criticism from evangelicals and atheists alike. Many Christians find the ads offensive, particularly the "Jesus Was Born To A Teen Mom" ad, which draws parallels between the immaculate conception of Jesus and a teenage girl cheating on her boyfriend.
And many atheists find the ads performative, a cynical attempt to relate Jesus to Gen Z without taking a significant stand on any of the issues young people care about right now.
But one thing many agree on is that the pricey marketing blitz is money that could've been better spent elsewhere. Many have wondered whether Jesus would approve of a billion dollar marketing push for himself, or whether he would prefer that money be spent investing in communities, education, and spiritual upliftment. 
The creators, of course, see things differently. Jason Vanderground, the president of Haven, a marketing firm which contributed to producing the ads, says that the spiritual results will pay dividends. "[We] have this objective of encouraging Christians to follow the example of Jesus in the way that they love and treat each other," he says. And the ideal result - a more Christian world - will pay for itself.
Have you seen the "He Gets Us" ads? If so, what do you think of them, and would Jesus approve?