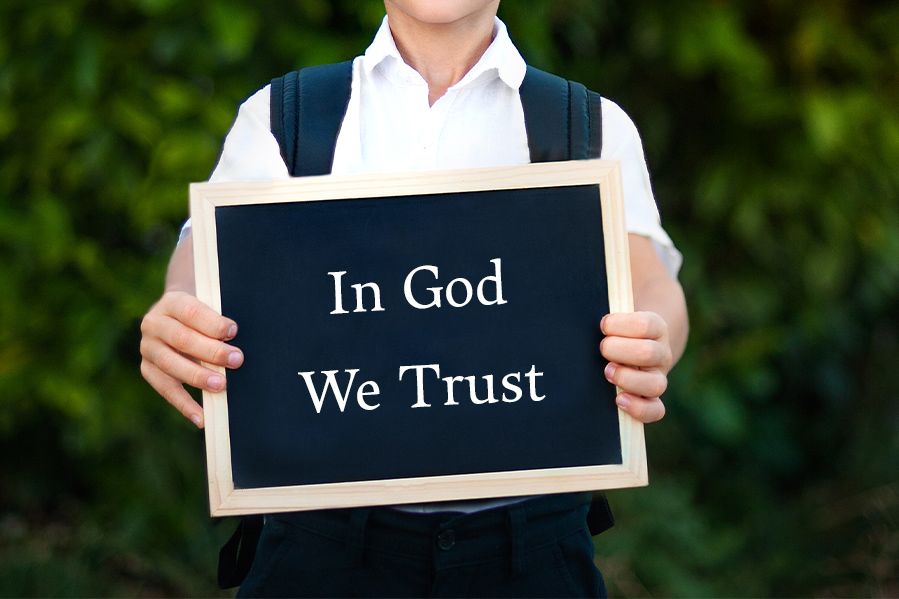 As students in Texas return to the classrooms this year, they'll be met with a new slogan: "In God We Trust."
That's thanks to a Texas law passed last year that says signs and posters with the words "In God We Trust" must be displayed on school campuses – so long as they've been donated by an outside group and thus don't cost the school any money. 
It further mandates that the signs must be displayed "in a conspicuous location," not tucked away somewhere out of view. 
Now critics and secular activists are pushing back, arguing that this is yet another covert attempt by Christians to evangelize to schoolchildren. 
God: Coming to a Classroom Near You
 The bill's champions have a simple explanation for their support. "We just felt like it was a great opportunity to display our national motto in our public schools," said state representative and co-author of the bill, Tom Oliverson. "This was an idea I had after seeing something similar happen in a couple different states."
Oliverson's claim seems to be that this is simply a way for schools to show their patriotism. But one of the bill's other co-authors recently tweeted that his intention in writing the bill was indeed to put God in the classroom.
Advocates for secularism are sounding alarm bells, arguing that this is, well, exactly what its supporters say it is: evangelism in public schools. 
"These posters demonstrate the more casual ways a state can impose religion on the public," explains Sophie Ellman-Golan of the activist group Jews for Racial & Economic Justice. "Alone, they're a basic violation of the separation of church and state. But in the broader context, it's hard not to see them as part of the larger Christian nationalist project."
The bill has stringent guidelines on what posters can look like. Only three things are allowed: The text "In God We Trust," the American flag, and the flag of the state of Texas.
The requirements are laid out in what appears to be a "no trolling" clause in the bill, which clarifies that the signs cannot "depict any words, images, or other information" beyond the three elements listed.
It's a clear attempt to prevent cheeky protests like framing a dollar bill, as one Kentucky school did when a similar bill passed there.
The language was troll-proof… or so the authors thought.
Finding the Weak Spot
As it turns out, one atheist activist found a loophole that he believes will perfectly – and legally – upset the bill's supporters.
Activist Chaz Stevens (best known for his attempt to ban the Bible in Florida schools after Florida passed a bill banning "pornographic" books from school libraries) has announced a plan to thwart the law.
Stevens noticed that the bill says the words "In God We Trust" must be written on the posters, but that the bill doesn't specify which language it must be written in.
So, he submitted posters with the message written in Arabic.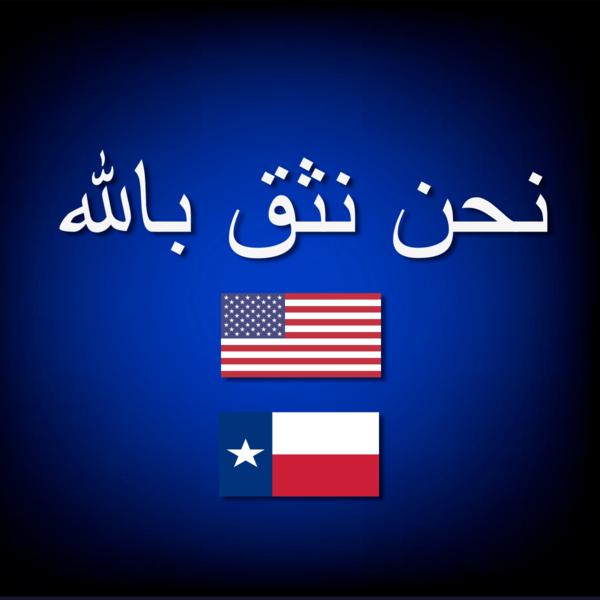 Texas teachers are apparently lining up to collect their Arabic "In God We Trust" posters, and per the law, the school must display them.
Update, 8/29/22: In another example of malicious compliance, a new design has apparently been submitted by local man Sravan Krishna to flout the policy.
The posters will likely ruffle a few feathers, but it's unclear whether they will lead to any changes or amendments to the bill.
Meanwhile, the larger issue remains: whether those words should actually be displayed in public schools in the first place.
Several states already mandate it under the reasoning that the national motto can be displayed in public places without issue. However, critics maintain that because it's clear which god is being referred to, it therefore preferences one religion over others.
Is putting "In God We Trust" in public schools appropriate, considering it is our national motto? Or does it unconstitutionally insert Christianity into public life?
Update, 8/30/22: Carroll ISD, the district where the rainbow/Arabic signs had been donated, rejected the alternative designs on Tuesday in favor of a more conventional "In God We Trust" sign donated by a local cellphone company.
School board officials indicated at their public meeting that they believe the new law only requires them to display one donated poster in a school at any given time, apparently leaving no room for Mr. Krishna's variation. He has challenged their decision.