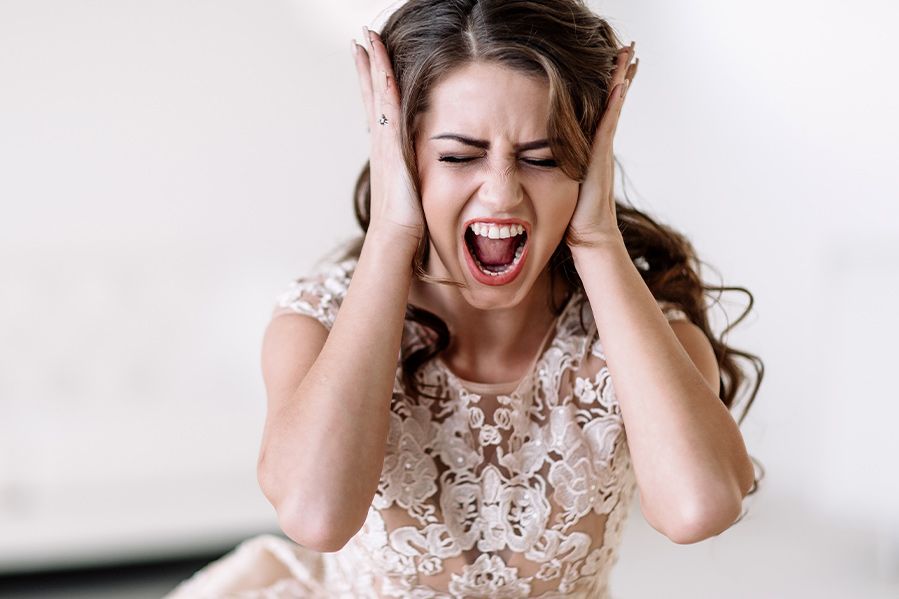 Weddings usually come with some drama, that's just the nature of the beast when planning such a big event with so many moving parts. But there's drama, then there's drama – and sometimes it's not clear who is in the right and who's in the wrong.
Enter the popular website Reddit, which has a dedicated forum where you can tell your story and poll the internet to see what they think. Using the tag "Am I the A**hole" (AITA), curious users can tell the latest dramatic happening from their lives and get a verdict: a-hole, or not an a-hole.
In a post going viral this week, a bride wanted to know if it was unreasonable to ask her fiance not to invite his 98-year-old grandmother to the reception. She turned to the internet to ask "Am I The A**hole?" The reaction was immense. 
Inspired by this latest controversy, we're listing the top 5 cases of extreme wedding drama and tallying up the scores. 
A-holes, or not a-holes? You let us know!
Banning Granny
The post heard 'round the internet: a bride-to-be asked if she was in the wrong for forbidding her fiance's 98-year-old grandma from attending the wedding reception. We posted the full story on Facebook, where our friends felt strongly on the subject (just check the comments 👀): 
And if you were curious about Reddit's verdict: A-hole
Don't Bring Your Boyfriend
A groom asked his gay brother not to bring his boyfriend to the upcoming wedding. Before you cry 'a-hole,' there are details that make this a bit messy. The original poster is very supportive of his gay brother, but says that much of the family disapproves of homosexuality. The brother isn't out to his family, but asked to bring his boyfriend to the wedding – a request which was declined.
"If it was any other occasion I would be supportive obviously, but I don't think my wedding day is the day to do that. Imagine all the drama and gossip and bull**** that would happen. And I don't want to get the attention away from my fiancée, that's her day. And I don't wanna have to worry about that on my wedding day, and I think it's a pretty good reason," the groom wrote. 
What do you think? Is avoiding family drama a good enough reason to ban your gay brother from bringing a +1?
(Reddit's verdict: Not an a-hole)
Dad Can't Walk Down the Aisle... Literally
A bride-to-be wanted to know if she was an a-hole for refusing to let their dad walk her down the aisle, because he literally cannot walk. "About three years ago my dad was injured in a really bad hit and run car accident. He broke just about every bone in his body, and left him paralyzed from the waist down," she posted.
Now planning her wedding, this bride had second thoughts on letting her wheelchair-bound father participate. "Dad being in a wheelchair would add complications to the wedding," she explained. "We always talked about him giving me away and having a dance at my wedding and I don't want to be reminded of what could've been at my wedding." She requested her uncle walk her down the aisle instead, devastating her father. What are your thoughts? A-hole, or not?
(Reddit's verdict: Big time a-hole)
No Atheists Allowed
A groom caused a whole mass of drama when he told his atheist friends to skip out on his Catholic wedding ceremony and only show up for the reception.
"My future wife and both of our families are Roman Catholic. Catholic ceremonies are long. I'm talking 1 hour of pure mass and an additional half an hour of the actual "getting married" part. If you are not a believer, it is boring... I thought I'll spare [my atheist friends] the trouble," he explained.
When invitations went out, some of the atheist friends reached out, and asked why they weren't invited to the ceremony. They stated that they would gladly sit through religious customs they don't believe in to see their friends get married. "Those who I decided to 'spare' expressed anti-religious-events stances in the past (not going to Christenings, First Communions & Confirmations) so I thought it translated to wedding ceremonies," the user said in justification for their atheist ban.
(Reddit's verdict: A-hole)
Apply Within to Attend
A sister-of-the-bride refused to write an essay to attend the wedding, and her family got mad. Due to the pandemic, the wedding guest list had to be cut in half. Instead of whittling down the guest list to the essentials, the poster's sister decided to have potential guests fill out several essay questions in order to decide who gets to go and who gets the boot.
"I told her in advance I'm not writing 500 words on why I NEED to attend her wedding, spend my own money on plane tickets/hotels, and buy her a present," the user said. "She's said that to keep things fair if I don't fill out the RSVP correctly I won't be saved a spot. I said fine with me."
Should the poster have just sucked it up and filled out the essay? Or is she right to stand her ground against an unreasonable request?
(Reddit's verdict: Not an a-hole)
Where do you stand? Sound off in the comments!