For millennia humans have been building grand structures to symbolize our deepest religious convictions. Some of these structures are mere relics eroded away by time, while others are only beginning to show signs of crumbling down into ruins. Some have been blasted away by war and conflict, while others are brand new, strikingly inspired tributes to divinity. Here are just a few works of sacred architecture we consider among the world's most beautiful.
Sheikh Zayed Mosque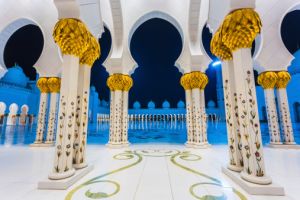 Located in the rapidly modernizing city Abu Dhabi, Sheikh Zayed Mosque is the center of Islamic worship in the United Arab Emirates and a respite for spiritual reflection. Commissioned by former president Sheikh Zayed bin Sultan Al Nahyan, the structure is intended to symbolize unity in diversity throughout the Islamic world, with construction materials such as marble, gold, semiprecious stones, crystals, and ceramics from all over Europe, Asia, and North Africa. A vast interior courtyard covered in lavish stonework is surrounded by brilliant white domes and minarets, as well as a gallery of columns topped with gold capitals overlooking serene reflecting pools ideal for strolling after Friday prayers.
The Golden Temple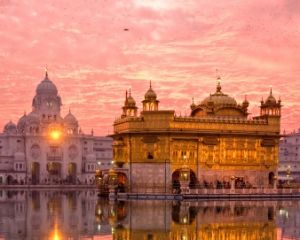 Although diminutive in size, Harmandir Sahib, also known as "The Golden Temple", is an unparalleled specimen of Sikh sacred architecture. The prim little temple lies in the middle of a tranquil man-made pool of healing holy waters, which historically served as the temple's defenses, in the northern Indian city of Amritsar. True to its namesake, the temple's columns, cornices, domes, and carvings are sheathed in 100 kilograms of pure gold, and when the sun sets, it gleams in a wash of burnished light. The only way to access the temple is by a narrow marble bridge which also symbolizes the separation of sinners from the righteous.
The White Temple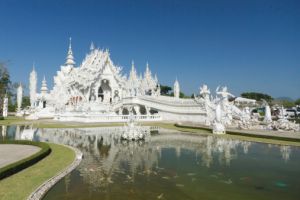 Unlike many other examples of Buddhist architecture, Wat Rong Khun temple in Chiang Rai, Thailand, glows a pure white, hence its other name, "The White Temple". While architect Chalermchai Kositpipat's choice of white stone and some of his statuary reflect very unconventional, contemporary concepts, the temple has a uniquely Thai Buddhist flair with Hindu influences. The ornate carvings, balustrades, columns, and pinnacles create the illusion that the building is being gently pulled aloft into the sky by some mysterious form of reverse gravity to join the clouds in the heavens above.
La Sagrada Familia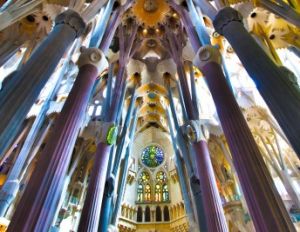 Basílica i Temple Expiatori de la Sagrada Família, or "La Sagrada Familia" for short, may still be under construction, but it is already one of the most iconic structures in the world. The Barcelona cathedral, designed by renowned architect Antoni Gaudí, is usually likened to the architectural styles of Art Nouvea or Catalan Modernism. Giant, honeycomb-like spires soar above twisting, ghostly, bonelike archways that resemble an ossuary more than a cathedral entrance, while the city and Mediterranean stretch out in the distance. When finished, a giant, bizarrely hive-like central pinnacle topped with a cross will dominate the skyline.
Not all places of worship are man-made, of course many pagans prefer the sacred grove of nature nor is this a complete list of the world's most beautiful examples of sacred architecture. Perhaps you have other places in mind. What are some of your favourite examples, and why?