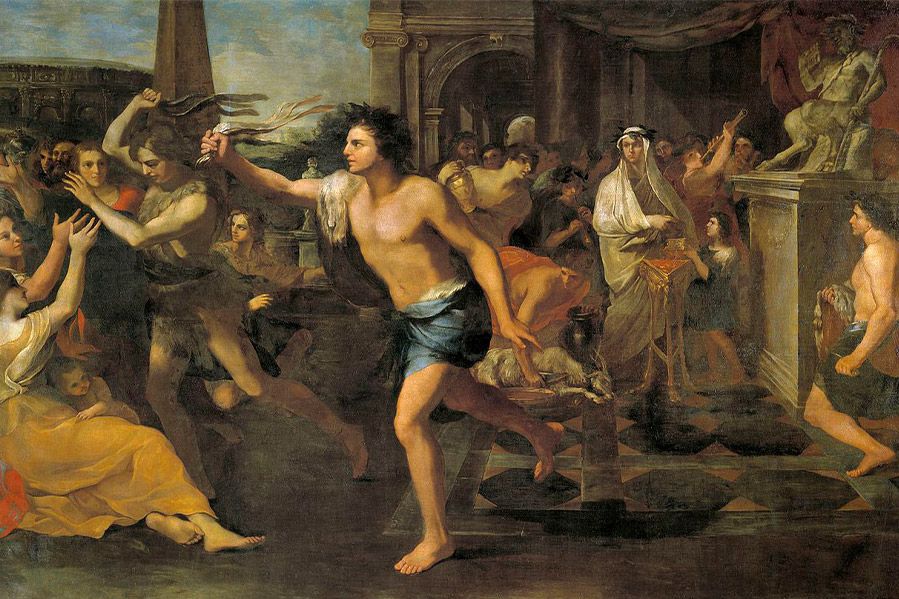 This time of year, as the store aisles fill up with heart-shaped chocolates and cards, it's not uncommon to hear from the more cynical among us that "Valentine's Day was invented by the Hallmark Company to sell us stuff". While the commercialization of V-Day is most definitely real, the origins extend much further back than a single corporate card company - and has copious amounts of nudity, flagellation, and animal sacrifice to boot. 
You're not gonna see that on a Hallmark card.
Pagan Origins of Lupercalia
Most historians trace the origins of Valentine's Day to an ancient Roman holiday known as Lupercalia. The pagan fertility celebration of Lupercalia took place February 13th, 14th, and 15th. Men sacrificed goats and dogs, stripped their hides, and then ran through the city square in the nude, literally whipping women, all in celebration of fertility. Many women would actually line up and volunteer for the lashing, believing it a fertility blessing.
Even after Christianity's legalization in Rome, the pagan holiday remained for a century and a half, too popular with the populace to be abandoned. Pope Gelasius eventually did shut down Lupercalia for its pagan origins… but soon after, many historians believe, the Catholic Church rebranded Lupercalia as a new, Christian holiday by declaring an annual feast for Saint Valentine on February 14th.
Saint Valentine
Saint Valentine was a martyred Roman priest who eventually was canonized as the patron saint of lovers. He had a very, very, very bad time.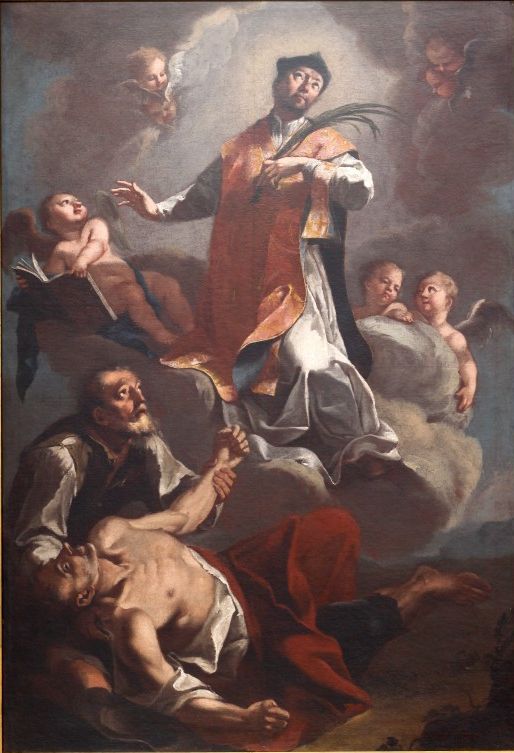 While the true history is a bit murky since all of this took place nearly 2,000 years ago, it is agreed that Saint Valentine was arrested and martyred around 270 AD. As we wrote in 2014: 
"According to the Nuremberg Chronicle (1493), he was arrested and imprisoned after being caught performing wedding ceremonies for Christian couples and otherwise aiding Christians being persecuted by Claudius--a grave crime at the time. Claudius actually grew fond of Valentinus as a prisoner, but when the priest tried to convert the emperor to Christianity, he was beaten and beheaded outside the Flaminian Gate in Rome on 14 February."
Saint Valentine's connection to romance is a bit murky. Some historians believe that it was Geoffrey Chaucer and William Shakespeare who solidified the connection between Saint Valentine and romance. Chaucer links romance directly to Valentine's Day in his poem The Parlement of Foules, which describes birds gathering in the early spring, on 'seynt valentynes day', to pair off and mate. William Shakespeare followed Chaucer's example in Hamlet, with the lines:
To-morrow is Saint Valentine's day,
All in the morning betime,
And I a maid at your window,
To be your Valentine.
A Hallmark Era
Hundreds of years later, and we have Valentine's Day as we know it, as factories sprouted up and mail became very cheap in Victorian England - perfect for sending your sweetie a card detailing your love for him or her by post. 
In the United States, valentines began to be mass produced at the end of the 1840s by Esther Howland, a businesswoman so inspired by a valentine she received from an English acquaintance that she imported paper lace and other elegant decorations to begin producing the romantic cards stateside. 
The 'valentines' caught on, and Valentine's Day was soon a bonafide (and commercialized) holiday that only got more popular year after year: 190 million valentines are sent each year in the United States alone.
So this Valentine's Day, when you're out with your sweetheart, remember that once upon a time, this holiday looked a little bit different from how you're celebrating it today.
Well... probably.