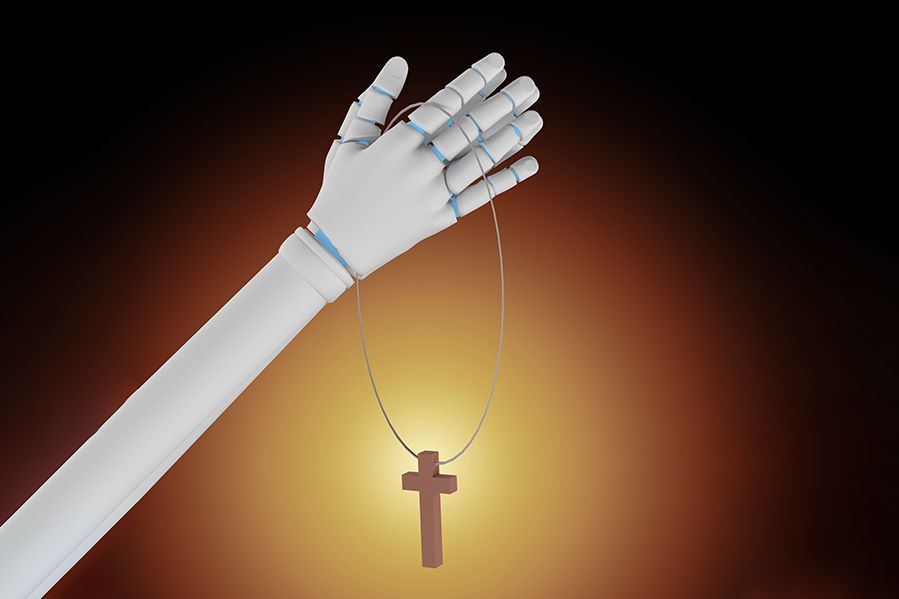 If you haven't been keeping up with the tech world lately, there's been a lot of buzz about artificial intelligence.
Specifically, AI-generated… well, everything, really. From AI-generated art to AI-generated code to AI-generated essays, artificial intelligence is getting better at replicating humanity seemingly every day. Many are wondering if AI might automate entire industries out of existence.
Now you can add pastors to that list.
Anyone who's been to church on Sunday knows that a well-written sermon and an impassioned delivery are what make or break the service.
Legendary figures in all faiths – pastors, imams, rabbis – are responsible for using the written to word to inspire billions every week. But with rapid advances in AI generation, can the humanity, empathy, and profound message of a well-written sermon seriously be automated away?
Some religious leaders recently took to using an AI chatbot to see. Meet your new pastor: ChatGPT?
Sermonator, Too: Judgment Day
"Better than several Christmas sermons I've heard over the years," is how Todd Brewer, managing editor of the Christian website Mockingbird, described an AI-generated Christmas sermon he asked ChatGPT to compose for him.
The sermon was specific: He requested a 1,000 word Christmas sermon, "based upon Luke's birth narrative, with quotations from Karl Barth, Martin Luther, Irenaeus of Lyon, and Barack Obama." 
The results were better than he expected. "Devoid of any obvious heresy, the A.I. even seems to understand what makes the birth of Jesus genuinely good news," he said. "It's far from a heavy-handed exhortation to 'follow the star' in our hearts or a diatribe proving the historicity of the incarnation."
In many churches, it might be a passable if uninspiring sermon. 
Other church leaders have conducted similar experiments. 
Mike Glenn, senior pastor at Brentwood Baptist Church in Brentwood, Tennessee, had a similar response to an AI-generated sermon a church staffer showed him. Look, they said. "You can be replaced. By a machine."
The Uncanny Valley 
There's a growing concern amongst clergy that church leaders will rely on these tools to compose their sermons, rather than writing a message from the heart. And that might be true.
But most church leaders believe that a chatbot will never be able to replicate the human experience.
Mike Glenn acknowledges that the sermon his assistant created – after the AI was fed all his previous sermons – sounds like his words…. Kind of. But there's something missing.
"AI will never be able to preach a decent sermon. Why? Because the gospel is more than words. It's the evidence of a changed life," he argues. "When listening to a sermon, what a congregation is looking for is evidence that the pastor has been with Jesus. An authentic sermon is filtered through Scripture, good theology, and the pastor's own testimony."
Similar to how humans are able to pick out real humans from photorealistic computer generated creations, pastors say that savvy congregants can tell the difference between a real sermon, written from the heart, using all the pain and hope of the human experience, and an imitation, culled together by a machine.
Pastors say that an artificial intelligence can never truly 'know' the human experience. It can only try to replicate it.
As Russell Moore, current editor of Christianity Today says, "a chatbot can research. A chatbot can write. Perhaps a chatbot can even orate. But a chatbot can't preach."
What do you think? AI automation is a hot topic in many career circles. It seemed almost inevitable that the discussion would move to religious circles eventually. Will AI-generated sermons eventually be able to fully replicate the humanity of a great sermon? Or will it always be what most church leadership believe it to be, a pale imitation?
What do you think?