Many of our readers are familiar with the revelatory 2006 video Jesus Camp, which exposes the evangelical indoctrination of children at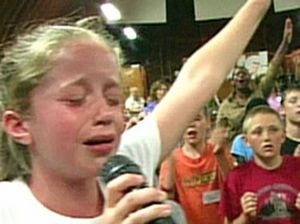 a charismatic Christian youth camp in the rural U.S. state of North Dakota. This use of children for evangelization is not an isolated incident, however, but a growing trend throughout the southern United States, with potential consequences for surrounding regions and in government affairs. Lurking beneath the ardent religious piety are strong signs of child exploitation and anti-secularism, tied together by the organizing principle that the United States must be Christianized in preparation for the return of Jesus Christ of Nazareth with one powerful U.S. state governor at the helm.
Rick Perry, the governor of the U.S. state of Texas, plays a central role in the proliferation of radical Christian youth ministries. In collaboration with the American Family Association and the International House of Prayer, Perry is organizing a 6 August prayer rally called "The Response" at the Houston Reliant Stadium, where he proclaimed that America's economic troubles are a part of God's plan to restore biblical values to the U.S. Just two weekends before Perry's conference, a coalition of radical youth ministries will be hosting The Elijah Revolution, one of a series of conferences and initiatives focused on rousing radical religious devotion in teenagers.
Among the prayer "leaders" of the rally are staff from the International House of Prayer (also known as "IHOP"), a so-called "spiritual warfare center" in Kansas City, Missouri where right-wing, fundamentalist evangelicals convene to pray twenty-four hours a day, three hundred and sixty-five days a year. IHOP subscribes to the "Seven Mountains" theology, which gives seven spheres in which America must be "taken back" for Jesus Christ through family, education, government, the economy, the arts, the media, and religion. Lou Engles is one of the religious leaders featured on its Web site. A major goal of the organization is to convert as many children as possible and use them to evangelize non-believers. So far, IHOP has trained over 25,000 children at its "Signs and Wonders" camps and is hoping to reach one million in Kansas City and around the world at its future 120-acre compound called "Shiloh".
The Seven Mountains theology underpinning IHOP's vision is shared by "TheCall", an organization also headed by Engles which sets up days of prayer and fasting for children. One of TheCall's missions under Engle is to set up Justice Houses of Prayer around the U.S. in order to pray for help to combat liberal social causes such as abortion and to populate government with "righteous" Christian leaders. According to an article on the Web site Goddiscussion, the first of these evangelical prayer chapels was set up in 2004 as part of a sort of chain or network.
But the web in which Gov. Perry is entangled is much larger than these two groups. As the Goddiscussion article states, Engles is also highly influential in another radical youth ministry called The Elijah Revolution (associated with the conference mentioned above), yet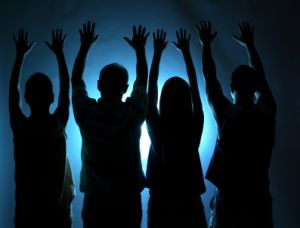 another youth ministry centered on the Seven Mountains theology. The goal of the Elijah Revolution is like that of the other two ministries to prepare for the rapture and the second coming of Christ, and for the creation of a Christian kingdom on earth, by conquering the seven spheres mentioned above for Christians. The organization illustrates the aim of its mission using the stories of the pure-hearted Elijah and the wicked temptress Jezebel, whom the spirit of Elijah must overcome. Citing Malachi 4:6, its members believe that children will bring adults back into the Christian flock. The group even has an album named after it, featuring Engle's voice put to song and lamenting the state of America and the need for the spirit of Elijah to conquer Jezebel.
Gov. Perry's connection with radical youth prayer groups does not end here, though.
Elijah is connected with yet another prayer warfare-type ministry. So-called prophet Cindy Jacobs cites the Elijah album in her intercessory prayer groups called
"Root 52", the purpose of which is to target "godless" parts of America in order to transform them into Christian havens. Seattle,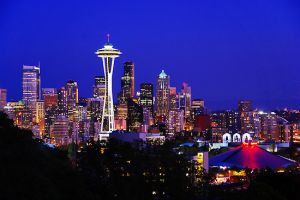 Washington state, and the Pacific Northwest in general are among the strongly secular regions targeted by the group, and they outline their goal in a highly vivid and charismatic "Washington prayer alert":
In mapping both Seattle and Olympia many key ley lines have been discovered (a majority of them have been established through the arts). Olympia is laid out much like Washington D.C. influenced by free-masonry design and structure. We believe that a key to binding and bringing down these Baal/witchcraft/jezebel influenced strongholds will be through the Arts and Media sphere! May God raise up anointed singers, musicians, artists, craftsmen, sculptors, dancers, etc, in the Northwest! We are praying for the hearts of the fathers to turn to the children and the hearts of the children to turn to the Fathers to release an Elijah Revolution that confront this jezebel spirit. And we are praying for a generation of Jehu's who walk in sexual purity and the truth and power of God's written Word to bring her down (Rev. 2:18-29). As the light of the Glory of God in face of Christ increases through day and night prayer and worship combined with a kingly anointing, we will see these demonic strongholds dislodged from this region!
We stake a Claim in the midst of the Whirlwind for the Glory of the Lamb through every sphere in society in Washington State. May God "Wash" Washington, "a ton" through the blood of his Son. Jesus we plead your blood over our sins and the sins of our state. God end abortion and send Revival to Washington! Amen! [sic]
The hope is that the city of Seattle (where the Universal Life Church Monastery happens to be headquartered), along with Washington and the Northwest, will capitulate to pressure from evangelical prayer groups, who hope to transform it into one of the aforementioned Christian havens through the power of intercessory prayer. In order to do this, alternate traditions and concepts such as Free Masonry and ley lines must be eradicated, and the arts community of this northwestern coastal port city infiltrated and co-opted by the prayer warriors from their stronghold in the ardently religious south.
On top of this, Engles is connected with Becky Fischer, the religious leader featured in the Jesus Camp film, which documents events at the "Kids on Fire School of Ministry" Pentecostal summer camp. According to the Goddiscussion article, Fischer belongs to a network of charismatic churches and ministries which hold a belief in modern-day prophets and apostles namely, children (cf. Malachi 4:6 above). Engles is one of the adult apostolic "prophets" whose teachings are featured on Fischer's Web site.
So far, what we see is that Gov. Perry's August conference is led by a group (IHOP) which is strongly influenced by an evangelical leader and prayer warrior (Engles) who is connected with multiple other groups (TheCall, Elijah Revolution, Root 52, and Kids on Fire) who use children as pawns to evangelize America in preparation for a brutal Harold Camping-style Apocalypse. While we cannot accuse these other groups of guilt by association, we can be fairly confident in saying that Perry is colluding in the child prayer warrior scheme in his attempt to transform America through supernatural means into a land based solely on evangelical, charismatic Christian principles especially those "godless" bastions of secularism like Seattle. Naturally, this vision is not shared by the interfaith Universal Life Church Monastery, which believes that we are all children of the same universe and that all religions have something good to contribute to humanity. It is also disturbing to see impressionable young children used so shamelessly as leveraging tools to promote adult religious agendas. Thus, we look on with a wary eye at Perry and the well-organized prayer warfare network rising in the U.S. south.
Give us your thoughts. Do you welcome ministries characterized by child "prayer-warriors", or do you view them with suspicion?
Source: