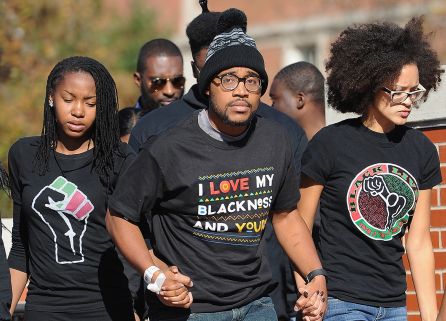 The University of Missouri, often called Mizzou for short, has been in the news recently after some racial unrest has been taking place at the school, largely via the Black Lives Matter movement. Many incoming students are surprised to discover how voluntarily segregated the students are based on their assumptions and generalizations about members of races other than their own.
Outright discrimination between students has been left unchecked by administrative staff and allowed to escalate. Several incidents have divided the campus, including at one point the smearing of feces on a wall in the shape of a swastika, and threats made against the safety of black students on the university's social media page.
Many black students refrained from attending classes after that and others started protests on campus. The demonstrators have made called for things to change, and here is a list of some of their demands:
Tim Wolfe, the university's president, needs to write a letter apologizing for allowing excessive violence against protesters and innocent bystanders by campus police, acknowledge his white privilege and read this letter at a press conference.

Tim Wolfe needs to resign immediately or be fired (he resigned willingly in response to these demands).

Mizzou must respect and honor the demands set in 1969 by The Legion of Black Collegians in order to make the school better for those in the black community.

A curriculum must be established for all staff at the university to review. It will show a racial awareness and the curriculum must be overseen by black people, including staff and students.

The University of Missouri must increase black staff to 10% by the 2017-2018 school year.

They must come up with a 10 year plan that will help prevent at risk students from dropping out of college early. This must be in effect by May of next year.

Mizzou must hire more mental health specialists, especially those of color, to help increase awareness and availability for those needing mental health assistance.

The University of Missouri must also increase funding to hire more people (preferably those of color) for the social justice centers. This will help with outreach and awareness.
Whether or not these requests are reasonable or not are for you to decide. If people at the school are being discriminated against and regularly threatened, then things need to change. If the president was standing by and not taking any action to address racial antagonizing and violence, then he was failing his students.
Hopefully, the University of Missouri and the students who feel targeted can come to a peaceful agreement that will help eliminate these problems in the future without any racial intolerance issues in the future.
**The Issues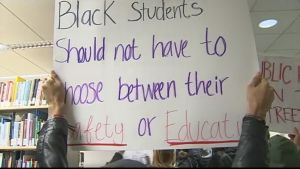 That being said, it is ridiculous that some students in Missouri are complaining about the Paris attacks taking their spotlight the recent terrorist attacks on the French capital. There are even a few who think the issues in Missouri are just as bad as what happened in Paris. It's very difficult to understand how someone can truly believe that. After all, not a single person has been killed at Mizzou.
To compare your issues with a massive terrorist attack that took over 100 lives is absurd. To offer that unchecked racism and the deaths of so many are of equal weight is to suggest that the concerns of the students are simply more important than the lives lost. Some Mizzou students think the only reason people care about what happened in Paris is because primarily white people died. However, this is not the case.
This is possibly a knee-jerk response to having to put up with these issues for decades now without much, if any, attention and care being given to them by administrators or the country in general. The anger is understandable, though the inflated language is not.
Many people have noticed the polarizing of society and the over-prevalence of political correctness. We are right to raise awareness of institutionalized racism and discrimination, and how much it can cripple the opportunities of minorities. We can't use that as an excuse to sink to lower levels ourselves.
A New York Times article on the situation at the University of Missouri includes interviews of both black and white students. Students on both sides admit that when they arrived on campus and things weren't what they expected, they resorted to referring to people by their race instead of respecting their names. Blacks and whites admitted they became part of the problem and had no patience for others' perspectives.
We aren't suggesting that having patience for expressed racism is a goal, but to respond with discrimination back to more than just the individual antagonists but all members of their race, including those that did nothing wrong, fosters the hostility you claim to hate. Be careful to direct your frustrations only where they belong: on bettering the school policies, making it safer, and putting an end to racial antagonizing by the specific students that engage in it.
"You can't just have one side of the conversation," said a 21-year-old white senior at Mizzou. On Wednesday he erected what he called a "free speech wall" on campus for people to write their opinions. "I've had students tell me that they're afraid to express their opinion because they are afraid they'll be criticized." We have to let all voices be heard, even the offensive ones, if we want to truly know what these issues are and solve them.