Christmas, Chanukah, Kwanzaa, Bodhi Day, Winter Solstice, Yule, Pancha Ganapti, etc etc. December brings with it a host of traditional holidays across the religious spectrum. Winter, for much of recorded human history, was a time for families to come together to enjoy the warmth of the hearth as they anxiously awaited the return of spring.
It seems that in recent history, however, a new holiday has arisen that has quickly supplanted all the rest, one that we'll call (for lack of a better term): "Stuffmas".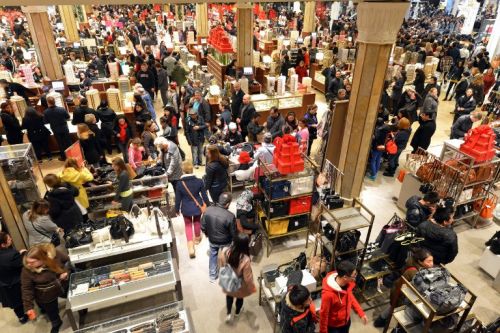 "Stuffmas" is the frenzied month-long celebration of jingle-y music, sweet pastries, and above all, stuff lots and lots of stuff. Throughout this season people around the globe are bombarded with advertisements to buy all of the latest, greatest, and newest pieces of plastic. Our quest to accumulate "stuff" has become so ferocious in recent years that shopping can be a deadly affair literally. Each "Stuffmas" season kicks off with the aptly named "Black Friday", an event where otherwise innocent people risk getting trampled to death as they rush to grab bargain-basement deals from their local superstore. Since we started keeping count, 10 people have died and more than 100 have been injured in the mad dash to get the latest gadgets at discounted prices.
A New Religion?
Indeed, devotees of "Stuffmas" are becoming increasingly fervent. One could easily argue that the secular celebration of giving and receiving is more than just a holiday, that instead it is a full-hearted embrace of Earth's true largest religion: Materialism. Has the true meaning of the holidays been lost to the worship of stuff?
Previous generations of children were taught to be on their best behavior because God was watching.
Today, the lesson remains the same - children are still encouraged to behave. However, the stakes are much different: God isn't watching anymore, Santa is; sins are punished not with eternal torment, but with the withholding of presents. When our kids are taught that their actions are monitored by a toy-bearing fairy-man, and that good behavior is always rewarded with shiny new things, how could we expect them not to start worshiping the idea of stuff?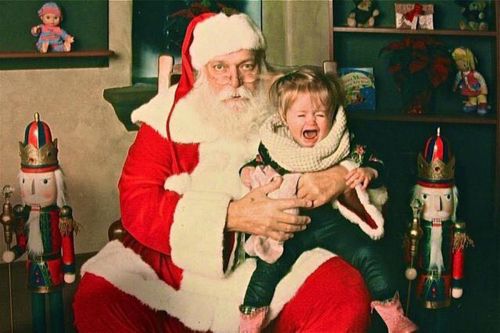 We created a new religion and with some clever marketing we indoctrinated ourselves into it. The entire course of our lives has been painstakingly engineered by economists to ensure maximum output, following this general course: We're Born > We Work > We Buy > We Die. Too often a person's value is determined not by the content of their character, but by the monetary value of their assets.
Winter has customarily been a time for reflection. Perhaps we should take some time to reflect this year: as we look around at the world we built, are we happy with what we see? Regardless of what your traditional practices are, there is no doubt that "Stuffmas" is touching your life in some way. While it certainly does bring some feelings of joy (who doesn't like receiving gifts?), there are some evils associated with it as well. Most of us have friends or loved ones that struggle with anxiety over finances, and these issues are always made worse during the holiday season when there is constant pressure to spend money on new things.
Escape From Materialism
You'd be hard-pressed to find anyone who didn't think that perhaps it's time that we wind-down "Stuffmas" at least by some degree. The question is: how? Actually, the question is, can we? Have we become so invested in our materialism that there is no true exit? Just this morning there was another news article about the importance of spending this holiday season. At this point, our entire economy depends on people continuing to buy stuff.