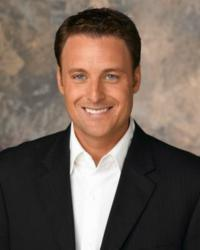 Chris Harrison, host of the reality television series The Bachelor, has become the latest celebrity to perform a wedding using his ULC online ordination. Harrison got ordained in the church back in June and used his new minister credential to marry his T.V. show's producers, Cassie Lambert and Pete Scallettar, at the California home of the show's creator. The Universal Life Church Monastery welcomes Reverend Harrison into its community of online ministers.
Harrison decided to become a minister while filming a spin-off, The Bachelorette, in Prague early this year. Lambert and Scallettar were getting married and asked Harrison to perform the wedding, so he looked to the ULC Monastery's online ordination program. "I love [Scalettar and Lambert] to death and I've seen them grow as a couple and I love them as a couple and as individuals," he said after the ceremony, which was attended by several couples who starred in The Bachelor.
Adding to the whimsy of the occasion was the ceremony's proximity to the T.V. show's set, as well as the fact that the two producers met and fell in love on a television show about dating. "True irony, driving past [the] Bachelor mansion on the way to [Scalettar] and [Lambert's] wedding!" said Harrison in a Tweet on the afternoon of Sunday, 4 August, the day of the ceremony. The location was not shabby, either. Both the home where Harrison would perform the wedding as well as the Bachelor mansion are located in the world-famous community of Malibu near Los Angeles - home of Hollywood luminaries and nestled between the Santa Monica Mountains and the Pacific Ocean.
Harrison is just one of a number of actors, comedians, musicians, and T.V. personalities who have opted to become a minister in the ULC and used their online ordinations to perform weddings for fans, friends, and family. Of course, online ordination is not just for celebrities, and we invite anybody to join the ULC Monastery and become a minister. We would like to congratulate Rev. Harrison on performing his first wedding as a ULC minister, and we want to show our appreciation for the influential role he and other high-profile personalities have had in making it "OK" to get ordained online.
Source: