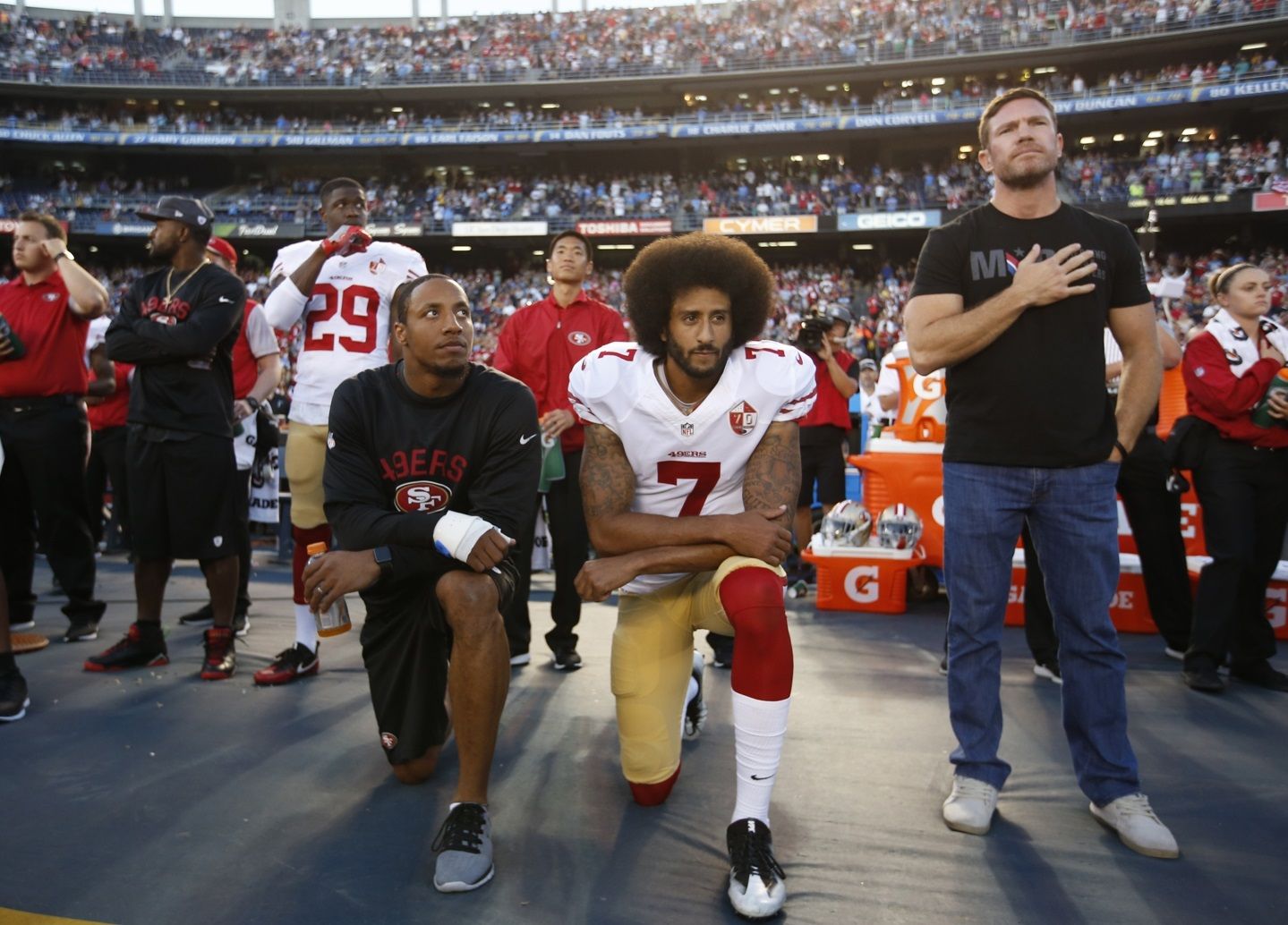 ---
What does it mean to be patriotic? That's a question on the minds of many after a string of recent events from the Rio Olympics, to the football field, and even the classroom have turned the spotlight on displays of national pride. The United States is commonly referred to as "the land of the free". Freedom is a cornerstone of our constitution and our society. But suppose a person chooses to exercise that freedom by speaking out against the very symbols of it. Some will say that makes them un-American, while others will insist their actions demonstrate the very essence of being American.
National Anthem
If you watched the Rio Olympics this year, you may be familiar with the controversy involving American gymnast Gabby Douglas. After winning the gold medal, Douglas didn't put her hand over her heart during the national anthem. By Olympic ceremony standards, this is considered a serious breach of etiquette. She attempted to diffuse the situation on Twitter, explaining that she meant no disrespect, and was simply overwhelmed that her team had brought home another gold medal. However, that didn't stop critics from accusing Douglas of being unpatriotic, and she reportedly received a flood of negative messages online.
More recently, 49ers quarterback Colin Kaepernick has drawn fire by refusing to stand during the national anthem played before each game. Kaepernick explained that his decision was intended as a protest against the oppression faced by black people and people of color in the United States. It quickly became a national headline, and people all over the country sports fans or not began taking sides. Some believe his actions are intensely unpatriotic, while others see them as exercising the right to free speech. The NFL didn't penalize Kaepernick, telling reporters in a statement that players are not required to stand during the national anthem. Since then, a score of other players around the league have joined him in protest.
The Pledge of Allegiance
A similar story - this one involving elementary students - exploded on social media last month. It all started when a school district in Florida passed out a waiver form which would exempt students from reciting the Pledge of Allegiance. When one of the kids brought the form home, an upset relative shared it online. Before long, the post went viral (pictured right). By providing a waiver, the school district claimed, it was simply trying to inform students of their Constitutional rights. However well-intentioned, the message backfired. After receiving a storm of backlash from the community, the district quickly pulled the waiver forms.
Legally, this issue was decided long ago back in 1943, the Supreme Court ruled that students are not required to participate in the Pledge of Allegiance. However, even today, refusing to participate is taboo in many places, and students often have to challenge school administrators for their right to opt out.
For example, back in 2014, a Texas high school student made headlines after he was suspended for refusing to stand during the pledge. Just last week, an identical incident occurred in Illinois but this time it was the teacher who got suspended after physically pulling 15-year-old Shemar Cooper out of his seat and forcing him to stand for the pledge. Cooper's family declined to press charges, but stood by their son's right to express his beliefs.
One Nation, Under God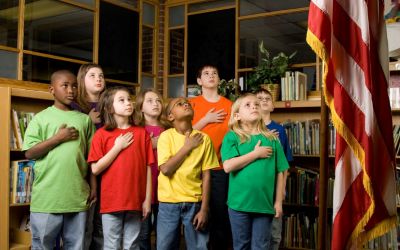 The Pledge of Allegiance also illustrates the connection between patriotism and religion in the United States; a love of God and a love of country have been entwined ideas for much of American history. In 1954, Congress formalized this relationship by passing a bill which added the phrase "under God" to the Pledge of Allegiance. President Dwight Eisenhower signed the bill, stating that "from this day forward, the millions of our school children will daily proclaim in every city and town, every village and rural school house, the dedication of our nation and our people to the Almighty"."
Frankly, it's of no surprise that many people equate a belief in God with American patriotism, and vice-versa. If you think about it, religious references are commonplace in the United States. In addition to the Pledge of Allegiance, the phrase "in God we trust" is stamped on our currency, our presidential oath includes the line "so help me God", and we are even expected to swear on the Bible when testifying in court. Despite increases in religious diversity, America remains a Christian nation in many ways.
Jehovah's Witnesses
Of course, not all religions welcome patriotism. in fact, some shun it completely. For example, Jehovah's Witnesses believe that performing overtly patriotic gestures is an affront to God. According to their religious teachings, saluting the flag or singing the national anthem is a form of idolatry, and should be avoided. Under the U.S. Constitution, their actions are protected by freedom of religion.
Double Standard?
The First Amendment provides the right to freedom of religion and freedom of speech. So, why the outcry when it comes to freedom of speech? Some find it curious that Kaepernick and the Florida school district have endured such heavy criticism for demonstrating a similar constitutional right. Might there be a double standard at work here? Being an American means the freedom to act how you want within the confines of the law. Theoretically, this freedom includes the right to salute the flag or to not salute it. Could you make the argument that not saluting is also patriotic, in its own way? Further, if a person is forced to participate in an act of patriotism, is **it possible that the act loses some of its meaning?**