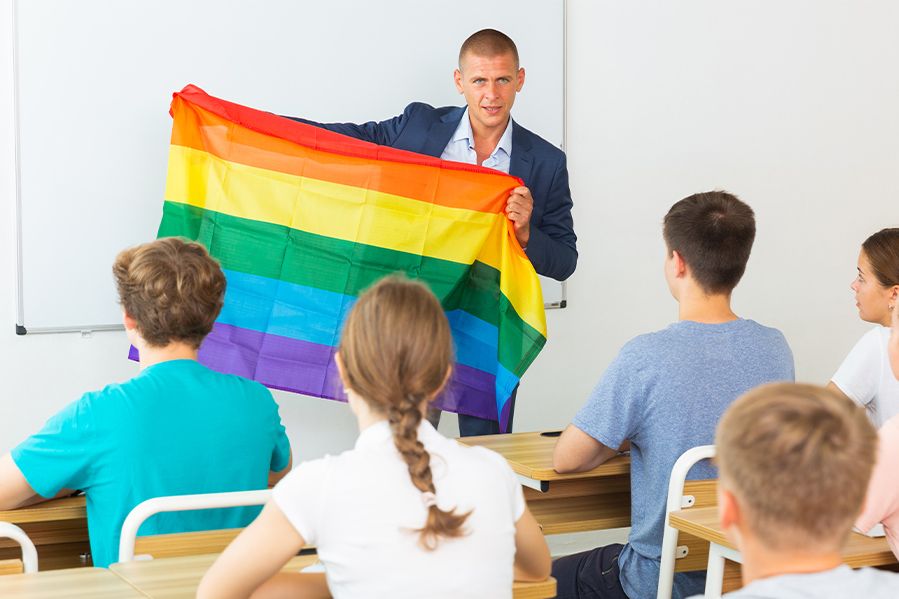 Earlier this month, the Florida legislature passed the wildly controversial 'Don't Say Gay' bill, and the legislation has now been signed by governor Ron DeSantis.
In its wake, other similar proposals are popping up elsewhere.
The original bill's name was coined thanks to provisions that would severely limit what teachers can say about homosexuality and gender identity in classrooms.
There has been an outpouring of criticism in response. Opponents say that by forbidding any discussions of sexual orientation, the bill will endanger the lives of LGBTQ youth by forcing them to keep their identities secret. The bill also allows parents to sue school districts or even individual teachers over potential violations. 
Students staged walkouts across the state in protest.
Nevertheless, perhaps inspired by the attention around Florida's bill, legislators in other states are proposing their own 'Don't Say Gay' bills – some of which are even more restrictive.
Don't Say Gay… Again
They say that imitation is the sincerest form of flattery, and if that is the case, then Florida should feel very flattered.
Tennessee, Kansas, Georgia, Indiana, Oklahoma, and Louisiana are all now considering 'Don't Say Gay'-style bills.
The original legislation in Florida prohibits "classroom discussion about sexual orientation or gender identity" in primary schools across the state. 
But similar bills take those rules even further.  The Louisiana proposal, for example, would not only ban teachers from discussing sexual orientation or gender identity in classrooms K-8th grade, but also decrees that "no teacher, school employee or other presenter shall discuss his own sexual orientation or gender identity with students in kindergarten through grade twelve."
LGBTQ advocates were outraged, arguing that the bill effectively pushes gay teachers right back into the closet. What are gay teachers supposed to do, they asked, if a student asks them about a photo of their same-sex spouse on their desk? 
And that's not all:
An Indiana bill would require written consent from the parents of students under 18 for any discussions on sexual orientation, gender identity, and "transgenderism".
In Georgia, lawmakers want to ban "inappropriate classroom discussion of gender identity and sexual orientation."
An Oklahoma bill would prohibit public schools from hiring anyone "that promotes positions in the classroom or at any function of the public school that is in opposition to closely held religious beliefs of students."
Meanwhile, in Tennessee, there's a proposed ban on all instruction that would "promote, normalize, support, or address controversial social issues, such as lesbian, gay, bi-sexual, and transgender lifestyles," arguing that "the promotion of LGBT issues and lifestyles in public schools offends… Tennessee residents with Christian values."
Is Gay Okay for Kids?
As these 'Don't Say Gay' copycats have sprouted up in states across the nation, LGBTQ advocates argue that far from protecting kids – as sponsors say is their goal – these bills do real harm to LGBTQ students by making them feel unwelcome in their own communities.
"Every LGBTQ young person deserves to attend a school that provides an inclusive, affirmative environment – not one that aims to erase their existence," said Amit Paley, CEO of The Trevor Project. "We know that LGBTQ youth already face higher risk for bullying, depression, and suicide – and this bill will only add to the stigma that fuels these disparities." The Trevor Project found that 42% of LGBTQ youth seriously considered suicide last year. 
But proponents of this controversial legislation say that they're simply putting the power of explaining gender identity and sexual orientation into the hands of parents. As Florida state Rep. Joe Harding said, "families are families. Let the families be families. The school district doesn't need to insert themselves at that point when children are still learning how to read and do basic math."
While some of these copycat bills have failed to make much headway, others have a decent chance of becoming law. Either way, the media attention serves as a likely catalyst for similar legislation to the same effect in the future.
What do you think? Should public school parents get the final word on everything their children hear about homosexuality in the classroom, or are these bills just brazenly harmful to LGBTQ youth?