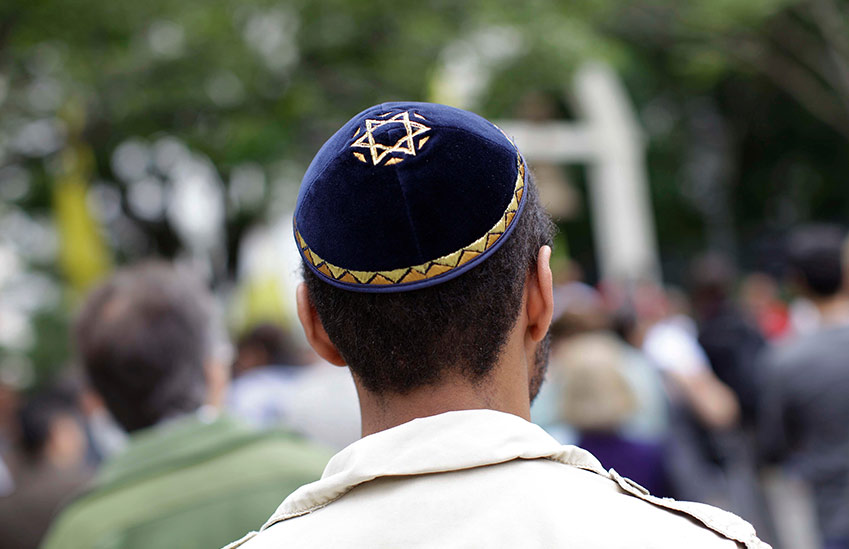 ---
Nearly one in three American Jews feel safer hiding their religion from the rest of us.
A just-released American Jewish Committee study has revealed that a significant number of Jews now intentionally avoid wearing visible markers like skullcaps or Star of David necklaces in public, revealing a not-so-subtle shift in worries about anti-Semitic attacks following the massacre of 11 worshipers at the Tree of Life synagogue in Pittsburgh.
"It's been a rough year, and it's been an eye-opening and awakening year," said American Jewish Committee CEO David Harris. "Perhaps there was a time when some Jewish institutions felt somehow more or less insulated from [anti-Semitic attacks]. The fact that the attacks took place in Pittsburgh and Poway triggered a feeling that we're all at risk everywhere, equally it can happen anywhere."
Hate Crimes, Anti-Semitism on the Rise
The survey of more than 1,200 Jews nationwide found eighty-four percent believe anti-Semitism in the US has risen in the last five years. Nearly one in five reported being targets of anti-Semitic remarks online, compared to a quarter that experienced such comments either in person or through the mail or over the phone.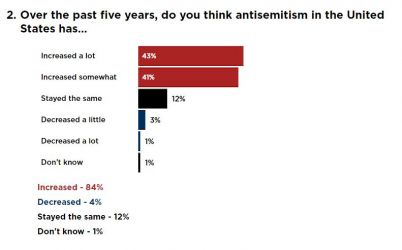 Just two percent of respondents admitted to being physically attacked due to their faith.
Normally focused on anti-Semitism worldwide, this marks the first year the American Jewish Committee thought to ask its US respondents the following: "Do you ever avoid certain places, events or situations out of concern for your safety or comfort as a Jew?"
One-quarter admitted they did.
"We never thought some of the questions asked in those surveys in Europe might one day be very pertinent to the United States," Harris said. " There was always the sense that it was there and not here."
What's more, one-third of American Jews also reported being affiliated with a Jewish institution targeted with vandalism, threats or attacks. Well over half reported freshly hired security guards or police posted outside their synagogues, and nearly one in four said fellow members had been trained in how to respond to potential attacks.
"The Guard Rails are Down"
Pitted against the backdrop of security requests from synagogues nearly quadrupling in the wake of the Pittsburgh shooting, the survey also revealed American Jews worry equally about anti-Semitism attacks from far right, far left and Muslim extremist sources. Notably, a whopping 49% of survey respondents said that the far-right posed a 'very serious' antisemitic threat in the United States today.
Sadly, this hesitance to show faith in the public sphere is understandable. Hate crimes, particularly against Jews, are on the rise. In 2016, Jews were targeted in over 50 percent of all religious hate crimes.
"We've seen what's happening in the United States as part of a larger phenomenon of growing anti-Semitism worldwide," says Harris. "Even a few years ago, things that would never have been said about Jews maybe because of greater sensitivity to the Holocaust, or just a sense that in a liberal democracy we don't say such things about other groups those guard rails are down. Liberal democracy itself is in crisis in many parts of the Western world. So those barriers that kind of contained the spread of anti-Semitism and other forms of hatred those barriers are being weakened."
Unfortunately, we're left with more questions than answers. What do you think might account for the so-called weakening of anti-Semitic barriers in this country in recent years? Shouldn't every American be able to freely express their faith without fear of reprisal?
What does it say about the current state of affairs in our country if American Jews feel compelled to hide their faith?